West Report: Monsters' momentum continues to mount
November 19, 2010
by Brian McDonough | NAHL.com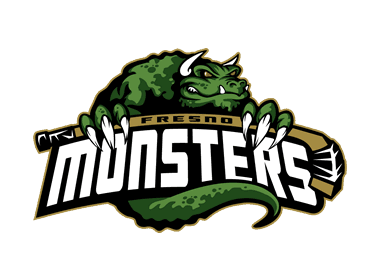 With their first road trip of the season stretching 12 games over 20 days, the Fresno Monsters got a reprieve on their second one and, most importantly, made the most of their travels.

Fresno made its first of two trips of the season to Dawson Creek last weekend, picking up wins on Friday (4-3 in overtime) and Sunday (2-1) with a 3-2 shootout loss sandwiched between them.

"It's huge to get five out of six points on the road anytime," said Monsters head coach Eric Ballard. "We want to stay .500 on the road and, because the West Division is so tight, we needed to put a few games together."

Goaltender Tom Conlin came to the rescue in Dawson Creek. Playing in his first three games with the Monsters since begin acquired from the Eastern Junior Hockey League, the 19-year-old from Norwood, Mass., allowed only six goals on 102 shots all weekend, equating to a stingy 1.91 goals-against average and a .941 save percentage.

"He came in and played big for us all weekend," said Ballard.

So did Willie Hess, who delivered three goals, including Sunday's game-winner, and two assists in DC. The 20-year-old from Lino Lakes, Minn., has a goal in his last five games.

"Willie's been playing great for us," said Ballard. "He's been the high-energy forward we hoped he would be."

Forward Cody Castro, whom the Monsters picked up from the Western Hockey League a few weeks back, has lived up to expectations, as has forward Nick Indelicato, a pickup from the British Columbia Junior Hockey League who has two goals and two assists in six games.

"We tendered Nick in the offseason and we made a deal to get him back," said Ballard. "We're excited to have him."

Forwards Jordan Lovick and DJ Carnley, along with defenseman Walker Hyland, who will compete in next month's NAHL Top Prospects Tournament along with teammate John Siemer, the team's leading scorer, continue to emerge.

As for the Monsters' sole NAHL veteran, defenseman Tom Hilbrich, he's brought valuable leadership to the table, according to Ballard, and is a team-high plus-8 on the season.

Ballard is nothing but optimistic about his team's recent progress.

"We're a game above .500 as an expansion team in a very tough division," said the coach, "and five of our nine losses have been by one goal and they've come against high-end teams."

The Monsters will have a nice run of home games leading up to the Christmas break. With this weekend off, they welcome Alaska (three games), New Mexico (two) and Fairbanks (three) to Selland Arena in the coming weeks.

Ballard, who also notes that a number of his players are receiving serious college interest, sees the homestand as the ideal opportunity to pick up some needed points.

"We'll be focusing on tightening up some areas, like special teams," he said. "We've been getting a lot of our younger players in the lineup every night, too, and they're buying into what we're teaching, so it's going to be very exciting to see what we can do."

WEST DIVISION NOTEBOOK

ALASKA AVALANCHE: Jacob Barber, a forward from Dardenne Prairie, Mo., tallied three goals and two assists as the Avs' went 2-1 against Kenai River last weekend. The 18-year-old leads the team in scoring with 22 points and goals with 14.

DAWSON CREEK RAGE: Coquitlam, British Columbia, product Josh Hartley tallied three assists as the Rage finished last weekend with a 1-1-1 record against Fresno. The 18-year-old defenseman was also a plus-4 on the weekend.

FAIRBANKS ICE DOGS: Forward Tyler Voigt, 19, recorded two assists, including one on Gabe Levin's game-winning goal, in the Ice Dogs' 3-1 triumph over Wenatchee last Saturday. Voigt, from Rochester, Minn., has eight points in his last five games.

KENAI RIVER BROWN BEARS: Netminder Mathias Dahlstrom turned back all 37 shots he faced and forward Doug Beck knocked home two goals and assisted on Alex Frere's game-winner as the Brown Bears blanked Alaska last Saturday, 5-0.

WENATCHEE WILD: Goaltender Brandon Jaeger stopped 21 shots in the Wild's 2-1 victory over Fairbanks last Friday. Forwards Michael De Puma (game-winner) and Air Force recruit Shawn Pauly supplied the goals for Wenatchee.