Former NA3HL, Whalers assistant Axtell gets ECHL head coaching job
January 23, 2017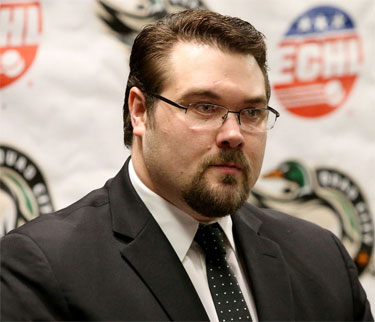 The Wisconsin Whalers, proud members of the NA3HL, are pleased to announce that former assistant coach Phil Axtell has been named interim head coach of the ECHL's Quad City Mallards.
Axtell, 30, takes over after serving as assistant coach under Terry Ruskowski in an official capacity since 2015, joining the team as a volunteer assistant in 2014. Ruskowski was let go late last week.
He played 10 games with the Mallards in 2010, a stretch that ended with him involved in an alcohol-related single-vehicle crash that ended his career.
In the time since, he's served as assistant coach of the NA3HL's Quad-City Junior Flames and as associate head coach and assistant general manager of the NA3HL's Wisconsin Whalers. He joined the Mallards as a volunteer in 2013 and McNamara said Axtell's performance over the past two-plus seasons warranted the decision.
"I'm grateful for this opportunity even though it's under such unfortunate circumstances after working side-by-side with Terry for the past three seasons," Axtell said. "I'm looking forward to embracing this chance as interim head coach, getting this team back on track, starting tonight versus Missouri. It's all happened so fast from this morning to now, and my number one goal is to prepare for Missouri and the next few games in Missouri for the three in three this weekend."
Axtell continued… "I believe in every one of the players, and they need to believe in each other and the guy in front of them, next to them and across from them," he said. "Go out, play hard, play for each other and be accountable."