Friday Finals: Toledo continues streak with shootout win
January 28, 2017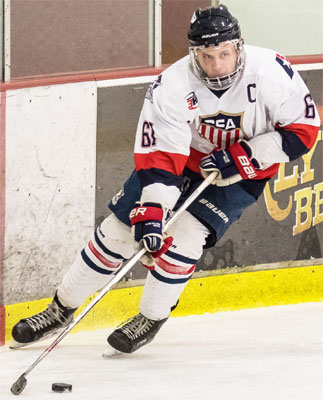 Toledo Cherokee 4 vs. West Michigan Wolves 3 (OT)-Ricky Kwapich notched one in the third round of a shootout to give the 4-3 victory to the Toledo Cherokee over the West Michigan Wolves.Dustin Foran, EJ Gilbert, and Teddy Tarvis also scored for the Cherokee, and Brett Siewertsen, Daniil Demidov, and Collin Rewerts each notched one for the Wolves. In net, Adrian Morales made 36 stops for Toledo, and Sam Woznicki stopped 24 shots for West Michigan.
Cincinnati Thunder 4 vs. Evansville Jr Thunderbolts 3-Two goals from Jacob Friedman helped the Cincinnati Thunder cruise to a 4-3 victory over the Evansville Jr Thunderbolts. Cameron Sangster and Justin Bioni also scored once for the Thunder, and Rory Scott, Sebastian Simoncello, and Austin Cody notched goals for the Jr Thunderbolts. Cincinnati goaltender Tyler Geloneck made 33 stops, while Bryson Linenburg stopped 29 shots for Evansville.
Willmar WarHawks 4 vs. La Crosse Freeze 1-Braden Shea scored twice to help the Willmar War Hawks to a 4-1 win over the La Crosse Freeze. Kane Toriumi and Danny Nugent each scored one for the War Hawks as well. For the Freeze, Danny Toycen notched one. In net, Alex Weissenborn made 34 saves for Willmar, while Andrew Wagner and Will Graves made 26 and 5 saves, respectively, for La Crosse.
Wooster Oilers 5 vs. Southern Tier Express 4-A pair of goals from both Michael Zenone and Nicholas Mooney helped the Wooster Oilers to a 5-4 win over the Southern Tier Express. Trenton Mulnix also notched one for the Oilers, and Tristan Mock, Santeri Rajakallio, and Jacob St Andre (2) earned points for the Express. Defensively, Jared Stahel made 21 saves for Wooster, while Southern Tier net minder Ryan Pascarella stopped 27 shots on the night.
Lockport Express 5 vs. Syracuse Stampede 3-Lockport Express skater Blake Bennett notched two goals to edge out the Syracuse Stampede, 5-3. Dominic Senese, Michael Sokol, and Aaron Shahin also scored for the Express, and Oscar Lande, Rich Hart, and Tristan Ayoubi netted goals for the Stampede. Lockport goaltender Sam Fitzpatrick made 41 saves, while Ryan Scheide stopped 48 shots for Syracuse.
Granite City Lumberjacks 8 vs. Rochester Ice Hawks 1-A variety of scorers carried the Granite City Lumberjacks to an 8-1 win over the Rochester Ice Hawks. Braden Altena (2), Casey Esselman, Chase Di Bari (2), Ryan Smith, Brady Dahl, and Owen Sikich all scored for the Lumberjacks, and Skylar Watt notched one for the Ice Hawks. In net, David Mulligan made 14 stops for Granite City, while Bailey Schmitz and Drew Schenkenberg made 28 and 12 saves, respectively, for Rochester.
Alexandria Blizzard 7 vs. Breezy Point North Stars 0-Michael Hughes and Brey Effertz of the Alexandria Blizzard made 5 and 13 saves, respectively, to shut out the Breezy Point North Stars, 7-0. Tommy Giller, Logan Norman (3), Brett Meister (2), and Josiah Roen scored for the Blizzard. Bronson Moore and Magnus Lindhe made 24 and 30 saves, respectively, for Breezy Point.
New Ulm Steel 6 vs. North Iowa Bulls 4-The New Ulm Steel scored three goals in the third to secure a 6-4 victory over the North Iowa Bulls. Nicholas Campbell, Sam Wenner, Alex Nagel (2) and Fritz Belisle (2) each earned points for the Steel, and Connor Clemons, Tyler Bump, Mitch Parsons, and Horka Sekesi each scored one for the Bulls. Defensively, Nathan Siclovan made 28 saves for New Ulm, while North Iowa's Drew Scites stopped 24 shots on the night.
Louisiana Drillers 2 vs. College Station Spirit 0-Santeri Seppinen made 17 saves to power the Louisiana Drillers to a 2-0 victory over the College Station Spirit. Tucker Alspaugh and Kristian Kause each scored for the Drillers. Spirit goaltender Ryan O'Toole made 46 saves on the night.
Euless Jr Stars 5 vs. Texas Jr Brahmas 2-William Rooney notched two goals for the Euless Jr Stars to help them to a 5-2 win over the Texas Jr Brahmas. Thomas Delaney, Kayne Fedor, and Riley Jensen also scored for the Jr Stars, and Hunter Byers and James Boisvert netted goals for Texas. Euless' net minder Nick Hart made 29 saves on the night, while Tyler Myers and Anthony D'Aloisio made 12 and 3 saves, respectively, for the Jr Brahmas.
Wisconsin Whalers 9 vs. Chicago Bulldogs 0-Jacob Hough made 36 saves for a 9-0 shutout victory over the Chicago Bulldogs. Jimmy McDermott, Austinn Lewis (3), Ben Ratner, Matt Resch, Jordan Hylbert, Connor Boscaccy, and John Vandervalk III scored for the Whalers. Bulldogs net minder Niks Lukasuks and Brendan Barada made 17 and 36 saves each.
Gillette Wild 3 vs. Helena Bighorns 2-Tyler Tennant scored in the third to clinch the 3-2 for the Gillette Wild over the Helena Bighorns. Cade Boreing and Nick Stockert also scored for the Wild, while Bradley Estrada and Ryan Payne earned points for the Bighorns. In net, Robbie Brennan made 25 stops for the Wild while Nicholas Battaglia made 63 saves for Helena.
Missoula Jr Bruins 8 vs. Glacier Nationals 0-Missoula Jr Bruins goaltender Tanner Loucks made 22 saves for an 8-0 shutout victory over the Glacier Nationals. Josh Chamberlain (2), Tyler Young, Austin Dennison, Christian Ward, Zach Jaffe, Justin Barnes, and Misha Akatnov all scored for the Jr Bruins, while Glacier netminder Will Langstaff made 51 stops.
Yellowstone Quake 5 vs. Bozeman Icedogs 3-An early lead for the Yellowstone Quake helped them to a 5-3 victory over the Bozeman Icedogs. Cole Stewart (2), Ian Doner, Hunter Ruschmeyer, and Jesse Lawman scored for the Quake, and Casey Gobel, Kadin Ferguson, and Steven Nisbet netted goals for the Icedogs. In net, Nick Ottenbacher made 22 saves for Yellowstone, while Bozeman goalies Benjamin Sakaria and Luke Olson made 25 and 16 saves, respectively.
Great Falls Americans 11 vs. Billings Bulls 0-Kyler Ayers made 25 saves for the Great Falls Americans, leading to an 11-0 victory over the Billings Bulls. Brendan Jester (3), Tanner Congdon, Tegan Harrington, Michael Fary (2), Jesse Johnson, Sandis Mezharaups, Ricards Bernhards, and Payton McSharry scored for the Americans. Billings' goaltender Ethan Wiese made 41 saves on the night.
Jersey Shore Wildcats 2 vs. Long Beach Sharks 1-Michael Gulawsky and Jordan Nelson each notched one for the Jersey Shore Wildcats on the way to a 2-1 victory over the Long Beach Sharks. Martins Vitolins netted one for the Sharks. In net, Rio Virgoe made 29 stops for Jersey Shore, while Richard Ledek stopped 23 stops for Long Beach.