Saturday Scores: Jets win East, stay unbeaten
January 29, 2017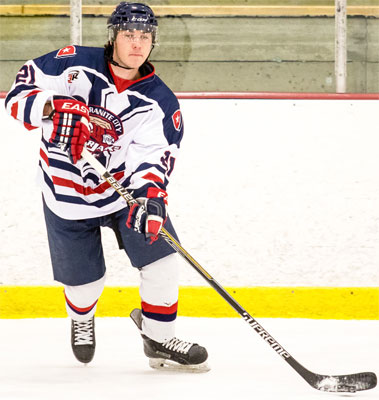 Metro Jets 1 vs. Pittsburgh Vengeance 0-Robby Flannery scored the lone goal of the game for the Metro Jets, securing the 1-0 victory over the Pittsburgh Vengeance. Andrew Kormos earned a shutout with 19 saves for the Jets, and Joel De Simone stopped 36 shots for the Vengeance.
Cape Cod Islanders 7 vs. Long Beach Sharks 4-Long Beach Shark Oskar Lindberg's hat trick wasn't enough to stop the Cape Cod Islanders claim a 7-4 victory. Jack Conway, Chris O'Donnell, Thomas Tobey, Niko Roy, Chuck Costello (2), and Aaron Deady scored for the Islanders. Phil Garcia also notched one for the Sharks. In net, Anton Zemba made 35 stops for the Islanders, while Kyle Van Wagner stopped 23 shots for Long Beach.
Granite City Lumberjacks 5 vs. Rochester Ice Hawks 1-The Granite City Lumberjacks came out fast with an early lead for a 5-1 win over the Rochester Ice Hawks. Keenan Lund, Brady Dahl, Ryan Smith, Matthew Sprink, and Eric Moser each scored for the Lumberjacks, and Austyn Renn netted one for Rochester. In net, Mac Berglove made 14 saves for Granite City, and Drew Schenkenberg stopped 31 shots Rochester.
St Louis Jr. Blues 24 vs. Chicago Bulldogs 3-A steady offensive presence for the St Louis Jr Blues helped them climb to a 24-3 victory over the Chicago Bulldogs. Alex Werdmuller (4), Samuel Maddox (3), Ivan Galaguzov, Jack Hatton (7), Andrew Froese (4), Dylan Carroll, Ryan Edgar (2), Daniil Ovchinnikov, and Joe Papa all earned points for the Jr Blues, while Max Puscheck and Collin Tripp (2) scored for the Bulldogs. In net, St Louis goaltender Hunter Smith made 27 saves, while Niks Lukasuks and Brendan Barada made 28 and 25 saves, respectively, for Chicago.
New England Stars 7 vs. Maine Wild 1-Maine opened the game, but seven unanswered goals from the New England Stars helped them cruise to a 7-1 victory. John Krapian (3), Brandon Hammner (2), Tyson Gudaitis, and Cole Archambeault scored for the Stars, while Lema Muradov notched one for the Wild. New England goaltender Dom Lamanno made 29 stops on the night, while Chris Oshaughnessy stopped 31 shots for Maine.
Evansville Jr Thunderbolts 3 vs. Cincinnati Thunder 1-A busy second period helped the Evansville Jr Thunderbolts to a 3-1 win over the Cincinnati Thunder. Kody Kifer, John Ames, and Brandon Rozema each notched one for the Jr Thunderbolts, while Jacob Friedman scored one for the Thunder. Defensively, Bryson Linenburg made 34 stops for Evansville while Cincinnati's Tyler Geloneck stopped 18 shots on the night.
Louisiana Drillers 6 vs. College Station Spirit 0-Santeri Seppinen made 20 saves to shut out the College Station Spirit and propel the Louisiana Drillers to a 6-0 win. Davis Van Gemerden, Brandon Vukasin (2), Austin Weber, Brayden Hutchinson, and Niki Raiskio scored for the Drillers. Dalton Baker made 44 stops for College Station.
L/A Fighting Spirit 4 vs. East Coast Minutemen 1-An early three goal lead helped push the L/A Fighting Spirit to a 4-1 win over the East Coast Minutemen. Matt Siegel (2), Caleb Labrie, and Felix Nyqvist scored for the Fighting Spirit, while Shamus Lombard notched one for the Minutemen. L/A goaltender Aaron Callan made 23 stops, while Nick Kent and Dom Montecalvo made 8 and 35 saves, respectively, for East Coast.
Wooster Oilers 5 vs. Southern Tier Express 3-A busy second period for the Wooster Oilers pushed them to a 5-3 win over the Southern Tier Express. Tyler Kallay (2), Tyler Groth, Cole Barney, and Philippe Martineau earned points for the Oilers, while Luke Grossman (2) and Arttu Rajamaki scored for the Express. In net, Michael Hubbard made 28 stops for Wooster, while Southern Tier's Harrison Vangellow made 44 stops on the night.
West Michigan Wolves 3 vs. Toledo Cherokee 2 (OT)-Collin Rewerts scored 40 seconds into overtime for the West Michigan Wolves, securing the 3-2 OT win over the Toledo Cherokee. Bear Ross and Thomas Harrison scored for the Wolves in regulation, and Teddy Tarvis and Blake Mullins each notched one for the Cherokee. In net, Alex Wilder made 17 saves for West Michigan, and Roman Malkov stopped 30 shots for Toledo.
Binghamton Junior Senators 5 vs. Skylands Kings 0-Steven Schmitt made 15 saves to shutout the Skylands Kings and hand the 5-0 win to the Binghamton Junior Senators. Brad Becker, Dominick Bogdziul (3), and Jeremy Wilber scored for the Junior Senators. Evan Barghout made 50 saves for the Kings.
Syracuse Stampede 7 vs. Lockport Express 2-Seven separate scorers had a hand in the Syracuse Stampede's 7-2 victory over the Lockport Express. Nate Walker, Hunter Soden, Matt Allen, Nick Mandia, Tristan Ayoubi, and Oscar Lande each scored once for the Stampede, and Luca Mazzo and Aaron Shahin netted goals with the Express. In net, Martin Sten made 45 saves for Syracuse, and Sam Fitzpatrick and Adam Partridge made 24 and 26 saves each for Lockport.
North Iowa Bulls 5 vs. New Ulm Steel 1-A pair of goals from Tyler Bump helped the North Iowa Bulls to a 5-1 win over the New Ulm Steel. Connor Clemons, Josh Arnold, and Mitch Parsons also scored for the Bulls, while Trevor Woytcke notched one for the Steel. In net, North Iowa's Brady Meyers made 25 saves, while Nathan Siclovan stopped 40 shots for New Ulm.
Willmar War Hawks 4 vs. Breezy Point North Stars 2-A pair of late goals from Willmar War Hawk Kyle Wendorf propelled them to the 4-2 win over the Breezy Point North Stars. Jacob Dobberstein and Wyatt Toll also scored for Willmar, and Tyler Larwood and Josh Laven notched a pair for the North Stars. In net, Alex Weissenborn made 51 saves for the War Hawks, and Magnus Lindhe stopped 35 shots for Breezy Point.
Nashville Jr Predators 4 vs. Atlanta Capitals 3-Kieran Ogle scored late in the third to give the Nashville Jr Predators the 4-3 win over the Atlanta Capitals. Dylan Schmidt, Baylor Hudson, and Weiland Parrish also scored for the Jr Predators, and Boomer Miller, Michael Klintworth, and Jesse Brown scored for the Capitals. Nashville net minder Nolan Bivolcic made 30 stops, while Ricky Gonzalez stopped 20 shots for Atlanta.
Northeast Generals 4 vs. Roc City Royals 1-The Northeast Generals grabbed an early lead for a 4-1 victory over the Roc City Royals. Cam Piorkowski, Shawn Peckman, Austin Braley, and Dylan Figueroa each scored one for the Generals, and Peter Izzo notched one for the Royals. Between the pipes, Peter Ciccarelli made 29 stops for Northeast, and Ian Stahl and Nicholas Sesock made 1 and 24 saves for Roc City, respectively.
Texas Jr Brahmas 4 vs. Euless Jr Stars 0-Anthony D'Aloisio made 23 saves for a 4-0 shutout victory for the Texas Jr Brahmas over the Euless Jr Stars. Melker Kroon notched a hat trick and Dakota Davis netted one for the Jr Brahmas. Nick Hart made 29 stops for Euless.
Gillette Wild 8 vs. Helena Bighorns 3-Cade Boreing and Nick Stockert each scored a pair of goals for the Gillette Wild to elevate them to an 8-3 win over the Helena Bighorns. Riley Holwegner, Kyle Truax, Cole Cirks, and Tyler Tennant also scored for the Wild, and John Heddle, Ben Kottmeier, and Ryan Payne notched goals for the Bighorns. Landon Anderson made 44 stops for the Wild, and Alex Kruger and Nicholas Battaglia made 25 and 47 stops, respectively, for Helena.
Yellowstone Quake 10 vs. Billings Bulls 0-Brady Anderson stopped 24 shots for a 10-0 shutout victory for the Yellowstone Quake over the Billings Bulls. Max Doner (2), Tanner Wisegarver, Curt Greenbush (2), Ian Doner, Pablo Pantoja (2), Iniaz Steyaert, and Justin Berezinski all earned points for the Quake. For the Bulls, Simo Huhtanen and Chayo Goodwin made 32 and 25 saves, respectively.
Great Falls Americans 5 vs. Bozeman Icedogs 4-The Great Falls Americans scored three times in the third to make a comeback for a 5-4 win over the Bozeman Icedogs. Tegan Harrington (2), Brendan Jester, Matt Janke, and Payton McSharry each scored for the Americans, and Carmon Teel (2), Kadin Ferguson, and Liam Millar notched goals for the Icedogs. In net, Kyler Ayers made 39 stops for Great Falls, and Luke Olson stopped 51 shots for Bozeman.
Missoula Junior Bruins 7 vs. Glacier Nationals 1-The Missoula Junior Bruins grabbed an early lead for a 7-1 victory over the Glacier Nationals. Elias Pukkila, Austin Azzinnaro, Christian Ward, Tyler Young, Austin Dennison, Isaac Vincent, and Tyrm Isaksen each notched one for the Junior Bruins, and Tim Vantinen scored one for the Nationals. Defensively, BJoe Chekan made 21 saves for Missoula, and Brendan Schultz stopped 62 shots for Glacier.