Sunday Wrap-Up: Generals win streak continues
January 30, 2017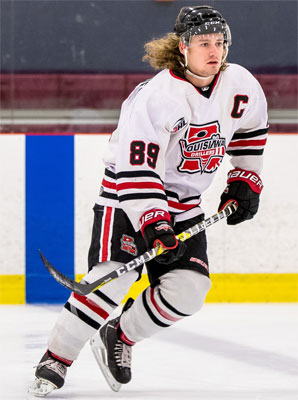 Louisiana Drillers 8 vs. College Station Spirit 1-The Louisiana Drillers grabbed an early lead to power them to an 8-1 win over the College Station Spirit. Timothy Zittel (2), Niki Raiskio, Connor Taylor (2), and David Van Gemerden (3) all earned points for the Drillers, while Blake Elliot notched one for the Spirit. In net, Kevin Lake made 27 saves for Louisiana, and Ryan O'Toole stopped 51 shots for College Station.
Maine Wild 3 vs. New England Stars 2 (OT)-An OT winner from Maine Wild's Connor Busch granted them the 3-2 win over the New England Stars. Zach Gagne and Lema Muradov also scored for the Wild, and Ryan Gauvin and John Krapian each netted one for New England. In net, Brandon Daigle made 31 stops for Maine while Star's goalie Sage Broda made 28 stops.
Binghamton Junior Senators 5 vs. Skylands Kings 1-A pair of goals from Conor Landrigan helped the Binghamton Junior Senators to a 5-1 win over the Skylands Kings. Ryan Reifler, Daniel Johnson, and Ryan Flanagan also netted goals for the Junior Senators, and Jan Broz earned a goal for the Kings. Binghamton goaltender Peter Stensland made 25 saves, while Mathias Yttereng stopped 49 shots for Skylands.
Long Beach Sharks 5 vs. Cape Cod Islanders 4 (OT)-Long Beach Shark Martin Vitolins sent the game into OT with 28 seconds left in regulation, where Adam Ritzer sniped one early, giving the 5-4 OT victory to the Sharks over the Cape Cod Islanders. Vitolins notched two more for a hat trick, and Tyler Boon also netted one in regulation for the Sharks. For the Islanders, Chris Collin, Aaron Deady (2), and Chuck Costello earned points. In net, Kyle Van Wagner made 28 stops for Long Beach, while Anton Zemba made 37 saves for Cape Cod.
Northeast Generals 7 vs. Roc City Royals 4-The Northeast Generals established an early lead on their way to a 7-4 victory over the Roc City Royals. Dylan Figueroa, Derric Trudeau, Austin Braley, Tommy Bellew (2), Shawn Peckman, and Stephen Toal earned points for the Generals, while Henrik Toiviainen, Brandon Corey (2), and Antonio Lombardo notched goals for the Royals. Defensively, Peter Ciccarelli made 41 stops for Northeast, while Roc City goaltenders Freddy Peters and Nicholas Sesock made 10 and 12 saves, respectively.
Metro Jets 5 vs. Pittsburgh Vengeance 1-Five skaters for the Metro Jets scored for a 5-1 win over the Pittsburgh Vengeance. Chas Distelrath, Jason Newel, Robby Flannery, Hayden Winch, and Jason Recchia scored for the Jets, and Cam Williams notched one for the Vengeance. Metro goalies Jake Gwillim and Brian Tallieu made 17 and 2 stops each, while Nikoloas Manousos and Jacob Zab made 20 and 7 stops, respectively, for Pittsburgh.
St Louis Jr Blues 20 vs. Chicago Bulldogs 2-The St Louis Jr Blues maintained a strong offensive presence to climb to a 20-2 win over the Chicago Bulldogs. Ivan Galaguzov (4), Joe Nolan, Ryan Edgar (2), Robby Seger (2), Curtis Schlereth, Samuel Maddox (2), Jack Hatton (3), Andrew Froese, Logan Fennema, Daniil Ovchinnikov, Max Kamper, and Dylan Carroll all scored for the Jr Blues, and Braden Rowe and Teddy Cardinale each notched one for Chicago. In net, Zach Young made 10 stops for St Louis, and Brendan Barada and Niks Lukasuks made 25 and 31 saves, respectively, for the Bulldogs.
Syracuse Stampede 4 vs. Lockport Express 3-The Syracuse Stampede grabbed an early 2 goal lead on their way to a 4-3 victory over the Lockport Express. Nate Walker, Nick Mandia, Oscar Lande, and Josh Wallace all scored for the Stampede, while Luca Mazzo (2) and Blake Bennett earned points for the Express. Syracuse goaltender Steven Kozikoski made 57 saves, while Adam Partridge grabbed 33 stops for Lockport.
La Crosse Freeze 5 vs. Rochester Ice Hawks 1-An early lead for the La Crosse Freeze helped carry them to a 5-1 victory over the Rochester Ice Hawks. Jp Eykym, Connor Losen, Lukas Motloch, Danny Toycen, and Donny Schultz scored for the Freeze, while Skyler Watt notched one for the Ice Hawks. In net, Jacob Silverstein made 25 stops for La Crosse, and Drew Schenkenberg stopped 33 shots for Rochester.
L/A Fighting Spirit 3 vs. East Coast Minutemen 2 (OT)-Walker Hamilton scored halfway through extra time to give the 3-2 OT win to the L/A Fighting Spirit over the East Coast Minutemen. Jonathan Donaghey and Shayne Plummer scored in regulation for the Fighting Spirit, and Shamus Lombard and Jon Mathieu each notched one for the Minutemen. L/A goaltender Michael Errico made 29 stops, while Dom Montecalvo stopped 50 shots for East Coast.
Nashville Jr Predators 4 vs. Atlanta Capitals 2-After a lengthy back and forth, the Nashville Jr Predators came out with a 4-2 win over the Atlanta Capitals. Logan Orem, Adam Stalzer, Benjamin Skinner, and Dylan Schmidt scored for the Jr Predators, while Boomer Miller and Sascha Figi notched goals for the Capitals. In net, Mason Koster made 27 stops for Nashville, while Atlanta's Nolan Bivolcic stopped 28 shots on the night.