Metro Jets make history with winning streak
January 30, 2017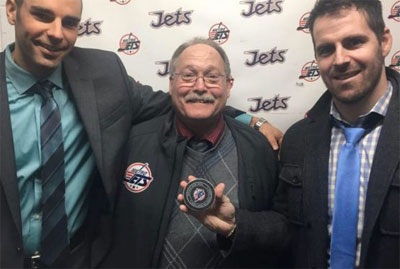 The NA3HL's Metro Jets entered the record books Sunday afternoon after a 5-1 win over the Pittsburgh Vengeance at Fraser Hockeyland.
With the win, the Jets' record moves to 35-0-0 on the year – a new USA Hockey Tier III record for consecutive wins.
"It's definitely special," said Jets coach-GM Justin Quenneville. "For anyone who's donned a Jets jersey and been a part of this organization, it obviously speaks volumes. Everyone who's been involved in this, it's been fun, and these players, their names are etched in history. From the beginning of the year, I think the way they've approached each week and bought into the process of how we prepare, this is a reflection of them all getting together to be a part of this.
"I'm proud of them, but we obviously have a bigger goal in mind, but we'll enjoy this right now."
In the win, Hayden Winch posted a goal and two assists, while Jason Newel, Chas Distelrath, Jason Recchia and Robby Flannery added single goals.
Griffin Sawyer picked up three assists and Jake Gwillim turned aside 17 shots before Brian Tallieu played the final 38 seconds and stopped both shots he faced.
"Obviously, we responded well and put forth a good effort today," said Quenneville. "We were more prepared today than we were yesterday."
"I thought we played well today and we didn't turn the puck over that much," Jets forward Connor Inger said. "We got some pucks from the point and buried rebounds, got some tips."
In setting the wins record, Jets assistant coach Randy Wilson said it's "all about these kids."
"How many kids can say they've ever been on a team like this?" said Wilson. "The fact that everybody has contributed all the way down the line, I think that's the important part. This group of guys – this is something no one will ever take away from them."
Fellow assistant coach Jamie Lovell also deflected praise to the players.
"This is the easiest team I've ever had to coach," said Lovell. "These three coaches, I think all three of us can attest to the fact that we're behind the bench and all we have to do is roll the lines. The guys do all the work and they take all the credit, for sure."
Next weekend, the Jets head to Jamestown, N.Y., for a two-game set with the Southern Tier Xpress. Game time is 7 p.m. Friday night with a 5 p.m. puck drop scheduled for Saturday.