Central Report: Blizzard takes step forward with sweep
November 23, 2010
by Brian McDonough | NAHL.com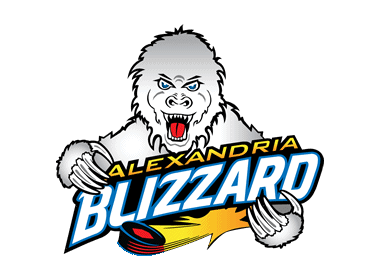 Plagued by inconsistency for much of the first two months of the season, the Alexandria Blizzard is hoping its two-game sweep last weekend gets it out of its erratic funk.

The Blizzard doubled up Aberdeen on Friday, 4-2, and came right back the next night to knock off the Wings, 4-1. With the wins, Alexandria improved to 9-7-3 on the season, good for a fourth-place position in the Central standings.

"That was big for us and hopefully we can gain some momentum going into our last eight games before (Christmas) break," said Blizzard assistant coach Jeff Crouse, crediting his team's efforts defensively and on the special teams against Aberdeen. "Our veterans really stepped up and showed they can be very dominant."

Look no further than Nardo Natgzaam for proof. Fresh off of his commitment to Mercyhurst College, the 20-year-old from the Netherlands unleashed for four goals, including the game-winner on Saturday, and two assists, including one on Brent Bain's game-winner the previous night, against the Wings.

"Nardo really picked up his game and showed why he's one of the best players in the league," said Crouse. "He played well in all ends of the rink and we expect him to continue to be a leader for our hockey team."

In his first two games with the Blizzard since being acquired from the United States Hockey League, Bain also impressed. The NAHL veteran who played last season with the Marquette Rangers tallied three goals and three assists over the weekend.

"He not only adds instance offense, but is great defensively and can kill penalties, too," Crouse said of the 20-year-old from Toledo, Ohio.

Another midseason pickup paying dividends is goaltender Jake Williams. The 20-year-old from Montreal who started the season with Fresno backstopped Alexandria to both victories over the Wings and now holds a 3-1-1 record since joining the Blizzard.

"Jake's helped solidify our goaltending situation and adds veteran leadership between the pipes for us," said Crouse, who says the netminder is receiving significant Division I interest, along with a number of other players.

The Blizzard's inability to string wins together is a result of its up-and-down team defense, according to Crouse. The coaching staff has emphasized competing for a full 60 minutes - something Alexandria did to near perfection against Aberdeen.

"Hopefully, we can keep it going," said Crouse, whose team hosts Bismarck on Friday before visiting Coulee Region on Saturday. "We think our team took a huge step forward last weekend and hopefully we finally broke out and can keep on our winning ways."

CENTRAL DIVISION NOTEBOOK

ABERDEEN WINGS: Forward Tyler Underhill tallied a pair of goals in the Wings' two losses to Bismarck last weekend. The 19-year-old from East Aurora, N.Y., who started the season with Texas has six goals for 10 points in 13 games with Aberdeen.

AUSTIN BRUINS: Forward Charlie Adams rang up a hat trick, including the game-winning goal, in the Bruins' 5-2 win over Coulee Region on Friday. The 18-year-old from White Bear Lake, Minn., has nine goals for 16 points through 19 games.

BISMARCK BOBCATS: Forward Matt Gates, a 20-year-old from Palantine, Ill., provided some needed offense in the Bobcats' two-game sweep over Owatonna, factoring in three of the team's five goals (two goals, assist). "Matt's been a leader for us from the start," said head coach Layne Sedevie. "He's been a huge part of our success lately and is starting to be rewarded for his hard work, on and off the ice."

COULEE REGION CHILL: Defenseman Matt Blomquist, 19, registered three assists, including one on Lucas Dillon's overtime game-winning goal, in the Chill's 4-3 triumph over Austin on Saturday. The Blaine, Minn., native has 14 points (two goals) in 18 games.

OWATONNA EXPRESS: After going 0-1-1 against Bismarck last weekend, the Express heads to Aberdeen for a pair of games on Friday and Saturday. Five of Owatonna's next nine games are on the road leading up to the Christmas break.