Americans, Whalers increase winning streaks on Thursday
February 3, 2017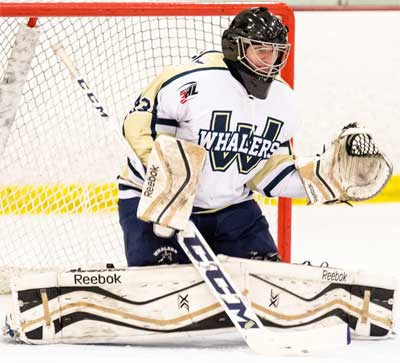 Wisconsin Whalers 3 vs. Breezy Point North Stars 1
- With all the scoring in the second, the Wisconsin Whalers scored three times to climb to a 3-1 win over the Breezy Point North Stars. Broddey Richards, Nick Miller, and Austin Lewis scored for the Whalers, while Steven Kukla notched one for the North Stars. Wisconsin goaltender Max McConnell made 45 saves and Lucas Ehrlich and Bronson Moore made 19 and 7 saves, respectively, for Breezy Point.
Boxscore
Great Falls Americans 6 vs. Helena Bighorns 1
- A late third period goal from Helena Bighorn Ben Kottmeier robbed Nick Nast of a shutout, but the Great Falls Americans still grabbed the 6-1 win. Ricards Bernhards, Adam Vandenbos, Michael Fary, Brendan Jester, Normunds Vibans, and Tanner Congdon scored for the Americans, and Nast finished with 16 saves. For Helena, Nicholas Battaglia stopped 33 shots.
Boxscore