Friday Finals: Ducks winning streak continues with shutout
February 4, 2017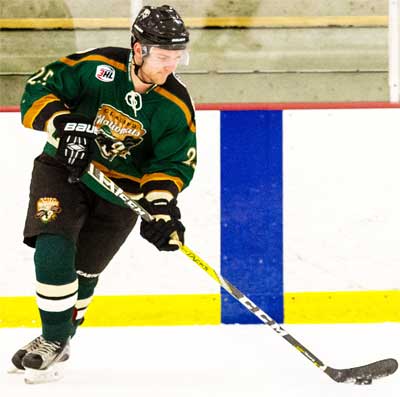 Point Mallard Ducks 4 vs. Evansville Jr Thunderbolts 0-A 29 save game and a pair of goals from Matt Goodman helped the Point Mallard Ducks to a 4-0 win over the Evansville Jr Thunderbolts. Phil Zbell and Joe Polcaro also scored for the Ducks, while Bryson Linenburg made 49 saves for Evansville.
Cape Cod Islanders 5 vs. L/A Fighting Spirit 4 (OT)-James Pollock of the Cape Cod Islanders tied the game with 1:59 left in the third, sending the match to extra time, where Kevin Connors scored to secure the 5-4 OT win for the Islanders over the L/A Fighting Spirit. Chris O'Donnell, Chris Collin, and Mitchell Eldridge also scored for the Islanders, while Jonathan Donaghey, Andrew McCormick, Sedrick Simons, and Felix Nyqvist each notched one for the Fighting Spirit. Cape Cod goaltender Anton Zemba made 41 saves on the night, while Aaron Callan stopped 34 shots for Lewiston/ Auburn.
Wisconsin Whalers 2 vs. Breezy Point North Stars 1-The Breezy Point North Stars scores first, but two unanswered goals from the Wisconsin Whalers carried them to the 2-1 victory. Connor Boscaccy and Carter Grobstick scored for the Whalers, and Austin Langworthy notched one for the North Stars. Max McConnell made 34 saves for Wisconsin, while Bronson Moore stopped 37 shots for Breezy Point.
Glacier Nationals 6 vs. Billings Bulls 3-A busy third period resulted in a 5-2 victory for the Glacier Nationals over the Billings Bulls. Brandon Huntington, Gavin Cline, Matt Baerg, Dillon Lindholm, and Lindros Beard (2) scored for the Nationals, and Keith Gustin and Gage Thompson (2) notched goals for the Bills. In net, Brendan Schultz made 47 saves for Glacier, while Simo Huhtanen stopped 41 shots for Billings.
Toledo Cherokee 2 vs. Cincinnati Thunder 1 (OT)-Ricky Kwapich scored early in OT to give the 2-1 victory to the Toledo Cherokee over the Cincinnati Thunder. Tristin Snyder scored in regulation for the Cherokee, and Nathan Marlow netted one for the Thunder. In net, Roman Malkov stopped 29 shots for Toledo, while Ryan Kostelnik made 36 saves for Cincinnati.
Metro Jets 6 vs. Southern Tier Express 4-Three straight goals in the third period powered the Metro Jets to a 6-4 win over the Southern Tier Express. Mathias Tellstrom, Connor Inger (3), Chas Distelrath, and Graham Day scored for the Jets, and Cameron Trejchel, Santeri Rajakallio, Ty Rickabaugh, and Bradley Delenko earned points for the Express. In net, Andrew Kormos made 29 stops for Metro, while Ryan Pascarella made 50 stops for Southern Tier.
Wooster Oilers 5 vs. West Michigan Wolves 3-The Wooster Oilers notched 2 in the third period to secure a 5-3 victory over the West Michigan Wolves. Cole Barney, Michael Zenone, Collin Felton, Tyler Kallay, and Tyler Groth scored for the Oilers, while Rich Corso, Nathan Sudek, and Dakota Ulmer notched points for the Wolves. Wooster goaltender Creighton Furber made 27 saves, while Brian Thomas stopped 29 shots for West Michigan.
Lockport Express 1 vs. Pittsburgh Vengeance 0-Lockport Express' Sam Fitzpatrick made 34 saves for a 1-0 shutout victory over the Pittsburgh Vengeance. Andrew Logan notched the lone goal for the Express. For Pittsburgh, Joel De Simone made 25 saves on the night.
Skylands Kings 2 vs. Jersey Shore Wildcats 0-Mathias Yttereng made 59 saves on the way to a 2-0 shutout win for the Skylands Kings over the Jersey Shore Wildcats. Craig Garrigan and Michal Sivek each scored for the Kings. In net, Zach Skop made 18 saves for the Wildcats.
Willmar War Hawks 7 vs. Rochester Ice Hawks 3-A four goal streak for the Willmar War Hawks helped them climb to a 7-3 win over the Rochester Ice Hawks. Max Oelkers, Nathan Ackerman, Braden Shea, Jacob Berkowitz, Riley Dixon, Jacob Dobberstein, and Kyle Wendorf each notched one for Willmar, and Zach Curry (2) and Alex Tarr earned points for the Ice Hawks. War Hawk goaltender Hayden Funk made 25 saves on the night, while Bailey Schmitz stopped 36 shots for Rochester.
New Ulm Steel 4 vs. La Crosse Freeze 3-Three unanswered goals for the New Ulm Steel pushed them to a 4-3 victory over the La Crosse Freeze. Alex Angel, Nicholas Campbell, Luc Kreuser, and Jared Erickson each scored for the Steel, and Micah Anderson, Tyler Briley, and Matt Wolter earned points for the Freeze. In net, Brady Boudreau made 29 saves for New Ulm, while La Crosse's Will Graves made 33 stops on the night.
Binghamton Jr Senators 5 vs. Roc City Royals 1-The Binghamton Jr Senators established an early lead to cruise to a 5-1 victory over the Roc City Royals. Daniel Johansson, Conor Landrigan (2), Brad Becker, and Ryan Reifler scored for the Jr Senators, and Brandon Corey notched one for the Royals. In net, Sal Lauretta made 20 stops for Binghamton, while Nicholas Sesock stopped 39 shots for Roc City.
Texas Jr Brahmas 4 vs. Louisiana Drillers 2-The Texas Jr Brahmas scored four in a row on their way to a 4-2 win over the Louisiana Drillers. Dakota Davis, James Boisvert, Jacob Peterson, and Kyle Torgerson each scored once for the Jr Brahmas, and Brandon Vukasin and Alex Regino notched one each for the Drillers. Defensively, Texas' Tyler Myers made 24 stops, while Santeri Seppinen stopped 27 shots for Louisiana.
Northeast Generals 4 vs. Maine Wild 3 (OT)-Derric Trudeau notched the game winner 1:58 into OT to give the 4-3 win to the Northeast Generals over the Maine Wild. Evegnii Semeniuk, Zach Needham, and Chris Lovell scored for the Generals in regulation, and Ryan Gilboy, Jordan Tieken, and Connor Busch earned points for the Wild. General goaltender Peter Ciccarelli made 40 saves, while Brandon Daigle stopped 43 shots for Maine.
Granite City Lumberjacks 7 vs. North Iowa Bulls 5-The Granite City Lumberjacks had a busy second period on their way to a 7-5 win over the North Iowa Bulls. Andrej Jamnicky, Keenan Lund (2), Matthew Sprink, Chase Di Bari, Braden Altena, and William Sprink scored for the Lumberjacks, and Sean Mallonee, Horka Sekesi, Tyler Bump, Mike Lyons, and Connor Clemons earned points for the Bulls. Between the pipes, David Mulligan made 24 saves on the night for Granite City, while Brady Meyers stopped 17 shots for North Iowa.
Euless Jr Stars 2 vs. College Station Spirit 1 (OT)-Kayne Fedor scored in overtime to give the 2-1 OT win to the Euless Jr Stars over the College Station Spirit. Tristan Wilson also scored for the Jr Stars, and Brandon Onstott notched one for the Spirit. In net, Nick Hart made 23 saves for Euless, while Dalton Baker stopped 56 shots for College Station.
Long Beach Sharks 6 vs. New England Stars 5 (SO)-Tomas Loeffelman and Martins Vitolins notched goals in a shootout to give the Long Beach Sharks a 6-5 win over the New England Stars. Ricky Regala, Alec Rovitz, Oskar Lindberg, Vitolins, and Trace Pederson scored in regulation for the Sharks, and Peter Menzies, Aidan Conlon, Michael Lempiainen (2) and John Krapian scored for the Stars.
Great Falls Americans 4 vs. Helena Bighorns 0-A pair of goals from Brendan Jester and 27 saves from Nick Nast powered the Great Falls Americans to a 4-0 win over the Helena Bighorns. Matt Janke and Tanner Congdon also scored for the Americans, and Nicholas Battaglia made 67 saves while in net for Helena.
Gillette Wild 8 vs. Bozeman Icedogs 0-Landon Anderson made 39 saves for the Gillette Wild on their way to an 8-0 win over the Bozeman Icedogs. Jack Oberg, Nick Stockert (3), Riley Holwegner, Cade Boreing, Cole Cirks, and Colt Johnson earned points for the Wild. Drew Pehrson and Luke Olson made 10 and 20 saves each for Bozeman.
Yellowstone Quake 7 vs. Missoula Junior Bruins 2-A busy third period propelled the Yellowstone Quake to a 7-2 win over the Missoula Junior Bruins. Iniaz Steyaert, Cole Stewart (2), Jesse Lawman (2), Hunter Ruschmeyer, and Curt Greenbush scored for the Quake, while Misha AKatnov and Zach Jaffe notched goals for the Junior Bruins. In net, Nick Ottenbacher made 48 saves for Yellowstone, and Tanner Loucks made 38 stops for Missoula.