Saturday Scores: 1st place Sharks clinch playoff spot
February 5, 2017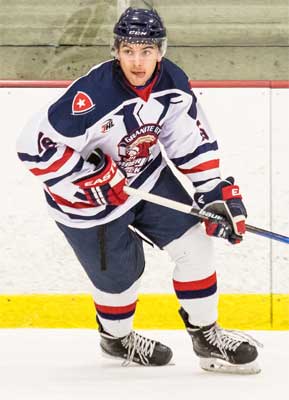 Long Beach Sharks 2 vs. New England Stars 1 (OT)-A pair of goals from Martins Vitolins, including the OT winner, carried the Long Beach Sharks to a 2-1 OT victory over the New England Stars. Micheal Lampiainen scored one for the Stars. In net, Long Beach's Kyle Van Wagner made 40 saves, and Greg Moon stopped 26 shots for New England.
Cape Cod Islanders 9 vs. East Coast Minutemen 3-The East Coast Minutemen fell to the Cape Cod Islanders, 9-3, after the Islanders scored 5 times in the first. Chuck Costello (3), Chris Collin, Chris O'Donnell (2), Aaron Deady, Niko Roy, and Kevin Connors got on the scoresheet for the Islanders, and Eric Steeves, Kami Kortelainen, and Nick Padgett each notched one for the Minutemen. Anton Zemba stopped 33 shots for Cape Cod, and East Coast's Nick Kent made 36 saves on the night.
Granite City Lumberjacks 5 vs. North Iowa Bulls 2-The Granite City Lumberjacks scored three goals, all from Andrej Jamnicky in the third to climb to a 5-2 win over the North Iowa Bulls. Ryan Smith andCasey Esselman also scored for Lumberjacks, and Braxton Collins and Connor Clemons scored for the Bulls. In net, Mac Berglove made 16 saves for Granite City, and Drew Scites stopped 31 shots for North Iowa.
Wooster Oilers 3 vs. West Michigan Wolves 0-Creighton Furber played a perfect game with 24 saves to give the Wooster Oilers the 3-0 win over the West Michigan Wolves. Michael Zenone, Jeremy Ross, and Philippe Martineau each notched one for the Oilers. For West Michigan, Sam Woznicki made 34 saves on the night.
La Crosse Freeze 6 vs. New Ulm Steel 1-Five unanswered goals for the La Crosse Freeze led them to a 6-1 win over the New Ulm Steel. Lukas Motloch, Connor Losen, Danny Toycen, Hunter Dolan, Tyler Briley, and Joshua Frerks each notched one for the Freeze, while Fritz Belisle scored once for New Ulm. La Crosse goaltender Andrew Wagner made 37 saves, while Nathan Siclovan and Jon Albers made 14 and 5 stops for New Ulm.
Metro Jets 7 vs. Southern Tier Express 1-The Metro Jets secured an early lead on their way to a 7-1 win for the Southern Tier Express. Chase Sereno, Mathias Tellstrom, Kristian Alafriz, Trevor Momot, Louis Boudon (2), and Griffin Sawyer scored for the Jets, and Arttu Rajamaki notched one for the Express. In net, Jake Gwillim made 15 saves for Metro, while Ryan Pascarella and Harrison Vangellow stopped 45 and 10 shots each for the Southern Tier.
Pittsburgh Vengeance 7 vs. Lockport Express 3-A busy third period carried the Pittsburgh Vengeance to a 7-3 win over the Lockport Express. Chris Harvey, Justin Smith, Cam Williams, Dillon Joyce, Vincent Casale (2), and Nolan Puhala all earned points for the Vengeance, while Dominic Senese, Ryan Metzler, and Luca Mazzo each netted one for the Express. Pittsburgh goaltender Jacob Zab made 20 saves on the night, while Sam Fitzpatrick made 42 stops for Lockport.
L/A Fighting Spirit 5 vs. Northeast Generals 1-A pair of goals from L/A Fighting Spirit forward Dylan Vrees helped them power to a 5-1 victory over the Northeast Generals. Sedrick Simons, Caleb Labrie, and Walker Hamilton also scored for L/A, while Derric Trudeau got the Generals on the board. Aaron Callan made 24 stops for the Fighting Spirit, and Leo Lake stopped 36 shots for Northeast.
Toledo Cherokee 3 vs. Cincinnati Thunder 2 (SO)-EJ Gilbert and Adam Felser each scored in a shootout to give the Toledo Cherokee a 3-2 SO win over the Cincinnati Thunder. Gilbert also scored in regulation for Toledo, as did Ethan Resetar. For the Thunder, Jake Ustorf and Jacob Friedman scored in regulation, and Ustorf also notched one. Roman Malkov made 33 saves for the Cherokee, and Ryan Kostelnik stopped 31 shots for Cincinnati.
Jersey Shore Wildcats 4 vs. Skylands Kings 1-The Jersey Shore Wildcats maintained a strong lead to secure a 4-1 win over the Skylands Kings. Antonion Filippello, David Vaysberg, Jake Beck, and Frederick Schaljo each scored one for the Wildcats, and Mike King notched one for the Kings. In net, Rio Virgoe made 22 saves for Jersey Shore, and Mathias Yttereng stopped 31 shots for Skylands.
Point Mallard Ducks 3 vs. Evansville Jr Thunderbolts 1-Three goals in a row for the Point Mallard Ducks helped them to a 3-1 victory for the Evansville Jr Thunderbolts. Cameron Hamlet, John Meakins, and Elias Nilsson scored for the Ducks, and Brandon Rozema notched one for the Jr Thunderbolts. In net, Kevin Mackey made 33 saves for Point Mallard, while Evansville's James Fry stopped 46 shots.
Peoria Mustangs 5 vs. Nashville Jr Predators 3-The Peoria Mustangs held a strong offensive presence to secure a 5-3 win over the Nashville Jr Predators. Anthony Iacullo, Rhett McDonald, Braden Stewart, Cody Layne, and Andrej Buchko scored for the Mustangs, and Weiland Parrish (2) and Dylan Schmidt earned points for the Jr Predators. Defensively, Jonathan Chin made 23 saves for Peoria, and JT Kossakowski stopped 34 shots for Nashville.
Alexandria Blizzard 3 vs. Willmar War Hawks 1-The Alexandria Blizzard scored 3 unanswered goals to power to a 3-1 victory over the Willmar War Hawks. Riley Meyer, Brenden Payne, and Josiah Roen each scored one for the Blizzard, and Kane Toriumi notched one for the War Hawks. Alexandria net minder Brey Effertz made 30 saves, while Alex Weissenborn stopped 37 shots for Willmar.
Binghamton Junior Senators 9 vs. Roc City Royals 2-A strong second period for the Binghamton Junior Senators powered them to a 9-2 win over the Roc City Royals. Ryan Reifler (2), Dominik Bogdziul (2), Brad Becker (3), Tyler Uravage, and Ryan Flanagan earned points for the Junior Senators, and Brandon Corey and Zach Buchholz scored for the Royals. Binghamton goaltender Steven Schmitt made 19 saves, while Freddy Peters stopped 38 shots for Roc City.
Euless Jr Stars 8 vs. College Station Spirit 1-The Euless Jr Stars grabbed an early lead on their way to an 8-1 win over the College Station Spirit. Thomas Delaney (3), Tristan Wilson, Nick Snyder, Dalton Caesar, Chase Deacon, and Remy Kesling scored for the Jr Stars, while Trevor Wolf notched one for the Spirit. In net, Maxwell Kerner made 27 saves for Euless, while Ryan O'Toole and Dalton Baker stopped 26 and 28 shots, respectively, for College Station.
Texas Jr Brahmas 4 vs. Louisiana Drillers 2-A pair of goals from Texas Jr Brahma Vincent Dekumbis pushed them to a 4-2 win over the Louisiana Drillers. Melker Kroon and Jacob Peterson also scored for the Jr Brahmas, and Brayden Hutchinson notched two for the Drillers. Texas goalie Samuel Solomon made 27 stops on the night, and Kevin Lake stopped 29 shots for Louisiana.
Billings Bulls 7 vs. Glacier Nationals 3-A strong third period for the Billings Bulls pushed them to a 7-3 victory over the Glacier Nationals. Kenny Miller, Matt Newberger (2), Kyle Mueller, Gage Thompson, Duncan Cameron, and David Matusek scored for the Bulls, and Lindros Beard, Tim Vantinen, and Hayden Moistner notched goals for the Nationals. In net, Chayo Goodwin stopped 45 shots for Billings, while Brendan Schultz made 47 saves for Glacier.
Yellowstone Quake 4 vs. Missoula Junior Bruins 3 (OT)-The Yellowstone Quake returned from a 2 goal deficit to secure a 4-3 OT win over the Missoula Junior Bruins. Ian Doner, Max Doner, Tony Dahlberg, and Matt Runyon (OT) scored for the Quake, and Misha Akatnov, Justin Barnes, and Christian Ward notched goals for the Junior Bruins. Yellowstone goaltender Nick Ottenbacher made 40 stops, while Tanner Loucks stopped 51 shots for Missoula.
Gillette Wild 4 vs. Bozeman Icedogs 3-The Gillette Wild gained an early lead to secure a 4-3 victory over the Bozeman Icedogs. Kyle Truax, Brooks Mitzel, Riley Holwegner, and Cade Boreing scored for the Wild, while Steven Nisbet, Nicholas DuLong, and Carmon Teel each notched one for the Icedogs. Between the pipes, Robbie Brennan made 29 saves for Gillette, and Drew Pehrson stopped 41 shots for Bozeman.