North Report: Warriors keep with winning ways
November 24, 2010
by Lance-Michael Correia | NAHL.com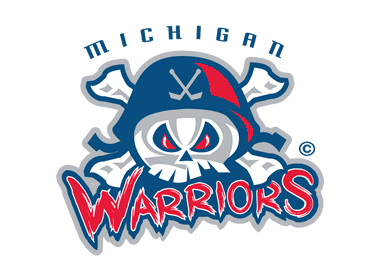 Thanksgiving is a time for family and friends to feast and express appreciation for another year of success and happiness.

For North American Hockey League teams, turkey time also affords an opportunity to assess their progress, standing and prospects for future success with the first third of the current campaign in the books.

With eight teams battling for four playoff spots, the new-for-2010 North Division was expected to be a dogfight - and the race has lived up to the billing as December approaches.

Perennial power St. Louis has sprinted ahead of the pack at 16-7-3, but a mere four points separates second-place Springfield from sixth-place Motor City, with Michigan, Janesville and Traverse City wedged betwixt.

"It's about what we expected to see, knowing what the returning teams had and having a pretty good idea what St. Louis and Springfield were bringing in," said North Stars head coach Anthony Palumbo. "And it's a pretty fair likelihood that it'll be tight right down to the wire in February and March."

With five straight wins while outscoring their opponents by a 27-8 margin over that span, the Michigan Warriors are red-hot, riding the netkeeping exploits of Brach Tiller to a two-game sweep of Port Huron last weekend at McMorran Arena.

The goaltender from Maumee, Ohio, steered aside 48 of the 51 shots he faced and improved to 6-3-0 with a 9-2 triumph on Friday and a 6-1 victory in the series finale the following night.

Veteran forwards Scott Henegar and Andrew Kolb have also combusted of late, with the tandem combining for 14 points on the weekend.

Trenton, Mich., product Henegar had five goals and a pair of assists, and now has 13 points over his last five outings.

Kolb, a Toledo, Ohio, native, served up four assists on Friday, then topped it off with a pair of goals and an assist on Saturday. He has 19 points in his last eight contests.

"I was quite pleased with how the team played," said Warriors head coach Moe Mantha. "We had five regulars out of the lineup (on Friday) and our power play capitalized on our chances.

"Brach has been tremendous in the net for us, and the offense is clicking on all cylinders."

Michigan will hit the road this weekend, visiting another of the division's recent ground-gainers in Traverse City. The North Stars took two of three from North leader St. Louis at Centre ICE Arena last weekend and have won three of their last four.

Mantha says his team will have to keep its mojo working to further ascend in the North standings.

"Traverse City just beat the first-place team two games in a row, so they'll be carrying a lot of momentum when we face them," he explained. "We'll have to be ready for them to come right at us in their arena."

NORTH DIVISION NOTEBOOK

CHICAGO HITMEN: The Hitmen kicked off a two-weekend western road trip with a pair of games in British Columbia against interdivisional foe Dawson Creek. Chicago got a goal and assists from Gabe Gervais on Friday, while Austin Cihak dished out a pair of assists on Saturday. The Hitmen visits Wenatchee this weekend for a two-game set.

JANESVILLE JETS: The Jets and Bandits are going to become much better acquainted over the next few weeks, with Janesville making its first-ever visit to the Gateway City for three games this weekend. After a weekend off, the Jets will welcome St. Louis back to Janesville Arena for a two-game showdown. The teams split a pair of contests on Nov. 5-6.

MOTOR CITY METAL JACKETS: Winners of four of their last six games, the Metal Jackets enjoyed a weekend respite from NAHL action and will get to enjoy an extended homestand throughout November and into December. Port Huron, Traverse City and Chicago will visit Kennedy Rec Center before the club finally leaves Motown on Dec. 16. Despite the off weekend, Cody Wydo still leads all NAHL skaters with 40 points in 20 games.

PORT HURON FIGHTING FALCONS: Louis Educate had his four-game point streak snapped on Friday against Michigan, but had an assist in Saturday's return engagement with the Warriors and now has eight points in six outings with Port Huron. He's tied for eighth in the league with 27 points overall.

SPRINGFIELD JR. BLUES: The Thanksgiving break began early for the Jr. Blues, as the team is off for two consecutive weekends, returning to action on Dec. 3 in Chicago. Springfield's front-loaded schedule has reached 28 games already, as many as nine more contests than division foe Port Huron. Ethan Naumann leads the Blues with 12 goals and 34 points, while defenseman Jack Callahan leads the league with 23 assists.

ST. LOUIS BANDITS: The Bandits-Jets series this weekend isn't just a matchup of two of the division's top clubs. The team's "BBQ, Brews & Bandits" event is slated for Saturday, with culinary contestants vying for nearly $6,000 in prize money. Teams compete in four categories - chicken, ribs, pulled pork and brisket - and the event's grand champion will take home $1,500. The annual contest is the Kansas City Barbeque Society's state championship event.

TRAVERSE CITY NORTH STARS: Defenseman Travis White is starting to rack up the accolades, honors and awards. With a goal and two assists on Saturday and one of each on Sunday to lift the Stars past St. Louis both nights, the Sterling Heights, Mich., product was named the North Division Player of the Week. White is also slated to partake in the NAHL Top Prospects Tournament next month in Massachusetts - his third all-star nod. He's played his way onto the NAHL's All-North Division team in each of the past two campaigns.