Weekend Wrap-Up: Euless part of many sweeps on Sunday
February 6, 2017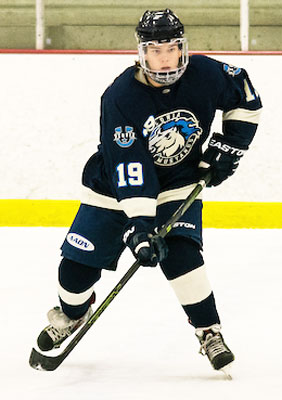 L/A Fighting Spirit 5 vs. Maine Wild 3-The L/A Fighting Spirit scored two in a row in the third to defeat the Maine Wild 5-3. Shayne Plummer (2), Dylan Vrees, Jonathan Donaghey, and Thomas Kuntz scored for the Fighting Spirit, and Nick Fort, Ryan Gilboy, and Jacob Branson got on the scoresheet for the Wild. In net, both Tyler Friel (L/A) and Brandon Daigle (Maine) made 27 saves on the night.
Binghamton Junior Senators 7 vs. Roc City Royals 2-A pair of goals from both Ryan Flanagan and Conor Landrigan helped the Binghamton Junior Senators to a 7-2 win over the Roc City Royals. Zachary Staliano, Austin Bandura, and Dominik Bogdziul also scored for the Junior Senators, and Brandon Corey notched two for Roc City. Binghamton goaltender Sal Lauretta made 23 saves, while Ian Stahl and Nicholas Sesock stopped 22 and 17 shots for the Royals.
Peoria Mustangs 6 vs. Nashville Jr Predators 3-The Peoria Mustangs earned an early lead on their way to a 6-3 win over the Nashville Jr Predators. Thomas Kolaz, Tyler Kuhn, Brennan Begner, Andrej Buchko (2), and Austin Wisely scored for the Mustangs, and Trent Kulczyk and Niks Kalnberzins (2) notched goals for the Jr Predators. In net, JT Kossakowski made 21 saves for Peoria and Ricky Gonzalez stopped 19 shots for Nashville.
Texas Jr Brahmas 4 vs. Louisiana Drillers 3 (OT)-Dakota Davis scored an OT winner to give the 4-3 OT win for the Texas Jr Brahmas over the Louisiana Drillers. Jacob Berry, Cole Schulz, and Vincent Dekumbis scored in regulation for the Jr Brahmas, and Tucker Alspaugh and Brayden Hutchinson (2) notched goals for the Drillers. Defensively, Texas goaltender Tyler Myers made 27 saves, and Louisiana's Santeri Seppinen stopped 32 shots.
East Coast Minutemen 3 vs. Cape Cod Islanders 1-Two unanswered goals for the East Coast Minutemen powered them to a 3-1 win over the Cape Cod Islanders. Kyler Harding, Jon Mathieu, and Leevi Kervinen scored for the Minutmen, and Nash Braun notched one for the Islanders. In net, Dom Montecalvo made 39 saves for East Coast, while Cape Cod netminder Justin Servidori stopped 35 shots on the night.
Euless Jr Stars 10 vs. College Station Spirit 0-A four goal game for Euless Jr Star Bryce Harrison helped them to a 10-0 win over the College Station Spirit. Kayne Fedor, Tristan Wilson, Chase Deacon, Dalton Caesar, and Nick Sheridan (2) also scored for Euless.