Friday Finals: Oilers win 5th straight with shutout
February 11, 2017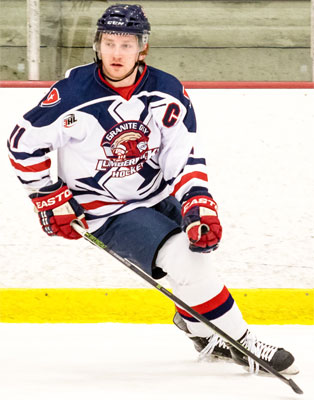 Wooster Oilers 1 vs. Southern Tier Express 0-Creighton Furber made 38 saves for a 1-0 shutout victory for the Wooster Oilers over the Southern Tier Express. Cole Barney notched the lone goal of the game, while Ryan Pascarella stopped 42 shots for the Express.
Granite City Lumberjacks 8 vs. Willmar War Hawks 2-The Granite City Lumberjacks gained an early lead on their way to an 8-2 win over the Willmar War Hawks. Keenan Lund, Jordan Olson, Matthew Sprink, Andrej Jamnicky (2), Ryan Smith, Brandon Bissett, and Will Mix scored for the Lumberjacks, and Jacob Dobberstein and Kyle Wendorf notched goals for the War Hawks. In net, David Mulligan made 29 saves for Granite City, while Alex Weissenborn stopped 60 shots for Willmar.
Point Mallard Ducks 5 vs. Euless Jr Stars 3-The Point Mallard Ducks came back from a 2 goal deficit to secure a 5-3 win over the Euless Jr Stars. Brandon Knopf, Mark Revniaga, John Meakins, Elias Nilsson, and Jake Cox each notched one for the Ducks, while Thomas Delaney and Chase Deacon (2) earned points for the Jr Stars. Point Mallard goalie Gary Glassman made 33 saves on the night, while Maxwell Kerner stopped 34 shots for Euless.
New England Stars 5 vs. L/A Fighting Spirit 2-The New England Stars came back from a one goal deficit to a 5-2 victory over the L/A Fighting Spirit. Peter Menzies, Brandon Hammner, Ian Gately, Derek Flynn, and Alex Pilatsky each scored one for the Stars, and Caleb Labrie and Jonathan Donaghey earned points for the Fighting Spirit. In net, Dom Lamanno made 31 saves for New England, while Aaron Callan and Tyler Friel made 6 and 21 saves for L/A.
Metro Jets 5 vs. West Michigan Wolves 1-A pair of goals from Metro Jets' forward Louis Boudon helped power the team to a 5-1 win over the West Michigan Wolves. Connor Inger, Chase Sereno, and Griffin Sawyer also scored for the Jets, and Nathan Sudek notched one for the Wolves. Defensively, Jake Gwillim made 23 stops for Metro, while Sam Woznicki stopped 39 shots for West Michigan.
Long Beach Sharks 7 vs. Maine Wild 4-Oscar Lindberg notched two goals on the Long Beach Shark's way to a 7-4 victory over the Maine Wild. Gunther Stange, Martins Vitolins, Alex Cerda, and Corey Rees scored for the Sharks as well, and Tucker Twardosky (2), Cameron Campbell, and Lema Muradov notched points for the Wild. In net, Kyla Van Wagner stopped 23 shots for Long Beach, while Chris Oshaughnessy and Brandon Daigle made 22 and 15 saves each for Maine.
Nashville Jr Predators 8 vs. Evansville Jr Thunderbolts 2-The Nashville Jr Predators maintained a strong offensive presence throughout the game to secure an 8-2 victory over the Evansville Jr Thunderbolts. Conor Cunningham, Michael Redmon (3), Weiland Parrish (2), Trent Kulczyk, and Benjamin Skinner each scored for the Jr Predators, while Matt McElroy and Nick Luke each notched one for the Jr Thunderbolts. In net, Mason Koster stopped 13 shots for Nashville, while Corbin Moore and Bryson Linenburg each made 114 and 10 saves for Evansville.
New Ulm Steel 3 vs. Alexandria Blizzard 0-Nathan Siclovan made 26 saves for the New Ulm Steel on their way to a 3-0 victory over the Alexandria Blizzard. Alex Angel, Fritz Belisle, and Jacob Padley each scored for the Steel. Michael Hughes made 26 saves for the Alexandria Blizzard.
North Iowa Bulls 4 vs. Rochester Ice Hawks 3-Sean Mallonee, Marshall Barnes, Josh Arnold, and Brendan Studioso each notched a goal for the North Iowa Bulls to carry them to a 4-3 win over the Rochester Ice Hawks. Charles Bill (2) and Dylan Boysen scored for the Ice Hawks. In net, Drew Scites and Brady Meyers made 16 and 6 saves, respectively, for North Iowa, while Drew Schenkenberg made 31 saves for Rochester.
Northeast Generals 8 vs. East Coast Minutemen 1-The East Coast Minutemen scored first, but 8 consecutive goals for the Northeast Generals helped them to an 8-1 win. Derric Trudeau, Conor Harrington, William Nilsson, Bill Hickey, Tyler Rudek, Luke Whalen, Campbell Jackson, and Stephen Toal scored for the Generals, and Shamus Lombard notched one for the Minutemen. Peter Ciccarelli made 37 saves for Northeast, while Nick Kent stopped 40 shots for East Coast.
Roc City Royals 5 vs. Lockport Express 4-Roc City Royal Henrik Toivianen scored with 2 seconds left to push them to a 5-4 win over the Lockport Express. Brandon Corey (2), Peter Izzo, and Christopher Spicer also scored for the Royals, and Aaron Shahin, Blake Bennett, and Andrew Logar (2) notched goals for the Express. Between the pipes, Ian Stahl stopped 40 shots for Roc City, while Sam Fitzpatrick made 27 saves for Lockport.
Louisiana Drillers 4 vs. College Station Spirit 1-A pair of third period goals from Brayden Hutchinson pushed the Louisiana Drillers to a 4-1 victory over the College Station Spirit. Austin Weber and Brandon Prewett also scored for the Drillers, and Alex Norwinski netted one for College Station. In net, Kevin Lake made 26 saves for Louisiana, and Ryan O'Toole made 37 stops for College Station.
Gillette Wild 12 vs. Glacier Nationals 2-A strong first period helped the Gillette Wild to a 12-2 victory over the Glacier Nationals. Derek Scoggins, Tyler Tennant (2), Nick Stockert (2), Blake Kauth, Kyle Truax (2), Riley Holwegner, Colt Johnson, Jack Oberg, and Andrew Hanson scored for the Wild, while Matt Baerg and William Wallace notched goals for the Nationals. In net, Robbie Brennan stopped 16 shots for Gillette while Will Langstaff made 46 saves for Glacier.
Helena Bighorns 7 vs. Billings Bulls 1-The Helena Bighorns scored 5 consecutive goals on their way to a 7-1 victory over the Billings Bulls. Adam Apangalook, John Heddle (2), Bradley Estrada, Ben Kottmeier, Gavin Cline, and Nicholas Lindgren scored for the Bighorns, and Kyle Mueller notched one for the Bulls. Defensively, Nicholas Battalglia made 12 saves for the Bighorns, while Chayo Goodwin stopped 39 shots for Billings.
Yellowstone Quake 4 vs. Bozeman Icedogs 0-Yellowstone Quake goaltender Nick Ottenbacher made 19 saves on his way to a 4-0 shutout victory over the Bozeman Icedogs. Iniaz Steyaert, Max Meyer, and Curt Greenbush (2) scored for Yellowstone, and Luke Olson made 40 stops for the Icedogs.
Great Falls Americans 2 vs. Missoula Junior Bruins 1 (OT)-Tanner Congson notched an OT winner for the Great Falls Americans on their way to a 2-1 victory over the Missoula Junior Bruins. Kody Thomas scored for the Americans in regulation, and Zach Jaffe notched one for the Junior Bruins. In net, Nick Nast made 31 stops for Great Falls, and Tanner Loucks stopped 38 shots for Missoula.