West Report: Consistency is Avs' recipe for success
November 25, 2010
by Brian McDonough | NAHL.com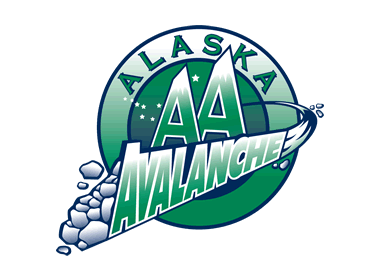 There's a logjam towards the top of the West Division standings, and thanks to a recent eight-point surge, the Alaska Avalanche is leading the pack.

With a two-game sweep over Wenatchee followed by a split with Fairbanks and most recently a win over Fresno on Thanksgiving Eve, the Avalanche sits in first place with 30 points, two more than the Ice Dogs, Wild and Kenai River, all of whom have 28 points apiece.

"It's competitive," Avalanche head coach Brian Huebel said of the West. "On paper and after seeing every team in our division, every team is right there."

Huebel, whose team improved to 15-11 on the year, credits the Avalanche's recent success to solid showings from up and down the entire lineup, calling the promising stretch "the best team effort of the season to date."

Plenty of players have stepped to the forefront, among them forwards Andy Pearson, Jacob Barber and Brandon Brossoit, the Avs' top line that, given its outstanding chemistry, is proving to be a lethal offensive threat. At the other end of the ice, defenseman Jake Williams' consistent performances are also having a significant impact.

"We've been preaching that every game is a big game, and with that we need to make sure we're coming into those contests with a very high level of focus and compete," said Huebel.

Others are showing continued signs of progress, including forward Blake Huppert, whom Huebel says has shown the flashes of dominance he peddled late last season, as well as Tyler Briola, who's begun to emerge as a reliable defenseman the Avalanche is comfortable using in a number of situations.

The arrivals of Dan Senkbeil, a defenseman who began the season in the United States Hockey League, and forward Ross Pavek, acquired this year from Janesville, haven't hurt either. Both have added value on the ice and in the locker room.

"Dan's a high-end player and we have very high expectations of him as he builds confidence and takes on the attributes needed to become a more efficient defenseman," said Huebel.

"And Ross has shown signs of an athlete who can be very talented down the road. Now, the trick with him is to make that learning curve as short as possible."

With December right around the corner, Huebel has very few complaints given his team's recent performances. He's nothing but excited about the direction his club is headed, especially with the leadership it has in place.

"I like the way our captains and veterans have come together to help the team bond this far into the season," he said. "Like most teams, we've faced a lot of adversity in the early goings, but there always seems to be someone stepping in and holding their own.

"As we begin to buy into concepts and ideas more and become more consistent, we all feel as though we can have a serious impact on the league this season."

And while the division lead is nice, Huebel is paying very little attention to the standings; he just wants to keep shaping a better team for when it counts most.

"We're focusing on the things we need to do collectively as a team to have success," said Huebel, whose team plays two more games in Fresno over Thanksgiving weekend before tangling with Wenatchee for two on Dec. 3-4.

"Being on the road is a great opportunity for us to continue to bond together, and we're very much looking forward to it."

WEST DIVISION NOTEBOOK

DAWSON CREEK RAGE: The Rage rolled two a two-game sweep over visiting Chicago last weekend. Blaine Bokenfohr, a 20-year-old forward from Sturgeon County, Alberta, picked up two goals and an assist in Friday's 6-3 triumph.

FAIRBANKS ICE DOGS: Alaska-Fairbanks recruit Jared Linnell, from North Pole, Alaska, connected for two goals and assisted on Tayler Munson's game-winner in the Ice Dogs' 5-3 victory over Alaska on Saturday. The 17-year-old will compete in the upcoming NAHL Top Prospects Tournament.

FRESNO MONTERS: With last weekend off, the Monsters welcomed Alaska to town for a three-game series with games slated for Wednesday (a 7-5 loss), Friday and Saturday. Fresno plays its next seven games at home heading into the Christmas break.

KENAI RIVER BROWN BEARS: Swedish-born goaltender Mathias Dahlstrom, 19, picked up both wins for the Brown Bears in their two-game sweep over Wenatchee, making 69 of 77 shots in regulation and overtime and two of five in Saturday's shootout. "Mathias was the central figure in us earning those four points," said head coach Oliver David. "He was sharp."

WENATCHEE WILD: Tyler Hope, an 18-year-old forward, struck for four goals, including a hat trick on Friday, as the Wild picked up two points in two games against Kenai River. The McKinney, Texas, native now has seven goals (12 points) through 22 games this season.