Saturday Scores: Bulls get back on track with sweep
February 12, 2017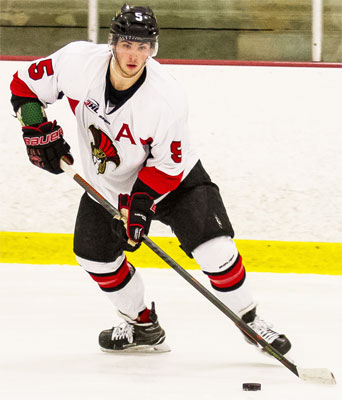 North Iowa Bulls 5 vs. Rochester Ice Hawks 1-The North Iowa Bulls grabbed a 4 goal lead on their way to a 5-1 win over the Rochester Ice Hawks. Mitch Dolter, Marshall Barnes, Brendan Studioso, Braxton Collins, and Josh Arnold each scored once for the Bulls, and Zach Curry notched one for the Ice Hawks. North Iowa goaltender Brady Meyers made 17 saves on the night, and Drew Schenkenberg and Bailey Schmitz made 7 and 48 stops, respectively, for Rochester.
Atlanta Capitals 6 vs. Euless Jr Stars 3-The Atlanta Capitals grabbed an early lead to bring them a 6-3 victory over the Euless Jr Stars. Michael Klintworth (3), Talon Medure, Sascha Figi, and Christian Dale scored for the Capitals, and Kayne Fedor, Landon Michniak, and Anthony Chavez notched points for the Jr Stars. In net, Connor Fewster stopped 20 shots for Atlanta, and Nick Hart made 30 saves for Euless.
Peoria Mustangs 3 vs. St Louis Jr Blues 2 (SO)-Anthony Iacullo and Jordan Hillman scored in a shootout for the Peoria Mustangs, securing the 3-2 win over the St Louis Jr Blues. Hillman and Iacullo also scored in regulation for the Mustangs. For the Jr Blues, Zach Mitchell notched a shootout goal, and Nick Blestra and Ivan Galaguzov earned points during regulation. Defensively, Peoria goaltender JT Kossakowski made 42 stops, and Hunter Smith stopped 36 shots for St Louis.
Binghamton Junior Senators 5 vs. Syracuse Stampede 4 (OT)-Ryan Flanagan notched an OT goal for the Binghamton Junior Senators, securing the 5-4 OT victory over the Syracuse Stampede. Dylan Gulick, Ryan Reifler, Zach Satalino, and Austin Bandura scored in regulation for the Junior Senators, and Rocco DeRollo, Hunter Soden (2), and Josh Patterson earned points for the Stampede. Binghamton net minder Steven Schmitt made 31 saves on the night, while Ryan Scheide stopped 48 shots for Syracuse.
Pittsburgh Vengeance 3 vs. Toledo Cherokee 0-Joel De Simone made 23 saves for the Pittsburgh Vengeance to help them to a 3-0 win over the Toledo Cherokee. Austin Martz, Brian Dee, and Nolan Puhala scored for the Vengeance. Adrian Morales made 39 saves for the Cherokee.
Wooster Oilers 4 vs. Southern Tier Express 3 (OT)-Jeremy Ross notched three goals - including the OT winner - to push the Wooster Oilers to a 4-3 OT win over the Southern Tier Express. Tyler Groth also scored for the Oilers, and Devin Laird, Kyler Chartier, and Cameron Pries each netted a goal for the Express. In net, Creighton Furber made 31 saves for Wooster, and Southern Tier's Harrison Vangellow stopped 44 shots on the night.
Point Mallard Ducks 3 vs. Texas Jr Brahmas 2 (OT)-Jake Cox netted an OT winner to help the Point Mallard Ducks to a 3-2 win over the Texas Jr Brahmas. Mark Revniaga and Andrew Doepp also scored for the Ducks, and Kyle Torgerson and Bennett Weycker each netted goals for the Jr Brahmas. In net, Kevin Mackey stopped 42 shots for Point Mallard, and Tyler Myers made 33 stops for Texas.
Long Beach Sharks 4 vs. Maine Wild 1-Three first period goals from the Long Beach Sharks helped them to a 4-1 victory over the Maine Wild. Phil Garcia, Martin Grinberg, Oskar Lindberg, and Gunther Stange each scored one for Long Beach, and Connor Busch netted one for Maine. In net, Zach Young made 31 saves for Long Beach, while Brandon Daigle stopped 40 shots for the Wild.
Wisconsin Whalers 15 vs. Chicago Bulldogs 2-A four goal game from Ben Ratner helped the Wisconsin Whalers climb to a 15-2 victory over the Chicago Bulldogs. Other scorers for Wisconsin include Carter Grobstick (2), Jimmy McDermott, Matt Resch (2), Bryce Fisk, Nick Miller (2), Anthony Fortin, John Vandervalk III, and Austin Lewis. For Chicago, Braden Rowe and Teddy Cardinale earned points. Whalers goaltender Jacob Hough made 19 saves on the night, while Brendan Barada and Niks Lukasucks made 34 and 21 saves, respectively, for the Bulldogs.
Nashville Jr Predators 5 vs. Evansville Jr Thunderbolts 2-The Nashville Jr Predators scored four goals in the third to achieve a 5-2 win over the Evansville Jr Thunderbolts. Dylan Schmidt, Michael Redmon, Weiland Parrish, Trent Kulcyzk, and Logan Orem each notched one for Nashville, and Mathieu Laforest and Oliver Joensson scored for Evansville. In net, Jonathan Chin made 24 saves for the Jr Predators, and James Fry made 29 stops for the Jr Thunderbolts.
Cape Cod Islanders 9 vs. East Coast Minutemen 2-The Cape Cod Islanders held a strong offensive presence throughout the game to secure a 9-2 victory over the East Coast Minutemen. Chris O'Donnell (2), James Pollock (2), Mitchell Eldridge, Chuck Costello, Chris Collin, and Aaron Deady each scored for the Islanders, and Shamus Lombard and Eric Steeves notched goals for the Minutemen. Defensively, Ryan Clifford made 24 saves for Cape Cod, and Dom Montecalvo and Nick Kent stopped 47 and 2 shots, respectively, for East Coast.
Granite City Lumberjacks 4 vs. Willmar War Hawks 3 (OT)-Granite City Lumberjack Braden Altena scored in OT to secure the 4-3 win over the Willmar War Hawks. Will Mix, Ryan Smith, and Keenan Lund scored in regulation for Granite City, while Riley Tigrett, Riley Dixon, and Kyle Wendorf netted goals for Willmar. Mac Berglove stopped 18 shots for Granite City, while Alex Cathcart and Alex Weissenborn made 8 and 26 saves, respectively, for the War Hawks.
College Station Spirit 6 vs. Louisiana Drillers 1-The College Station Spirit built up a large head start on the way to a 6-1 win over the Louisiana Drillers. Jackson Greer, Blake Elliot, Preston Palamara, AJ Mendoza, Matt Hehr, and Gary Russell each scored for the Spirit, and Austin Weber notched one for the Drillers. College Station goaltender Dalton Baker made 39 stops on the night, while Santeri Seppinen stopped 32 shots for Louisiana.
Gillette Wild 11 vs. Glacier Nationals 2-The Gillette Wild grabbed an early lead on their way to an 11-2 victory over the Glacier Nationals. Zack Brunelle, Nolan Bartlett, Colt Johnson, Kyle Truax (2), Cade Boreing (2), Cole Cirks (2), Preston Fuller, and Hunter Feagins scored for the Wild, and Brandon Huntington and Wyatt Mattfeldt netted one each for the Nationals. Lincon Riley stopped 5 shots for Gillette, and Will Langstaff made 34 saves for Glacier.
Great Falls Americans 4 vs. Helena Bighorns 3-Tanner Congdon scored halfway through the third to put the Great Falls Americans up, securing the 4-3 win over the Helena Bighorns. Brendan Jester, Malachi Bushey, and Sandis Mezharaups scored for the Americans, and Gavin Cline, Adam Apangalook, and Ben Kottmeier netted goals for the Bighorns. In net, Nick Nast stopped 32 shots for Great Falls, while Helena's Nicholas Battaglia made 48 saves.
Yellowstone Quake 9 vs. Billings Bulls 2-A busy second period helped the Yellowstone Quake to a 9-2 win over the Billings Bulls. Pablo Pantoja (2), Cole Stewart, Max Doner, Carter Johnson, Reed Kelly, Hunter Ruschmeyer, and Matt Runyon scored for the Quake, and Austin Lange and Matt Newberger each notched one for the Bulls. Defensively, Brady Anderson made 13 saves for Yellowstone, and Simo Huhtanen stopped 65 shots for Billings.
Skylands Kings 5 vs. Roc City Royals 3-The Skylands Kings showed a steady offensive presence to secure a 5-3 victory over the Roc City Royals. Craig Garrigan (2), Nicholas King, Lionel Landry, and Steven Ford scored for the Kings, and Bryan Moscicki and Henrik Toiviainen earned points for the Royals. Skylands' goaltender Evan Barghout made 30 saves on the night, and Nicholas Sesock and Ian Stahl made 13 and 12 saves - respectively - for Roc City.
New Ulm Steel 4 vs. Breezy Point North Stars 3 (OT)-New Ulm Steel's Sam Storlie scored in overtime to secure the 4-3 win over the Breezy Point North Stars. Fritz Belisle (2) and Vincent Billing scored in regulation for the Steel, and Austin Langworthy, Nick Blanchette, and Wyatt Stotts netted goals for Breezy Point. In net, Nathan Siclovan made 19 saves for New Ulm, and Magnus Lindhe stopped 46 shots for the North Stars.
Missoula Junior Bruins 4 vs. Bozeman Icedogs 1-Justin Barnes, Misha Akatnov, Austin Azzinnaro, and Christian Ward each scored one for the Missoula Junior Bruins for the 4-1 victory over the Bozeman Icedogs. Daniel Liberko scored for the Icedogs. In net, Tanner Loucks made 42 stops for Missoula, and Drew Pehrson stopped 32 shots for Bozeman.