Sunday Wrap-Up: Vengeance clinch playoff spot with big win
February 13, 2017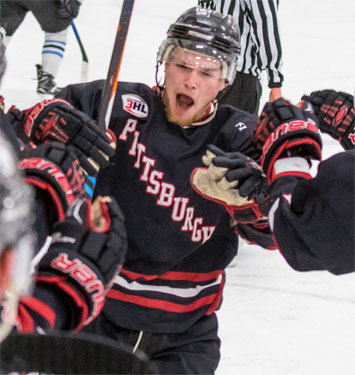 Pittsburgh Vengeance 6 vs. Toledo Cherokee 1-The Pittsburgh Vengeance grabbed an early lead on their way to a 6-1 victory over the Toledo Cherokee. Cam Williams, Nicholas Lyon, Nolan Puhala, Thomas Polster, and Brian Dee (2) scored for Pittsburgh, and Tristin Snyder netted one for the Cherokee. Defensively, Joel De Simone made 29 saves for Pittsburgh, while Adrian Morales stopped 33 shots for Toledo.
Alexandria Blizzard 1 vs. Granite City Lumberjacks 0-Brey Effertz made 25 saves for the Alexandria Blizzard to carry them to a 1-0 shutout victory over the Granite City Lumberjacks. Tommy Giller scored the lone goal for the Blizzard, and David Mulligan made 35 stops in net for the Lumberjacks.
Atlanta Capitals 4 vs. Euless Jr Stars 2-A pair of goals from Boomer Miller helped the Atlanta Capitals to a 4-2 win over the Euless Jr Stars. Joseph Lajcaj and Sascha Figi also scored for the Capitals, and William Rooney and Tristan Wilson notched points for the Jr Stars. Atlanta goaltender Nolan Bivolcic stopped 18 shots, while Maxwell Kerner made 36 saves for Euless.
Roc City Royals 5 vs. Skylands Kings 1-Brandon Corey scored a hat trick for the Roc City Royals to climb to a 5-1 victory against the Skylands Kings. Peter Izzo and Oleg Peliusenok also scored for the Royals, and Eric Vanderhoff notched one for the Kings. Roc City goaltender Nicholas Sesock made 29 stops on the night, while Mathias Ytterng and Evan Barghout made 8 and 25 saves, respectively, for Skylands.
Wooster Oilers 5 vs. Southern Tier Express 1-The Southern Tier Express opened the scoring first, but five consecutive goals for the Wooster Oilers pushed them to a 5-1 win. Michael Zenone, Nicholas Mooney, Nicholas Stanko, Tyler Kallay, and Jeremy Gripp scored for the Oilers. In net, Creighton Furber made 26 saves for Wooster, and Ryan Pascarella stopped 47 shots for Southern Tier.
St Louis Jr Blues 5 vs. Peoria Mustangs 1-A pair from Ryan Edgar powered the St Louis Blues to a 5-1 win against the Peoria Mustangs. Alex Werdmuller, Samuel Maddox, and Nick Balestra also scored for St Louis, and Braden Stewart got on the board for Peoria. Jr Blue goalie Sawyer Schmidt made 22 stops, and JT Kossakowski stopped 27 shots for the Mustangs.
Texas Jr Brahmas 2 vs. Point Mallard Ducks 1 (SO)-Kyle Torgerson and Jacob Peterson scored in a shootout, handing the 2-1 SO win to the Texas Jr Brahmas over the Point Mallard Ducks. Hunter Bersani scored in regulation for the Jr Brahmas, and Elias Nilsson and Cameron Hamblett (SO) scored for the Ducks. In net, Tyler Myers made 32 saves for Texas, and Point Mallard goaltender Kevin Mackey stopped 38 shots.
Breezy Point North Stars 7 vs. Willmar War Hawks 2-The Breezy Point North Stars maintained a solid offensive presence to earn a 7-2 win against the Willmar War Hawks. Tristyn Sabina (3), Austin Langworthy, Wyatt Stotts, Nick Blanchette, and Larsen Tubbs scored for the North Stars, and Nathan Ackerman and Kyle Wendorf earned points for Willmar. Between the pipes, Bronson Moore made 36 saves for Breezy Point, and Alex Weissenborn and Hayden Funk made 14 and 12 saves - respectively - for the War Hawks.