Friday Finals: Willmar beats North Iowa in OT
February 18, 2017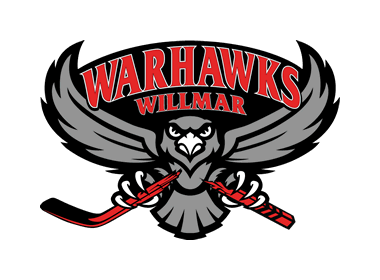 Willmar War Hawks 4 vs. North Iowa Bulldogs 3 (OT)-Wyatt Toll scored early in OT for the Willmar War Hawks to push them to a 4-3 OT win against the North Iowa Bulldogs. Max Oelkers, Braden Shea, and Leonardo Ewald scored in regulation for the War Hawks, and Tyler Bump, Josh Arnold, and Lucas McKinnon netted goals for the Bulldogs. Defensively, Alex Cathcart made 33 saves for Willmar, and Brady Meyers stopped 29 shots for North Iowa.
Granite City Lumberjacks 4 vs. New Ulm Steel 3 (SO)-Andrej Jamnicky and Matthew Spring scored in overtime to give the Granite City Lumberjacks the 4-3 SO win over the New Ulm Steel. Cole Buhl, Brady Dahl, and Matthew Moran scored in regulation for the Lumberjacks, while Alex Angel, Steven Mordini, and Fritz Belisle notched regulation goals for the Steel, andVincent Billing netted one in the shootout. In net, Mac Berglove made 24 stops for Granite City, while Nathan Siclovan stopped 21 shots for New Ulm.
Point Mallard Ducks 7 vs. College Station Spirit 0-Joey Bernadini made 24 saves to secure the 7-0 shutout victory for the Point Mallard Ducks over the College Station Spirit. Cameron Hamblett (2), Jake Cox (3), John Meakins, and Elias Nilsson scored for the Ducks, and Dalton Baker and Ryan O'Toole made 21 and 24 saves, respectively, for the Spirit.
East Coast Minutemen 6 vs. Maine Wild 4-The Maine Wild made a last ditch effort to outscore the East Coast Minutemen, but ultimately the Minutemen came out with the 6-4 win. Kyler Harding, Leevi Kervinen (2), Mike Lavoie, Shamus Lombard, and Jon Mathieu scored for the Minutemen, while Zach Gagne, Lema Muradov, Chris Hoxie, and Tucker Twardosky each notched one for the Wild. East Coast's Dom Montecalvo made 51 stops on the night, while Brayden McGary stopped 40 shots for Maine.
New England Stars 3 vs. Northeast Generals 2 (OT)-New England Star Tim Paige scored early in OT to push them to a 3-2 OT win over the Northeast Generals. John Krapian and Brandon Hammner scored in regulation for the Stars, while Ryan Perry and Shawn Peckman netted goals for the Generals. New England net minder Sage Broda made 17 stops, while Peter Ciccarelli made 47 saves for Northeast.
Lockport Express 5 vs. Roc City Royals 1-The Lockport Express grabbed and held onto an early lead to bring them a 5-1 win over the Roc City Royals. Frankie Bodami, John Duffy, Ryan Metzler, Andrew Logar, and Blake Bennett scored for the Express, and Joseph Chinelly notched one for the Royals. In net, Sam Fitzpatrick made 37 saves for Lockport, while Nicholas Sesock and Freddy Peters made 34 and 24 saves, respectively, for Roc City.
Atlanta Capitals 8 vs. Evansville Jr Thunderbolts 0-Atlanta Capital goaltender Wyatt Monear made 32 saves to carry them to an 8-0 victory over the Evansville Jr Thunderbolts. Talon Medure, Tristen Poliseno (2), Dillon Steh, Grans Koehler, Adam Vannelli, Sascha Figi, and Jesse Brown scored for the Capitals, and Bryson Linenburg stopped 43 shots for Evansville.
Toledo Cherokee 4 vs. Wooster Oilers 3 (OT)-Ben Hamilton scored in OT for the Toledo Cherokee to push them to a 4-3 OT win over the Wooster Oilers. Tristin Snyder and Brock Grandbois (2) also scored for the Cherokee, and Anders Staky, Tyler Kallay, and Nicholas Mooney notched goals for the Oilers. In net, Adrian Morales made 36 saves for the Cherokee, and Creighton Fruber stopped 32 shots for Wooster.
Texas Jr Brahmas 3 vs. Euless Jr Stars 0-Kyle Torgerson notched a hat trick to carry the Texas Jr Brahmas to a 3-0 win over the Euless Jr Stars. Anthony D'Aloisio made 18 saves for the shutout, and Nick Hart made 33 stops for Euless.
La Crosse Freeze 9 vs. Chicago Bulldogs 1-Lukas Motloch, Alec Seeger, Hunter Dolan (2), Joshua Frerks (2), Tyler Briley, Dylan Goggin, and Micah Anderson scored for the La Crosse Freeze to push them to a 9-1 victory over the Chicago Bulldogs. Kyle Kowalski notched one for the Bulldogs. In net, Will Graves made 13 saves for La Crosse, while Niks Lukasuks and Brendan Barada made 7 and 50 saves, respectively, for Chicago.
Breezy Point North Stars 3 vs. Alexandria Blizzard 2 (SO)-Nick Blanchette, Ryan Higgins, and Matej Krasny all scored for the Breezy Point North Stars in a shootout, giving them the 3-2 SO victory over the Alexandria Blizzard. Josh Laven and Krasny also scored in regulation for the North Stars, and Brett Meister and Riley Meter netted regulation goals for the Blizzard, and Emil Lindfors and Caleb Anderson scored in the shootout. In net, Breezy Point's Magnus Lindhe made 38 saves, and Brey Effertz stopped 32 shots for Alexandria.
Yellowstone Quake 17 vs. Billings Bulls 1-The Yellowstone Quake upheld an early lead to a 17-1 win against the Billings Bulls. Jesse Lawman, Cole Stewart, Tony Dahlberg, Iniaz Steyaert (4), Pablo Pantoja, Kobe Kitagawa (2), Carter Johnson, Max Meyer (3), Hunter Ruschmeyer, and Curt Greenbush scored for the Quake, and Gage Thompson notched one for the Bulls. In net, Brady Anderson made 12 saves for Yellowstone, and Billings' Chayo Goodwin made 48 saves on the night.
Bozeman Icedogs 3 vs. Helena Bighorns 1-A pair of goals from Steven Nisbet helped the Bozeman Icedogs to a 3-1 win over the Helena Bighorns. Zach Ahiers also scored for the Icedogs, and Bradley Estrada notched one for Helena. Bozeman goaltender Benjamin Sakaria made 42 saves, while Nicholas Battaglia stopped 41 shots for the Bighorns.
Gillette Wild 7 vs. Missoula Jr Bruins 3-A busy second period for the Gillette Wild helped them to a 7-3 win against the Missoula Jr Bruins. Tyler Tennant (2), Cade Boreing, Riley Holwegner, Blake Kauth, Nick Stockert, and Colt Johnson netted goals for the Wild, and Christian Ward, Josh Chamberlain, and Colby Birch scored for the Jr Bruins. In net, Gillette goaltender Robbie Brennan made 41 saves, and Tanner Loucks and Joe Chekan stoped 26 and 10 shots, respectively, for Missoula.
Great Falls Americans 10 vs. Glacier Nationals 1-Tanner Congdon, Tegan Harrington, and Danny O'Donnell each notched two goals to power the Great Falls Americans to a 10-1 victory over the Glacier Nationals. Michael Fary, Ricards Bernhards, Logan Parsley, and Payton McSharry also scored for the Americans, and Tim Vantinen got on the board for the Nationals. Great Falls goaltender Kyler Ayers stopped 8 shots, while Brendan Schultz and Will Langstaff made 22 and 61 saves respectively for Glacier.