Saturday Scores: Big win nets Jr. Blues Midwest title
February 19, 2017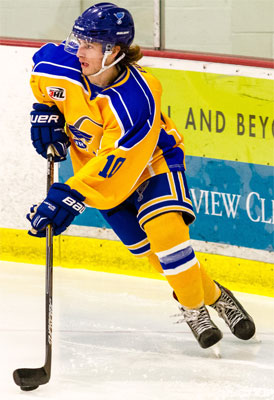 St Louis Jr Blues 13 vs. Rochester Ice Hawks 4-The St Louis Jr Blues played a busy second period to climb their way to a 13-4 victory over the Rochester Ice Hawks, which clinched the Midwest Division regular season title. Ryan Edgar had 6 assists and Samuel Maddox (2), Nick Balestra, Joe Nolan, Andrew Froese, Brandon Bornkamp (2), Jack Hatton, Alex Werdmuller (2), Daniil Ovchinnikov, Ryan Edgar, and Logan Fennema scored for St Louis, while Ethan Sievek, Zach Curry (2), and Willie Meyer notched goals for Rochester. In net, Sawyer Schmidt stopped 23 shots for the Jr Blues, while Bailey Schmitz and Drew Schenkenberg made 31 and 12 saves - respectively - for the Ice Hawks.
Cape Cod Islanders 7 vs. L/A Fighting Spirit 3-The Cape Cod Islanders had a strong third period on their way to a 7-3 win over the L/A Fighting Spirit. Aaron Deady, Cole Therrien, Chris Collin, Chuck Costello, Chris O'Donnell (2), and Nevin Connors scored for the Islanders, and Dylan Vrees, Caleb Labrie, and Crewz Berry each notched one for the Fighting Spirit. In net, Anton Zemba stopped 23 shots for Cape Cod, and Aaron Callan made 21 saves for L/A.
Southern Tier Express 2 vs. West Michigan Wolves 1-Two unanswered goals for the Southern Tier Express led them to a 2-1 win against the West Michigan Wolves. Ty Rickabaugh and Matthew Crosby scored for the Express, while Gabe Smith notched one for the Wolves. Defensively, Harrison Vangellow notched 33 saves for Southern Tier, while West Michigan's Sam Woznicki made 20 saves on the night.
Nashville Jr Predators 6 vs. Cincinnati Thunder 1-Adam Stalzer notched two in the first to give the Nashville Jr Predators an early lead to climb to a 6-1 win over the Cincinnati Thunder. Dylan Schmidt, Conor Cunningham, Baylor Hudson, and Declan O'Neal also scored for the Jr Predators, while Cameron Sangster notched one for the Thunder. In net, Nashville's Ricky Gonzalez stopped 26 shots on the night, while Ryan Kostelnik and Connor Poczos made 10 and 16 saves respectively, for Cincinnati.
Point Mallard Ducks 4 vs. College Station Spirit 1-Three unanswered goals for the Point Mallard Ducks powered them to a 4-1 win over the College Station Spirit. Phil Bell, Jake Cox, Mark Reviaga, and Cody LaValley each scored for the Ducks, while Dan Suszek got on the scoreboard for the Spirit. Point Mallard goalie Joey Bernadini made 27 saves on the night, while Ryan O'Toole stopped 58 shots for College Station.
Syracuse Stampede 2 vs. Jersey Shore Wildcats 0-Ryan Scheide made 55 saves to push the Syracuse Stampede to a 2-0 shutout win over the Jersey Shore Wildcats. Rich Hart and Josh Watterson each scored for the Stampede, and Rio Virgoe stopped 26 shots for the Wildcats.
Maine Wild 5 vs. Northeast Generals 2-A pair of goals from Lema Muradov helped the Maine Wild to a 5-2 win against the Northeast Generals. Kyle Sikora, Chris Hoxie, and Dylan Meyers also scored for the Wild, and Derric Trudeau and Tre Pridgen each notched one for the Generals. Maine's Brandon Daigle made 27 saves, while Peter Ciccarelli made 34 stops for Northeast.
Metro Jets 9 vs. Peoria Mustangs 0-Metro Jets' goaltender Andrew Kormos made 18 saves to carry them to a 9-0 shutout win against the Peoria Mustangs. Evan Newel, Connor Inger, Cam Schwartz, Louis Boudon (2), Mathias Tellstrom, Jake Gleason (2), and Dylan Naumovski each scored for the Jets, while JT Kossakowski and Ethan Wiese made 27 and 313 saves, respectively, for the Mustangs.
Binghamton Junior Senators 16 vs. Roc City Royals 1-The Binghamton Junior Senators grabbed an early lead to carry them to a 16-1 victory over the Roc City Royals. Dominik Bogdziul, Conor Landrigan, Ryan Reifler (3), Matthew Emerick, Tyler Uravage (3), Brad Becker (3), Ryan Flanagan, Dylan Gulick (2), Zacharia Ouladelhadjahmed, and Daniel Johansson scored for the Senators, and Brandon Corey got on the scoreboard for the Royals. Sal Lauretta made 21 stops while in net for Binghamton, while Freddy Peters and Nicholas Sesock made 22 and 33 saves each for Roc City.
Wooster Oilers 8 vs. Toledo Cherokee 1-The Wooster Oilers scored 8 unanswered goals to secure an 8-1 win over the Toledo Cherokee. Evan Tasker (2), Cole Barney, Trenton Mulnix, Nicholas Stanko, Jeremy Ross, Michael Ragone, and Anders Staky scored for the Oilers, while Brock Grandbois notched one for the Cherokee. Wooster goaltender Creighton Furber made 24 saves, while Adrian Morales and Andre Benoit stopped 12 and 27 shots, respectively, for Toledo.
La Crosse Freeze 8 vs. Chicago Bulldogs 1-Chicago Bulldog Colin Hass notched the first goal, but 8 unanswered goals from the La Crosse Freeze powered them to an 8-1 win. Tyler Briley, Donny Schultz (3), Alec Seeger (2), Adam Hazlett, and Danny Toycen scored for the Freeze. La Crosse goalie Jacob Silverstein made 19 saves on the night, while Brendan Barada stopped 44 shots for Chicago.
Long Beach Sharks 6 vs. East Coast Minutemen 0-Long Beach Shark goaltender Kyle Van Wagner stopped 34 shots to shutout the East Coast Minutemen, 6-0. Martins Vitolins (2), Oskar Lindberg (2), Tomas Loeffelman, and Alex Cerda scored for the Sharks. In net, Nick Kent stopped 35 shots for East Coast.
Atlanta Capitals 8 vs. Evansville Jr Thunderbolts 2-The Atlanta Capitals grabbed an early lead to power them to an 8-2 win over the Evansville Jr Thunderbolts. Michael Cichy, Dillon Steh, Sascha Figi, Talon Medure, Christian Dale, Grant Koehler, Nick Sleeper, and Joseph Lajcaj scored for the Capitals, and Brandon Rozema and Drew Wynn each got on the board for the Thunderbolts. In net, Atlanta's Connor Fewster made 29 saves, while Corbin Moore stopped 28 shots for Evansville.
Skylands Kings 3 vs. Lockport Express 2-The Skylands Kings kept a solid offense presence to squeeze out a 3-2 victory over the Lockport Express. Craig Garrigan, Edward Klein, and Eric Vanderhoff scored for the Kings, while Andrew Logar and Gibson Stuart got on the scoreboard for the Express. In net, Mathias Yttereng made 58 stops for Skylands, and Sam Fitzpatrick stopped 31 shots for Lockport.
North Iowa Bulls 6 vs. Willmar War Hawks 2-The North Iowa Bulls scored 6 unanswered goals to secure a 6-2 win over the Willmar War Hawks. Connor Clemons (3), Owen Larson, Nick Klishko, and Brendan Studioso scored for the Bulls, and Gabe Gauer and Jacob Dobberstein got on the scoreboard for the War Hawks. In net, Drew Scites stopped 19 shots for North Iowa, and Alex Weissenborn made 37 saves for Willmar.
Breezy Point North Stars 3 vs. Alexandria Blizzard 2 (SO)-Nick Blanchette scored in a shootout to push the Breezy Point North Stars to a 3-2 SO win against the Alexandria Blizzard.In regulation, Ryan Higgins and Austin Langworthy scored for the North Stars, and Dawn Ellingworth and Riley Meyer earned points for the Blizzard. Defensively, Bronson Moore made 41 saves for Breezy Point, and Michael Hughes stopped 28 shots for Alexandria.
New Ulm Steel 5 vs. Granite City Lumberjacks 4-The New Ulm Steel grabbed an early lead to cruise to a 5-4 win over the Granite City Lumberjacks. Jared Mickelson, Steven Mordini, Dylan Leivermann, Sam Wenner, and Fritz Belisle scored for New Ulm, and Matthew Spring, Keenan Lund, Braden Altena, and Andrej Jamnicky each notched one for the Lumberjacks. Steel goaltender Nathan Siclovan made 29 saves, and David Mulligan and Mac Berglove made 4 and 35 saves, respectively, for Granite City.
Texas Jr Brahmas 4 vs. Euless Jr Stars 2-The Texas Jr Brahmas netted four in a row on their way to a 4-2 win over the Euless Jr Stars. Melker Kroon (2), Dakota Davis, and Kyle Torgerson scored for the Jr Brahmas, and Chase Deacon and William Rooney notched goals for the Jr Stars. Between the pipes, Tyler Myers made 31 stops for Texas, and Maxwell Kerner and Nick Hart stopped 17 and 12 shots respectively for Euless.
Great Falls Americans 7 vs. Helena Bighorns 2-A hat trick from Tanner Congdon helped the Great Falls Americans to a 7-2 win over the Helena Bighorns. Ricards Bernhards, Danny O'Donnell, Adam Vandenbos, and Dustin Truex scored for the Americans, and Adam Apangalook and Ryatt Payne earned points for the Bighorns. In net, Nick Nast made 27 saves for Great Falls, and Alex Kruger stopped 49 shots for Helena.
Gillette Wild 5 vs. Missoula Junior Bruins 2-The Gillette Wild finished strong to pull out a 5-2 victory over the Missoula Junior Bruins. Blake Kauth, Nick Stockert, Brooks Mitzel, Colt Johnson, and Riley Holwegner scored for the Wild, and Colby Birch and Misha Akatnov got on the scoreboard for Missoula. In net, Landon Anderson stopped 31 shots for Gillette, and Tanner Loucks made 44 stops for the Junior Bruins.