Sunday Wrap-Up: Stars close in on playoff spot with win
February 20, 2017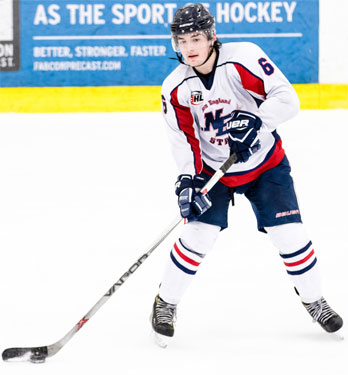 Nashville Jr Predators 7 vs. Cincinnati Thunder 5-The Nashville Jr Predators grabbed an early lead on their way to a 7-5 victory over the Cincinnati Thunder. Michael Redmon, Declan O'Neal, Logan Orem, Conor Cunningham, Trent Kulczyk, Dylan Schmidt, and Dakota Wilson each scored for the Jr Predators, while Mihali See (2), Trevor Veneklase, Cameron Sangster, and Grant Kiepper notched goals for the Thunder. Nashville goaltender Mason Koster made 31 saves on the night, and Tyler Geloneck made 28 stops for Cincinnati.
New England Stars 6 vs. East Coast Minutemen 3-The East Coast Minutemen scored twice in the third in a last ditch effort, but it wasn't enough as the New England Stars secured a 6-2 win. Ryan Paul, Cole Archambeault (2), Tim Paige, John Krapian, and Brandon Hammner earned points for the Stars, while Eric Steeves, Shamus Lombard, and Eric Pristhaznyuk scored for the Minutemen. In net, Dom Lamanno stopped 28 shots for New England, while Dom Montecalvo and Nick Kent made 36 and 10 saves each for East Coast.
Lockport Express 6 vs. Skylands Kings 2-The Lockport Express scored two in the first to set the pace for a 6-2 victory against the Skylands Kings. Erick Santiago, Blake Bennett (2), Chase Woods, and Andrew Logar (2) scored for the Express, and Craig Garrigan and Lionel Landry got on the board for the Kings. In net, Adam Partridge stopped 43 shots for Lockport, while Mathias Yttereng made 46 saves for Skylands.
St Louis Jr Blues 6 vs. Rochester Ice Hawks 1-A pair of goals from both Jack Hatton and Alex Werdmuller lead the St Louis Jr Blues to a 6-1 win over the Rochester Ice Hawks. Nick Balestra and Daniil Ovchinnikov also scored for the Jr Blues, while Alex Tarr netted the lone Ice Hawk goal. Defensively, Hunter Smith made 20 saves for St Louis, and Rochester's Bailey Schmitz stopped 38 shots.
Cape Cod Islanders 7 vs. L/A Fighting Spirit 2-Aaron Deady scored a hat trick for the Cape Cod Islanders to help them to a 7-2 victory over the L/A Fighting Spirit. Nash Braun, Chris Collin, Chuck Costello, and Matt Hinckley also scored for the Islanders, and Matt Siegel and Felix Nyqvist each notched one for the Fighting Spirit. Cape Cod's Anton Zemba made 32 stops, while Tyler Friel and Michael Errico made 21 and 8 saves, respectively, for L/A.
West Michigan Wolves 5 vs. Southern Tier Express 2-The West Michigan Wolves pulled out an early lead to secure a 5-2 win over the Southern Tier Express. Dakota Ulmer (2), Daniil Demidov, Collin Rewerts, and Sean Lake each scored for the Wolves, while Tommy Muecke and Tristan Mock got o the scoreboard for the Express. West Michigan net minder Brian Thomas made 24 saves on the night, while Harrison Vangellow stopped 33 shots for Southern Tier.
Metro Jets 5 vs. Peoria Mustangs 2-Louis Boudon notched a hat trick to push the Metro Jets to a 5-2 victory over the Peoria Mustangs. Cam Schwartz and Stefan Boskovic also scored for the Jets, while Jack Healy and Tyler Kuhn got on the scoresheet for the Mustangs. In net, Jake Gwillim made 13 saves for Metro, while Peoria's JT Kossakowski stopped 35 shots.
Binghamton Junior Senators 13 vs. Roc City Royals 3-Ryan Reifler notched a hat trick for the Binghamton Junior Senators on their way to a 13-3 win over the Roc City Royals. Ryan Flanagan (2), Tyler Uravage (2), Brad Becker (2), Cole Skelly, Daniel Johansson, Dominik Bogdziul, and Hunter Kepple also scored for the Junior Senators, while Christopher Spicer and Brandon Corey (2) netted goals for the Royals. Binghamton goaltenderSteven Scmitt made 17 stops, while Nicholas Sesock and Freddy Peters made 19 and 14 saves, respectively, for Roc City.
Jersey Shore Wildcats 6 vs. Syracuse Stampede 1-Nate Walker opened the scoring for the Syracuse Stampede, but six unanswered goals resulted in a 6-1 victory for the Jersey Shore Wildcats. Jordan Nolan, Tyler Allen (2), Tim O'Connor, and Alexander Rowe (2) scored for the Wildcats. In net, Zach Skop made 38 stops for Jersey Shore, while Ryan Scheide and Steven Kozikoski made 35 and 28 saves, respectively, for the Stampede.
La Crosse Freeze 11 vs. Chicago Bulldogs 1-The La Crosse Freeze held a steady offensive presence on their way to an 11-1 victory over the Chicago Bulldogs. Donny Schultz, Alec Seeger, Tyler Briley (2), Hunter Dolan (2), JP Eykyn, Lukas Motloch (2), Danny Toycen, and Adam Hazlett scored for the Freeze, while Kyle Kowalski got the Bulldogs on the board. In net, Andrew Wagner made 18 saves for the Freeze, while Brendan Barada stopped 62 shots for Chicago.
New Ulm Steel 5 vs. Willmar War Hawks 2-Alex Nagel scored twice to push the New Ulm Steel to a 5-2 victory over the Willmar War Hawks. Jared Erickson, Trevor Woytcke, and Vincent Billings also scored for the Steel, while Braden Shea and Jacob Dobberstein notched goals for the War Hawks. In net, Nathan Siclovan made 30 saves for New Ulm, while Willmar's Alex Cathcart made 49 stops on the night.