Lockport trio make college commitments
February 21, 2017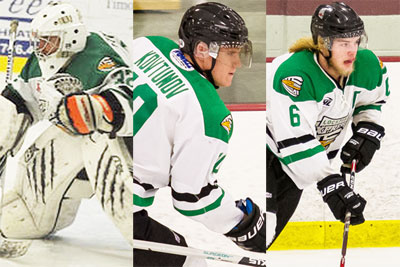 The Lockport Express of the NA3HL are pleased to announce that three players have committed to play ACHA Division I hockey at Niagara University next season.
Goalie Sam Fitzpatrick, forward/defenseman Pavel Kovtunov and defenseman Gibson Stuart will all be joining the Niagara roster next season and mark a continued relationship with Lockport, bringing the number of former Express players up to five.
Sam Fitzpatrick, 20, is a 5'10/180 lbs goalie from Wildwood, New Jersey. In 2016-17, he has appeared in 26 games and posted a 9-14-0 record with a 4.05 GAA and 91.2% save percentage.
"Sam is a goaltender that came across our radar last season, since he was already planning on attending Niagara. We didn't have any space on the roster this year for a goaltender, and he made the decision to go back and play for Lockport this year after playing 8 games last year. He is a goaltender that can hold teams in games. His technique is solid, and he doesn't let stuff get in his head, which is really important in a goaltender. Above all, he is an excellent student and teammate, and the NU ACHA team will be lucky to have him in the locker room for four years," said Niagara team recruiter Nate Miller.
Kovtunov, 19, is a 6'1/205 lbs. forward and defenseman from Youngstown, New York. In 41 games played this season, Kovtunov has 16 points.
"Pavel is a solid two-way player who can control the tempo of the game and is very vocal on the ice. He has a great sense of humor, brings a lot to the locker room chemistry, and is an absolute punisher on the ice. He can play forward or defense, and is the type of player who will make very few mistakes. His strong defensive game and hard shot from the point make him an asset to any special teams situation. We're happy to finally have him on board," said Niagara team recruiter Nate Miller.
Stuart, 20, is a 6'0/200 lbs. defenseman from Jamestown, New York. He has played in 40 games this season and recorded 17 points.
"Like Pavel, Gibson is a player who has been on the radar at Niagara for a little bit of time. He has been a prominent leader in the Express locker room, and has served as a captain for the team. He also has the franchise record for most games played (116), showing his commitment and dedication to his team. He is a stay-at-home defenseman who is not afraid to get involved in protection of his goaltender. He is calm and even-tempered with or without the puck, and has a quiet confidence that earns the respect of teammates, coaches, officials, and even opponents," said Niagara team recruiter Nate Miller.