Alexandria, Northeast, New England win big on Wednesday
February 23, 2017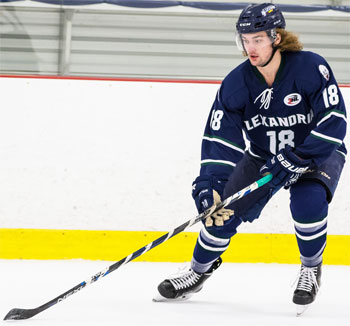 Northeast Generals 6 vs. Cape Cod Islanders 2-Austin Braley had three points, including two goals and Peter Ciccarelli made 50 saves as the Generals helped their playoff hopes with a 6-2 win over the Islanders. Northeast jumped out to a 3-0 lead with 1st period goals from Tyler Rudek, Tre Pridgen and Cam Piorkowski. The lead swelled to 5-0 thanks to two goals from Braley in the 2nd period. Cape Cod finally got on the board in the 3rd period with goals from Chris Conlin and Aaron Deady. Alex O'Dowd added the other Generals goal.
Alexandria Blizzard 7 vs. New Ulm Steel 2-The Alexandria Blizzard grabbed an early lead to secure a 7-2 win over the New Ulm Steel. Caleb Anderson, Tommy Giller, Emil Lindfors, Brenden Payne, Dawson Ellingworth (2), and Jack Cernohous scored for the Blizzard, and Vitaliy Nosov and Alex Nagel each earned points for the Steel. Brey Effertz made 26 saves for Alexandria, while Jon Albers and Nathan Siclovan made 31 and 6 stops each for New Ulm.
New England Stars 8 vs. East Coast Minutemen 2-A pair of goals from both Tyson Gudaitis and Ian Gately helped the New England Stars to an 8-2 victory over the East Coast Minutemen. Brendan Miller, Derek Flynn, John Krapian, and Ryan Paul also scored for the Stars, while Kami Kortelainen and Nick Padgett notched goals for East Coast. In net, Greg Moon stopped 19 shots for New England, while Minutemen goalies Nick Kent and Dom Montecalvo made 37 and 23 saves each.