Nashville, Southern Tier, North Iowa win on Thursday
February 24, 2017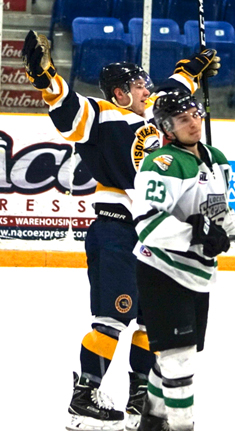 Southern Tier Express 9 vs. Lockport Express 4-The Southern Tier Express grabbed a 3 goal lead to carry them to a 9-4 win against the Lockport Express. Cameron Trejchel, Luke Grossman (2), Joseph Gerace, TY Rickabaugh (3), Arttu Rajamaki, and Jacob St Andre scored for Southern Tier, and Chase Woods, Andrew Logar, Blake Bennett, and Pavel Kovtunov notched goals for Lockport. In net, Ryan Pascarella made 40 saves for Southern Tier, while Adam Partridge stopped 45 shots for Lockport.
Nashville Jr Predators 4 vs. Point Mallard Ducks 1-The Nashville Jr Predators scored four in a row to climb to a 4-1 victory over the Point Mallard Ducks. Weiland Parrish, Michael Redmon, Adam Stalzer, and Declan O'Neal scored for the Jr Predators, and Mark Revniaga got on the scoreboard for the Ducks. Nashville's Jonathan Chin made 21 stops on the night, while Gary Glassman stopped 40 shots for Point Mallard.
North Iowa Bulls 6 vs. Wisconsin Whalers 1-The North Iowa Bulls grabbed an early lead to secure a 6-1 victory against the Wisconsin Whalers. Sean Mallonee, Tom Reilly, Tyler Bump (2), Connor Clemons, and Zach Hayes scored for the Bulls, and Connor Boscaccy got on the board for the Whalers. In net, North Iowa's Drew Scites stopped 30 shots, while Max McConnell made 52 saves for Wisconsin.