February 24, 2017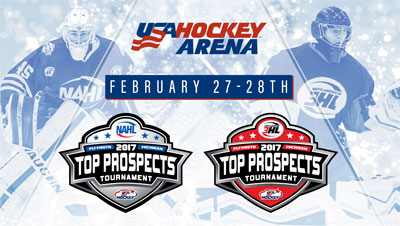 With just three weeks remaining in the regular season, there are just a few chances for teams to make the Silver Cup Playoffs and also lock up division titles.
The race remains tight in the chance for the overall NA3HL regular season title between the Metro Jets and Binghamton Junior Senators. Binghamton has two games to go and leads the NA3HL with 87 points and 43 wins through 45 games. Through 41 games, the Jets remain undefeated at 41-0-0 with five of their seven remaining games at home.
The Long Beach Sharks and Granite City Lumberjacks both sit on the verge of clinching their regular season titles, while the race in the Frontier and South Divisions is a dead heat.
Follow the games on the NA3HL App:
Friday, February 24th
Pittsburgh at Southern Tier - 7:00 PM EST
Metro at Toledo - 7:00 PM EST
Skylands at Long Beach - 7:30 PM EST
Cincinnati at Wooster - 7:45 PM EST
Peoria at Evansville - 7:00 PM CST
Nashville at St. Louis - 7:00 PM CST
Breezy Point at Alexandria - 7:10 PM CST
East Coast at New England - 8:10 PM EST
L/A at Northeast - 8:30 PM EST
North Iowa at Wisconsin - 7:30 PM CST
College Station at Texas - 7:35 PM CST
Rochester at Chicago - 8:00 PM CST
Missoula at Gillette - 7:05 PM MST
Great Falls at Billings - 7:30 PM MST
Helena at Bozeman - 7:30 PM MST
Yellowstone at Glacier - 8:00 PM MST
Saturday, February 25th
Nashville at St. Louis - 1:00 PM CST
Syracuse at Northeast - 5:30 PM EST
Lockport at East Coast - 6:00 PM EST
Rochester at Chicago - 5:30 PM CST
Southern Tier at Pittsburgh - 6:30 PM EST
West Michigan at Metro - 7:30 PM EST
Cincinnati at Wooster - 7:45 PM EST
Peoria at Evansville - 7:00 PM CST
Alexandria at Breezy Point - 7:30 PM CST
Willmar at Granite City - 7:30 PM CST
College Station at Texas - 7:35 PM CST
Missoula at Gillette - 7:05 PM MST
Helena at Billings - 7:30 PM MST
Yellowstone at Glacier - 7:30 PM MST
Bozeman at Great Falls - 7:30 PM MST
Sunday, February 26th
Lockport at East Coast - 11:00 AM EST
Syracuse at Northeast - 1:30 PM EST
Euless at College Station - 5:30 PM CST