Friday Finals: Long Beach wins Coastal Division
February 25, 2017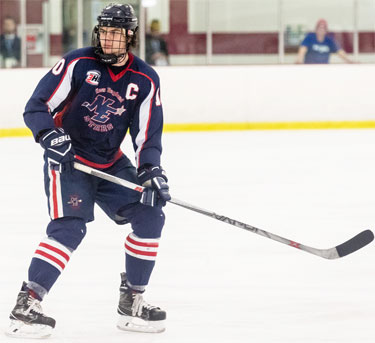 Long Beach Sharks 5 vs. Skylands Kings 4 (SO)-A lone shootout goal from Long Beach Shark Alex Cerda helped them defeat the Skylands Kings, 5-4 SO. Cerda also scored in regulation for the Sharks, along with Keegan Brick, Alec Rovitz, and Phil Garcia. For the Kings, Dylan Dinzik, Craig Garrigan, and Steven Ford (2) earned points. Long Beach goalie Evan Zach Young made 42 saves on the night, while Evan Barghout stopped 34 shots for Skylands.
Pittsburgh Vengeance 4 vs. Southern Tier Express 1-The Pittsburgh Vengeance gained a commanding lead to climb to a 4-1 victory over the Southern Tier Express. Dillon Joyce, Austin Martz, Cam Williams, and Vincent Casale scored for the Vengeance, and Nicholas Wilcox notched one for the Express. In net, Pittsburgh's Joel De Simone made 15 stops, while Harrison Vangellow made 37 saves for Southern Tier.
Metro Jets 5 vs. Toledo Cherokee 3-A close fought game, in the end the Metro Jets came out on top, 5-3, against the Toledo Cherokee. Dylan Naumovski, Louis Boudon, Griffin Sawyer, Hayden Winch, and Graham Day each notched one for the Jets, while Tristin Snyder (2) and Alex Syring scored for the Cherokee. Metro goaltender Andrew Kormos made 16 saves on the night, while Roman Malkov stopped 51 shots for Toledo.
Wooster Oilers 5 vs. Cincinnati Thunder 1-A strong third period helped the Wooster Oilers climb to a 5-1 victory against the Cincinnati Thunder. Evan Tasker (2), Henri Martineau (2), and Collin Felton scored for the Oilers, while Bradley Begeman notched one for the Thunder. Defensively, Wooster goaltender Creighton Furber made 20 stops, while Connor Pozcos made 27 saves for Cincinnati.
Peoria Mustangs 4 vs. Evansville Jr Thunderbolts 1-A pair of goals from Peoria Mustang Jordan Hillman helped them climb to a 4-1 victory over the Evansville Jr Thunderbolts. Matt McPherson and Tyler Kuhn also scored for the Mustangs, while Sebastian Simoncello notched one for Evansville. Peoria's Ethan Wiese stopped 23 shots, while James Fry made 32 saves for the Jr Thunderbolts.
Nashville Jr Predators 6 vs. St Louis Jr Blues 3-The Nashville Jr Predators maintained a steady offensive to defeat the St Louis Jr Blues, 6-3. Declan O'Neal, Logan Orem, Dylan Schmidt (2), Weiland Parrish, and Dakota Wilson scored for Nashville, and Zach Mitchell (2) and Andrew Froese scored for St Louis. Between the pipes, Ricky Gonzalez made 37 saves for the Jr Predators, while Hunter Smith and Sawyer Schmidt made 5 and 20 saves, respectively, for the Jr Blues.
New England Stars 6 vs. East Coast Minutemen 1-The East Coast Minutemen opened the scoring, but 6 consecutive goals for the New England Stars helped them climb to victory. Aidan Conlon, Alex Pilatsky, Ian Gately, Ryan Paul, Tyson Gudaitis, and Michael Lempiainen scored for the Stars, and Leevi Kervinen got the East Coast on the scoreboard. New England's Dom Lamanno made 33 saves on the night, while Dom Montecalvo made 24 stops for the Minutemen.
Alexandria Blizzard 6 vs. Breezy Point North Stars 3-The Alexandria Blizzard claimed an early lead to carry them to a 6-3 win over the Breezy Point North Stars. Riley Meyer, Emil Lindfors, Logan Norman, Dawson Ellingworth, Steven Gustafson, and Jack Cernohous scored for the Blizzard, while Matej Krasny (2) and Austin Langworthy scored for the North Stars. In net, Michael Hughes made 35 saves for Alexandria, while Breezy Point's Magnus Lindhe and Bronson Moore made 10 and 23 saves respectively.
North Iowa Bulls 2 vs. Wisconsin Whalers 1 (OT)-A pair of goals from North Iowa Bull Tyler Bump - including the OT winner- carried them to a 2-1 OT victory against the Wisconsin Whalers. Connor Boscaccy scored for Wisconsin. North Iowa's Drew Scites made 32 saves on the night, while Max McConnell stopped 53 shots for the Whalers.
L/A Fighting Spirit 3 vs. Northeast Generals 1-The L/A Fighting Spirit scored twice in the second to a 3-1 win over the Northeast Generals. Kyle Secor, Caleb Labrie, and JP Chauvin each notched one for the Fighting Spirit, while Tyler Rudek scored for the Generals. L/A goalieMichael Errico made 37 saves on the night, while Kris Augustine stopped 40 shots for Northeast.
Texas Jr Brahmas 7 vs. College Station Spirit 0Texas Jr Brahma Samuel Solomon made 15 saves for a 7-0 shutout victory over the College Station Spirit. Jacob Peterson, Hunter Bersani (2), Kyle Torgerson, Dakota Davis (2), and Bennett Weycker scored for the Jr Brahmas. College Station goaltender Ryan O'TOole made 39 saves on the night.
Rochester Ice Hawks 4 vs. Chicago Bulldogs 1-A pair of goals from Rochester Ice Hawk Charles Bill pushed them to a 4-1 win against the Chicago Bulldogs. Alex Tarr and Michael Smits also scored for the Ice Hawks, and Kyle Kowalski notched one for the Bulldogs. Rochester's Bradley Brown made 21 saves for the win, while Brendan Barada made 50 stops for Chicago.
Gillette Wild 7 vs. Missoula Junior Bruins 3-The Gillette Wild grabbed an early lead to claim a 7-3 victory over the Missoula Junior Bruins. Zack Brunelle, Kyle Truax, Jack Oberg, Cole Cirks (2), Cade Boreing, and Colt Johnson scored for the Wild, while Bryce Dirscherl (2) and Christian Ward notched goals for Missoula. In net, Lincon Riley made 33 saves for Gillette, while Tanner Loucks and Joe Chekan both made 17 saves for the Junior Bruins.
Great Falls Americans 12 vs. Billings Bulls 1-A hat trick from Brendan Jester helped the Great Falls Americans to a 12-1 victory over the Billings Bulls. Ricards Bernhards, Dustin Truex (2), Tanner Congdon (2), Payton McSharry, Malachi Bushey, Kody Thomas, and Mitchell Ramstad also scored for the Americans, and Duncan Cameron notched one for the Bulls. Great Falls goalie Kyler Ayers made 21 stops, while Simo Huhtanen made 58 saves for Billings.
Bozeman Icedogs 3 vs. Helena Bighorns 1-Two third period goals secured the 3-1 victory for the Bozeman Icedogs over the Helena Bighorns. Steven Nisbet (2) and Carmon Teel scored for Bozeman, while Valary Dietz got on the scoreboard for the Bighorns. Defensively, Benjamin Sakaria made 24 saves for the Icedogs, while Nicholas Battaglia made 39 stops for Helena.