Saturday Scores: Texas closing in on South title with sweep
February 26, 2017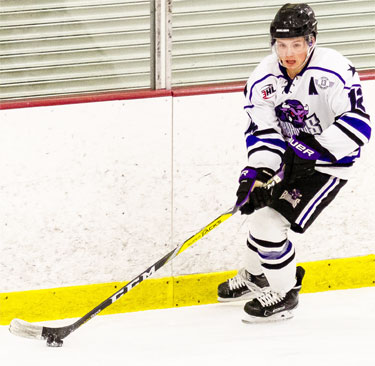 Texas Jr Brahmas 7 vs. College Station Spirit 0-Texas Jr Brahma Anthony D'Aloisio made 15 saves to carry the team to a 7-0 win against the College Station Spirit. Melker Kroon, Vincent Dekumbis, Jacob Peterson, Andrew Garcia, Dakota Davis and Bennett Weycker scored for Texas. College Station's Dalton Baker made 41 saves on the night.
St Louis Jr Blues 5 vs. Nashville Jr Predators 3-The St Louis Blues grabbed an early lead to secure a 5-3 win over the Nashville Jr Predators. Ryan Edgar, Samuel Maddox, Zach Mitchell (2), and Jack Hatton scored for the Jr Blues, and Michael Redmon (2) and Dakota Wilson scored for Nashville. St Louis goaltender Hunter Smith made 29 saves on the night, Ricky Gonzalez stopped 42 shots for Nashville.
Syracuse Stampede 4 vs. Northeast Generals 2-A hat trick from Syracuse Stampede forward Nate Walker carried the team to a 4-2 win over the Northeast Generals. Hunter Soden also scored for the Stampede, and Austin Braley and Cam Piorkowski notched goals for the Northeast. Syracuse net minder Steven Kozikoski made 30 saves on the night, while Peter Ciccarelli stopped 29 shots for Northeast.
Lockport Express 8 vs. East Coast Minutemen 2-The Lockport Express held a strong offensive presence throughout the game to an 8-2 victory over the East Coast Minutemen. Frankie Bodami, Blake Bennett (3), Andrew Logar (2), Erick Santiago, and Brandon Schweickert scored for the Express, while Kami Kortelainen and Leevi Kervinen each notched one for the Minutemen. In net, Lockport's Adam Partridge made 32 stops, while Dom Montecalvo made 48 saves for East Coast.
Rochester Ice Hawks 6 vs. Chicago Bulldogs 4-The Rochester Ice Hawks grabbed an early lead to secure their 6-4 victory over the Chicago Bulldogs. Ethan Sievek, Colby Decarlo (2), Dylan Boysen (2) and Charles Bill scored for the Ice Hawks, while Colin Has, Bryce Freel (2), and Sean Sullivan netted goals for Chicago. Defensively, Bradley Brown made 17 saves for Rochester and Niks Lukasuks and Brendan Barrada made 15 and 48 stops for the Bulldogs, respectively.
Pittsburgh Vengeance 2 vs. Southern Tier Express 0-Joel De Simone made 26 saves to shutout the Southern Tier Express for a 2-0 win for the Pittsburgh Vengeance. Gavin Cummings and Austin Martz scored for the Vengeance, and Southern Tier's Ryan Pascarella made 41 saves on the night.
Metro Jets 9 vs. West Michigan Wolves 0-Metro Jet's goaltenderJake Gwillim made 16 saves to shutout the West Michigan Wolves in a 9-0 victory. Chase Sereno, Chas Distelrath, Evan Newel, Robby Flannery (2), Graham Day, Griffin Sawyer, Connor Inger, and Jason Recchia scored for the Jets. Wolves' goalie Brian Thomas made 30 saves on the night.
Granite City Lumberjacks 2 vs. Willmar War Hawks 1-Braden Altena and Owen Sikich scored one each to push the Granite City Lumberjacks to a 2-1 victory against the Willmar War Hawks. Jacob Dobberstein scored for the War Hawks. Mac Berglove made 17 saves for Granite City, while Alex Weissenborn made 29 saves for Willmar.
Peoria Mustangs 5 vs. Evansville Jr Thunderbolts 0-Peoria Mustang JT Kossakowski made 20 saves to shutout the Evansville Jr Thunderbolts, 5-0. Rhett MacDonald, Braden Stewart, Anthony Iacullo (2) and Austin Wisely scored for Peoria. Evansville's Bryson Linenburg stopped 37 shots.
Alexandria Blizzard 5 vs. Breezy Point North Stars 2-Logan Norman scored a pair of goals to help the Alexandria Blizzard to a 5-2 win over the Breezy Point North Stars. Dawson Ellingwroth, Caleb Anderson, and Steven Gustafson also scored for the Blizzard, and Tristyn Sabina and Alex Flicek notched goals for Breezy Point. In net, Brey Effertz made 39 stops for Alexandria, while Bronson Moore stopped 38 shots for the North Stars.
Cincinnati Thunder 4 vs. Wooster Oilers 3-A late third period goal helped the Cincinnati Thunder to a 4-3 victory over the Wooster Oilers. Justin Bioni, James Frantz, William Schober, and Andre Vanlew each scored for the Thunder, and Noah Oblak, Nicholas Mooney, and Michael Zenone scored for the Oilers. In net, Tyler Geloneck made 33 stops for Cincinnati, and Creighton Furber stopped 21 shots for Wooster.
Missoula Junior Bruins 5 vs. Gillette Wild 0-Missoula Junior Bruin Joe Chekan made 38 saves to shutout the Gillette Wild in a 5-0 victory. Colby Birch (2), Elias Pukkila, Tyler Young, and Christian Ward scored for the Junior Bruins. Robbie Brennan and Landon Anderson made 18 and 12 saves respectively for the Wild.
Great Falls Americans 5 vs. Bozeman Icedogs 1-A pair of goals from both Payton McSharry and Ricards Bernhards carried the Great Falls Americans to a 5-1 win over the Bozeman Icedogs. Sandis Mezharaups also scored for the Americans, while Austin Charnholm notched one for the Icedogs. In net, Nick Nast made 19 saves for Great Falls, while Bozeman goaltender Luke Olson made 26 stops.
Helena Bighorns 8 vs. Billings Bulls 2-The Helena Bighorns scored five goals in the third to secure their 8-2 victory over the Billings Bulls. Valary Dietz, Bradley Estrada (2), Adam Apangalook (2), john Heddle, Ryatt Bayne, and Nicholas Lindgren scored for the Bighorns, while Chad Stucker and Keith Gustin notched goals for the Bulls. Helena net minder Nicholas Battaglia made 38 saves on the night, while Chayo Goodwin stopped 44 shots for Billings.