Sunday Wrap-Up: Spirit, Express, Stampede all win
February 26, 2017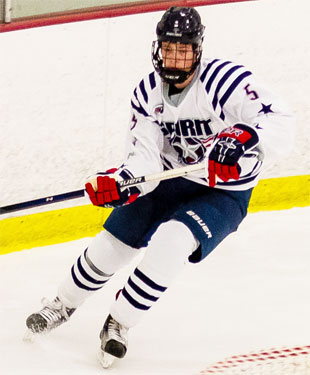 College Station Spirit 7 vs. Euless Jr Stars 4
-
The College Station Spirit scored three goals in the third to secure a 7-4 win against the Euless Jr Star. Collin Tripp, Gary Russell (2), Dan Suszek (2), Nick Krivokuca, and Matt Hehr scored for the Spirit, while Kayne Fedor and Thomas Delaney (3) earned points for the Jr Stars. In net, College Station net minder Ryan O'Toole made 34 saves on the night, while Nick Hart stopped 28 shots for Euless.
Lockport Express 12 vs. East Coast Minutemen 2-The Lockport Express held a strong offensive presence on their way to a 12-2 victory over the East Coast Minutemen. Mitchell Thornton (2), Chace Woods (3), Andrew Logar, Dominic Senese (2), Luca Mazzo, Frankie Bodami, Blake Bennett, and Brandon Schweickert scored for the Express, and Kami Kortelainen and Kyler Harding each notched one for the Minutemen. In net, Lockport goaltender Adam Partridge made 31 saves on the night, while Nick Kent and Dom Montecalvo made 35 and 18 saves, respectively, for East Coast.
Syracuse Stampede 4 vs. Northeast Generals 3-Four unanswered goals from the Syracuse Stampede helped them rally back to victory after a three goal deficit against the Northeast Generals. Nick Sanborn, Matt Allen (2), and Nate Walker scored for the Stampede, and Stephen Toal, William Nilsson, and Ryan Perry each scored for the Generals. Syracuse goalie Steven Kozikoski made 39 stops, while Leo Lake made 35 saves for Northeast.