South Report: Mustangs' offense coming alive
December 1, 2010
by Zach Duncan | NAHL.com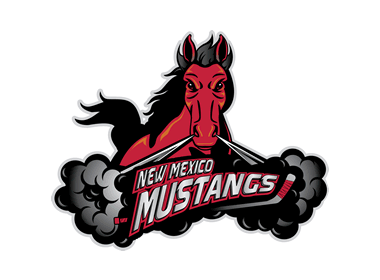 Two weeks ago, New Mexico coach Bill Muckalt thought his team played well against Corpus Christi but ran into a hot goaltender and suffered a pair of 2-1 losses.

Last weekend, it was the Mustangs' offense that was on fire, torching the net for 12 goals in a sweep of the Wichita Falls Wildcats.

A night after Charles Baldwin's last-minute score broke New Mexico's six-game losing streak, the Mustangs recorded an organization-record eight goals Sunday in an 8-6 victory.

"There's no question we're progressing," Muckalt said. "We started with 19 rookies who had never played at this level, so we've had some growing pains."

The Mustangs have gone through some tough times in their expansion season - before last weekend, they had lost 13 of their last 14 games - but they've had the Wildcats' number while at home.

Four of their seven wins during the 2010-11 season have come against fourth-place Wichita Falls at the Santa Ana Star.

Baldwin was the difference in Saturday's shootout. He scored four goals and added two assists, helping him earn NAHL South Player of the Week honors.

After playing with San Diego of the Western States Hockey League a year ago, Baldwin has added a spark to the Mustangs' attack, leading the team with 10 goals in only 17 games.

"He has tremendous speed, and it's been a huge asset to this team," Muckalt said. "He's starting to develop the ability to finish."

The Mustangs coach said Jake Webber has been a defensive stalwart and has taken advantage of an opportunity to skate on the power play.

Other players he feel are progressing nicely are forwards Patrick Anderson, Adam Chapie and Ian McGilvrey, whom Muckalt praised for playing good two-way hockey.

The Mustangs have one of the league's lowest power-play conversion rates, but they cashed in 4-of-9 opportunities against the Wildcats, showing patience has paid off.

"We've struggled on the power play. It's something we've worked an awful lot on, and it takes a lot of work," Muckalt said.

While the Mustangs won back-to-back games for the first time since Sept. 24-25, Muckalt said he isn't satisfied with those results alone. He'd like to see last week's momentum carry over into this week's road set against Fresno.

"The wins are nice, but at the end of the day, that was last weekend," Muckalt said. "We've got to keep it going to the next game."

SOUTH DIVISION NOTEBOOK

AMARILLO BULLS: Amarillo earned a split at Topeka, and if not for slow starts, it could have been a sweep. The Bulls rallied from a 2-0 deficit in the third period Friday to win 3-2. They fell behind 5-0 with 23 minutes to go the next night before closing to within 5-4. Amarillo has outscored its opponent 35-13 in the third period this season.

CORPUS CHRSTI ICERAYS: The IceRays had a successful road trip, going 2-1 with wins over Wichita Falls (4-2) on Friday and Texas (3-2 in overtime) on Sunday. New addition Jordan Miller made an immediate impact, scoring twice in his first game with the team.

TEXAS TORNADO: The Tornado took three of a possible four points during its weekend home series with Corpus Christi, increase its South Division lead to nine points. With three more assists over the weekend, defenseman Ralfs Freibergs leads the NAHL with 25 this season.

TOPEKA ROADRUNNERS: Michael Hill set an organization record by scoring his 20th goal in just his 21st game of the season. The RoadRunners, led by Ryan White's four points, split their weekend series with Amarillo to close out an impressive 5-1-0 homestand.

WICHITA FALLS WILDCATS: The Wildcats went winless over their three-game weekend, but the losses couldn't be blamed on the power play. Wichita Falls went 6-for-19 during that stretch, including a season-high five power-play goals in Sunday's 8-6 loss.