Day 1 of NA3HL Top Prospects impresses scouts
February 28, 2017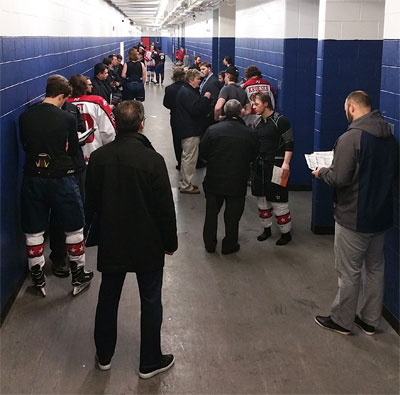 It was an exciting day for the six teams and 120 NA3HL players at the 2017 NA3HL Top Prospects Tournament.
Over 220 NCAA, NHL, NAHL and USHL scouts checked in on Day 1 with many of them attending the NA3HL games throughout the day.
The second and final day is on Tuesday, February 28th, with each team playing their third and final game.
Gold 3 vs. Red 0-A goal in each period and 31 saves from Peter Cicarelli helped the Gold Team to a 3-0 shutout win over the Red Team. Kami Kortelainen, John Krapian, and Martins Vitolins scored for Gold, and Wyatt Monear made 30 saves for Red.
Silver 2 vs. Green 1 (OT)-Jake Cox scored late in OT to give the 2-1 victory to the Silver Team against the Green Team. Conor Landrigan also scored for Silver, and Anthony Iacullo notched one for Green. In net, Sal Lauretta and Tyler Myers made 24 and 17 saves respectively for Silver, while Joel De Simone made 12 saves each for Green.
White 7 vs. Black 1-The White Team scored seven consecutive goals on their way to a 7-1 win over the Black Team. Brady Dahl, Danny Nugent, Riley Holwegner, Tristyn Sabina, Keenan Lund, Gage Thompson, and Luca Kreuser each scored one for White, and Nick Grupp got on the scoreboard for Black. White goaltenders Nick Nast and David Mulligan made 6 and 7 saves, respectively, and Landon Anderson and Alex Cathcart stopped 16 and 13 shots for Black.
Gold 5 vs. Silver 3-The Gold Team grabbed an early lead on their way to a 5-3 victory over the Silver Team. Martins Vitolins, Connor Busch, Ryan Paul, Josh Arnold, and Austin Braley scored for Gold, and Jake Cox, Tyler Uravage, and Preston Palamara each notched one for Silver. Defensively, Brady Meyers made 31 saves for Gold, and Silver goalies Tyler Myers and Sal Lauretta made 20 and 10 saves respectively.
Green 5 vs. Black 1-A pair of goals from Samuel Maddox helped the Green Team to a 5-1 win against the Black Team. Dakota Ulmer, Tristin Snyder, and Cole Barney also scored for Green, while Justin Bloomfield got on the scoreboard for Black. In net, Green goaltenders Andrew Kormos and Joel De Simone made 6 and 16 saves respectively, while Alex Cathcart and Landon Anderson made 28 and 25 saves each for Black.
White 8 vs. Red 5-A busy third period pushed the White Team to an 8-5 victory over the Red Team. Jesse Lawman, Brady Dahl (2), Caleb Anderson, Tristyn Sabina, Luc Kreuser, Austin Azzinnaro, and Riley Holwegner scored for White, and Ryan Edgar (2), Emil Lindfors, Connor Clemons, and Sam Dabrowski netted goals for Red. In net, David Mulligan and Nick Nast made 17 and 16 saves respectively, for White, while Hunter Smith made 37 stops for Red.
Standings
Gold: 2-0-0
Silver: 1-1-0
Red: 0-2-0
Black: 0-2-0