Gold team captures NA3HL Top Prospects title
March 1, 2017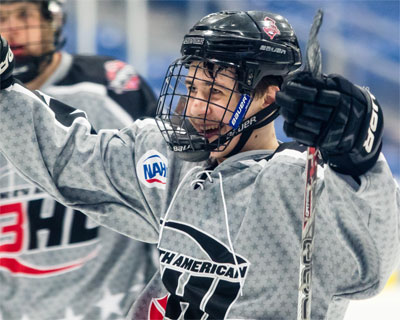 The 2017 NA3HL Top Prospects Tournament came to a close on Tuesday with the Gold (Central/Coastal) Division team capping off a perfect 3-0 run through the event.
The event was played in cooperation with the NAHL Top Prospects Tournament. Over 250 NHL, NCAA and junior scouts attended the two-day event and the impact the NA3HL players made was evident.
Scouts lined the lockerroom hallways at the end of the games and NAHL head coaches were also seen on the benches during each game, keeping their eye on the talent of the 120 players on display.
Here is a look at Tuesday's results:
Gold 7 vs. Black 4-Hat tricks from Gold skaters Chuck Costello and Lukas Motloch powered them to a 7-4 win over the Black Team. Josh Arnold also scored for Gold, while Jack Oberg, Payton McSharry, Cole Archambeault, and EJ Gilbert notched goals for Black. In net, Peter Ciccarelli and Brady Meyers made 14 and 7 saves, respectively, for Gold, while Landon Anderson and Alex Cathcart made 14 and 11 stops each for Black. The win gave the Gold team the only 3-0 record at the event.
Silver 6 vs. Red 4-Tyler Uravage scored twice for the Silver Team to push them to a 6-4 win over the Red Team. Conor Landrigan, Sascha Figi, Hunter Bersani, and Bryce Harrison also scored for Silver, and Connor Clemons, Michael Redmon, Brendan Studioso, and Sean Mallonee got on the scoreboard for Red. Defensively, Sal Lauretta and Tyler Myers made 9 and 16 saves respectively for Silver, and Wyatt Monear and Hunter Smith stopped 13 and 5 shots for Red.
Green 5 vs. White 3-The Green Team scored two goals late in the third to push to a 5-3 victory against the White Team. Graham Day, Samuel Maddox (2), Dakota Ulmer, and Cameron Trejchel notched goals for Green, and Gavin Cline, Max Doner, and Brady Dahl earned points for White. Defensively, Joel De Simone and Andrew Kormos made 8 and 15 saves respectively for Green, while White goalies Nick Nast and David Mulligan stopped 19 and 9 shots each.
Standings
Gold: 3-0-0
White: 2-1-0
Silver: 2-1-0
Red: 0-3-0
Black: 0-3-0