Gongshow Flow of the Month winner for Flowbruary announced
March 3, 2017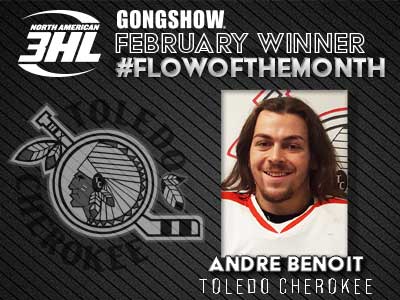 As we get down towards the end of the regular season and the Top Prospects Tournament has come and gone, February was a great time to evaluate the talent and plethora of flow in the NA3HL.
With that said, the North American 3 Hockey League (NA3HL) announced its GONGSHOW Flow of the Month winner for February 2017.
The winner this month is goaltender Andre Benoit of the Toledo Cherokee.
Benoit, 20, is in his final season of junior hockey. The native of Ortonville, Michigan, began the season with the Wooster Oilers in the NA3HL, but now finds himself on the Toledo Cherokee for the remainder of the season.
The 5'8/160 lbs. netminder has a very respectable 89% save percentage this season.
However, let Benoit's flow be a lesson to all would be and prospective Flow of the Month winners out there.
Sometimes simple is best. Andre goes with a nice classic hockey flow and doesn't mess around here. He took the necessary time to grow it out and now he has some great flow that has come to identify hockey players.
There are no tricks with Benoit's flow. He has a nice pulled back look with some length and kept the dye and the product in the cabinet.
He caps things off with a nice thin duster mustache and some chinny, chin, chin hair music complete with a nice goatee to complete the look.
Congrats Andre… and for his effort, he will be receiving a GONGSHOW Gear hat.
GONGSHOW is the exclusive sponsor of the Flow of the Month promotion exclusively on the NA3HL and GONGSHOW Twitter sites @NA3HL and @GONGSHOWGEAR. Fans and players alike are encouraged to submit photos of their best 'hockey hair' or 'flow' via Twitter by the end of every month during the regular season.
To enter the contest for the month of March submit your best #FlowoftheMonth pictures by March 31st to @NA3HL and @GONGSHOWGEAR. Winners will be selected in the beginning of April and will receive a GONGSHOW Gear hat.
GONGSHOW Gear Inc. (Gongshow) is the Official Lifestyle Hockey Apparel of the NAHL and NA3HL. GONGSHOW is recognized as the hockey good industry's premier manufacturer of innovative, high quality, fashionable and trend setting clothing apparel for hockey athletes of all ages and abilities.