Friday Finals: Quake are champions of Frontier again
March 4, 2017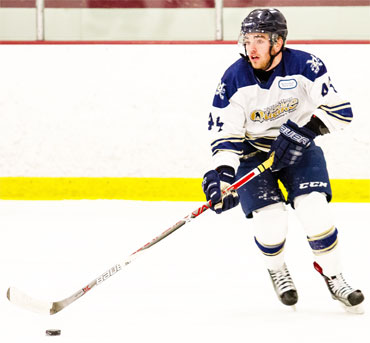 Yellowstone Quake 8 vs. Great Falls Americans 2-The Yellowstone Quake scored five unanswered goals on their way to an 8-2 victory against the Great Falls Americans. The win secured the Frontier Division regular season title for the Quake for a second season in a row. Reed Kelly (2), Matt Runyon, Max Doner (2), Cole Stewart (2), and Curt Greenbush scored for the Quake, while Logan Parsley and Brendan Jester netted goals for the Americans. In net, Nick Ottenbacher made 29 stops for the Quake, and Nick Nast and Kyler Ayers made 10 and 19 saves, respectively, for Great Falls.
Nashville Jr Predators 8 vs. Point Mallard Ducks 2-The Nashville Jr Predators executed a strong offensive front to secure an 8-2 victory over the Point Mallard Ducks. Samuel Dorfman, Dakota Wilson, Weiland Parrish, Declan O'Neal, Kyle Nikes (2), Benjamin Skinner, and Dylan Schmidt each scored for the Jr Predators, while Travis Brain and Jake Cox notched goals for the Ducks. Nashville's Mason Koster made 31 saves on the night, while Gary Glassman stopped 34 shots for Point Mallard.
Toledo Cherokee 3 vs. Pittsburgh Vengeance 2 (OT)-Anthony Weinrich scored in OT for the Toledo Cherokee to earn them 2 points in the 3-2 victory over the Pittsburgh Vengeance. Nolan Stanley and Alex Syring also scored for the Cherokee, and Brian Dee and Spencer Smith notched goals for Pittsburgh. Toledo goaltender Roman Malkov made 24 saves, and Joel De Simone made 35 saves for the Vengeance.
Atlanta Capitals 6 vs. College Station Spirit 1-The Atlanta Capitals scored 4 unanswered goals to secure a 6-1 win against the College Station Spirit. Jason Ladzinski, Jesse Brown (2), Talon Medure, Adam Vannelli, and Boomer Miller all scored for the Capitals, and Alex Norwinski notched one for the Spirit. Atlanta's Ryan O'Toole made 29 stops for Atlanta, while Connor Fewster made 16 saves for College Station.
Skylands Kings 4 vs. Jersey Shore Wildcats 3-A hat trick from Skylands King Craig Garrigan powered them to a 4-3 victory over the Jersey Shore Wildcats. Eric Vanderhoff also scored for the Kings, while Alexander Rowe, Gannen Erickson, and Tyler Allen scored for the Wildcats. Skylands' Evan Barghout made 28 stops on the night, while Zach Skop and Zach Robbins made 6 and 15 saves, respectively, for Jersey Shore.
Cincinnati Thunder 10 vs. Evansville Jr Thunderbolts 0-Tyler Geloneck made 24 saves for the Cincinnati Thunder to secure a shutout and a 10-0 win over the Evansville Jr Thunderbolts. Cobin Sanborn (2), Tyler Simon, Bradley Begeman, Jacob Friedman, Trevor Veneklase, William Schober, Andre Vanlew, Jake Ustorf, and Nathan Marlow scored for the Thunder. In net, Evansville goaltenders James Fry and Corbin Moore made 19 and 14 saves respectively.
La Crosse Freeze 13 vs. Chicago Bulldogs 1-The La Crosse Freeze grabbed an early lead to climb to a 13-1 win over the Chicago Bulldogs. Micah Anderson, Lukas Motloch (3), JP Eykyn, Alec Seeger, Adam Hazlett, Sam Dabrowski (3), Matt Wolter, Danny Toycen, and Donny Schultz scored for the Freeze, and Kyle Kowalski got on the board for the Bulldogs. In net, Andrew Wagner made 13 stops for La Crosse, while Brendan Barada stopped 42 shots for Chicago.
Alexandria Blizzard 5 vs. Rochester Ice Hawks 0-Tyler Thompson made 18 saves to secure a shutout and 5-0 win for the Alexandria Blizzard over the Rochester Ice Hawks. Caleb Anderson (2), Riley Meyer, Brenden Payne, and Riley Scanlon scored for the Blizzard, and Bailey Schmitz stopped 39 shots for the Ice Hawks.
Willmar Warhawks 2 vs. Granite City Lumberjacks 1-A pair of third period goals helped the Willmar Warhawks to a 2-1 victory over the Granite City Lumberjacks. Max Oelkers and Nathan Ackerman scored for the Warhawks, Cole Buhl scored for the Lumberjacks. Willmar net minder Alex Weissenborn made 20 saves on the night, while Granite City's David Mulligan stopped 22 shots.
Roc City Royals 4 vs. Lockport Express 2-A hat trick from Brandon Corey helped the Roc City Royals to a 4-2 win over the Lockport Express. Zach Buchholz also scored for the Royals, and Luca Mazzo and Chace Woods notched goals for the Express. In net, Roc City net minder Freddy Peters made 39 stops while Sam Fitzpatrick made 19 saves for Lockport.
North Iowa Bulls 5 vs. St Louis Jr Blues 2-The North Iowa Bulls maintained a steady offensive presence to secure a 5-2 victory over the St Louis Jr Blues. Shane Bernhardson, Owen Larson, Josh Arnold, Tom Reilly, and Tyler Bump scored for the Bulls, and Daniil Ovchinnikov and Jack Hatton Scored for the Jr Blues. In net, North Iowa's Drew Scites made 25 saves, while Hunter Smith stopped 15 shots for St Louis.
New England Stars 3 vs. Northeast Generals 2 (OT)-New England Star Brandon Hammner scored late in OT to secure the win over the Northeast Generals. Ryan Paul and Ian Gately also scored for the Stars, and Tre Pridgen and Alex O'Dowd notched goals for the Generals. In net, Greg Moon made 26 stops for New England, and Peter Ciccarelli made 66 saves for Northeast.
New Ulm Steel 7 vs. Wisconsin Whalers 0-New Ulm Steel goaltender Nathan Siclovan made 26 saves to shutout the Wisconsin Whalers and win, 7-0. Luc Krueser, Fritz Belisle, Alex Egle, Orlando Scherz, Alex Angel, Cory Martinez, and Sam Wenner scored for the Steel. Wisconsin goalies Alex Hufford and Max McConnell made 16 and 28 saves respectively.
Euless Jr Stars 5 vs. Texas Jr Brahmas 2-The Euless Jr Stars grabbed an early lead to secure their 5-2 victory over the Texas Jr Brahmas. William Rooney (2), Thomas Delaney, Ian Linna, and Chase Deacon scored for the Jr Stars, and Melker Kroon and Hunter Bersani scored for the Jr Brahmas. Euless goaltender Maxwell Kerner made 45 stops, while Samuel Solomon stopped 33 shots for Texas.
Bozeman Icedogs 11 vs. Billings Bulls 6-An early lead helped the Bozeman Icedogs grab an 11-6 win over the Billings Bulls in this high scoring match. Kole Kalisch (4), Carmon Teel (2), Steven Nisbet, Liam Millar (3), and Austin Charnholm scored for the Icedogs, and Duncan Cameron (3), Kyle Mueller, Bryan Miller, and Gage Thompson notched goals for the Bulls. In net, Bozeman's Luke Olson made 26 saves, while Chayo Goodwin and Simo Huhtanen stopped 33 and 16 shots, respectively, for Billings.