Saturday Scores: Granite City wins West
March 5, 2017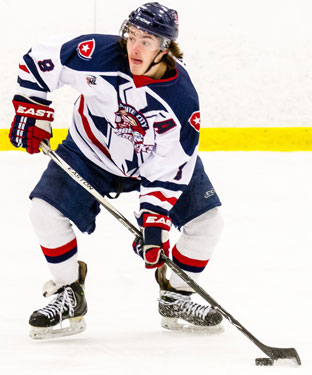 Granite City Lumberjacks 5 vs. Breezy Point North Stars 4-Five different skaters scored to give a hand to the 5-4 win for the Granite City Lumberjacks against the Breezy Point North Stars. Spencer Nelson, Keenan Lund, Andrej Jamnicky, Braden Altena, and Ryan Smith each scored once for Granite City, while Christian Lenzmeier, Ryan Higgins, Steven Kukla, and Josh Maucieri notched goals for the North Stars. In net, Mac Berglove made 30 saves for the Lumberjacks, while Breezy Point's Bronson Moore made 29 saves.
Atlanta Capitals 13 vs. College Station Spirit 2-The Atlanta Capitals grabbed an early lead on their way to a 13-2 win over the College Station Spirit. Sascha Figi (2), Joseph Lajcaj (2), Jason Ladzinski, Michael Klintworth (2), Grant Koehler, Tristen Poliseno, Boomer Miller, Jesse Brown, Ryan Gridley, and Ivan Mikhailov scored for the Capitals, and Kyle Kester and Alex Norwinski got on the scoreboard for the Spirit. In net, Nolan Bivolcic made 13 saves for Atlanta, and Dalton Baker and Ryan O'Toole stopped 24 and 16 shots, respectively, for College Station.
New England Stars 2 vs. Northeast Generals 1 (OT)-Ryan Paul scored early in overtime for the New England Stars against the Northeast Generals. Tyson Gudaitis scored in regulation for the Stars, and Tyler Rudek notched one for the Generals. New England goaltender Sage Broda made 22 saves on the night, while Jacob Zomick stopped 33 shots for Northeast.
Toledo Cherokee 6 vs. Pittsburgh Vengeance 4-The Toledo Cherokee played a strong third period to come out on top of a 6-4 win over the Pittsburgh Vengeance. EJ Gilbert, Alex Syring (2), Tristin Snyder, Ben Hamilton, and Ricky Kwapich scored for the Cherokee, and Thomas Polster, Nicholas Lyon, Gavin Cummings, and Austin Martz each netted one for Pittsburgh. In net, Roman Malkov made 25 stops for Toledo, and Nikoloas Manousos stopped 23 shots for the Vengeance.
Point Mallard Ducks 5 vs. Nashville Jr Predators 4 (OT)-A late third period goal forced overtime, where Ian Precht scored for the Point Mallard Ducks, giving them the victory over the Nashville Jr Predators, 5-4. Brandon Knopf, John Meakins, Jake Cox, and Phil Zbell scored in regulation for the Ducks, and Weiland Parrish (2), Dylan Schmidt, and Adam Stalzer earned points for the Jr Predators. Point Mallard's Kevin Mackey made 44 saves for the win, while Ricky Gonzalez and Jonathan Chin made 29 and 12 saves, respectively, for Nashville.
Cape Cod Islanders 6 vs. Maine Wild 3-Three quick goals in the last 3 minutes of the third period pushed the Cape Cod Islanders to a 6-3 win against the Maine Wild. Chuck Costello, Aaron Deady (2), James Brosnan, James Pollock, and Jake Davis each scored for the Islanders, and Tucker Twardosky, Drew Lambert, and Cameron Campbell notched goals for the Wild. Cape Cod's Anton Zemba made 43 saves on the night, while Brandon Daigle stopped 15 shots for Maine.
Metro Jets 6 vs. Southern Tier Express 2-The Metro Jets established an early lead to carry them to a 6-2 win over the Southern Tier Express. Evan Newel, Griffin Sawyer (2), Louis Boudon, Chas Distelrath, and Connor Inger scored for the Jets, and Santeri Rajakallio and Cameron Trejchel each netted one for the Express. Metro goaltenders Andrew Kormos and Brian Tallieu made 10 and 7 saves, respectively, while Ryan Pascarella made 38 stops for Southern Tier.
Binghamton Junior Senators 6 vs. L/A Fighting Spirit 2-The L/A Fighting Spirit opened with the first goal, but the Binghamton Junior Senators relentless offensive resulted in a 6-2 win. Ryan Flanagan (2), Cole Skelly, Conor Landrigan (2), and Zach Satalino scored for the Junior Senators, and Clifford Ogle and Dylan Vrees got on the scoreboard for the Fighting Spirit. Sal Lauretta made 17 saves for Binghamton, while Michael Errico and Chris Schmitt made 23 and 5 saves respectively for L/A.
Syracuse Stampede 7 vs. Skylands Kings 3-A strong offensive presence helped the Syracuse Stampede maintain a 7-3 win over the Skylands Kings. Rocco DeRollo, Matt Allen, Oscar Lande (2), Nick Mandia, Tristan Ayoubi, and Nick Sanborn scored for the Stampede, and Lionel Landry and Steven Ford notched goals for the Kings. Syracuse's Ryan Scheide made 30 saves on the night, while Mathias Yttereng and Evan Barghout made 14 and 6 saves, respectively, for Skylands.
West Michigan Wolves 2 vs. Wooster Oilers 1-A goal in each period, the West Michigan Wolves scored late in the third to earn the 2-1 victory over the Wooster Oilers. Thomas Harrison and Dakota Ulmer scored for the Wolves, while Michael Zenone notched one for the Oilers. West Michigan's Sam Woznicki made 26 saves, while Creighton Furber stopped 37 shots for Wooster.
La Crosse Freeze 12 vs. Chicago Bulldogs 0-La Crosse Freeze net minder Will Graves made 20 saves to climb to a 12-0 shutout victory against the Chicago Bulldogs. Lukas Motloch (3), Colton Sands, Tyler Briley (3), Hunter Dolan (2), Donny Schultz (2), and Nathan Marquardt scored for the Freeze. Chicago goalies Niks Lukasucks and Brendan Barada made 8 and 41 saves, respectively.
New Ulm Steel 4 vs. Wisconsin Whalers 1-Jacob Padley scored two goals to help the New Ulm Steel to a 4-1 win over the Wisconsin Whalers. Alex Angel and Fritz Belisle also scored for the Steel, and Austin Lewis notched one for the Whalers. New Ulm goalie Jon Albers made 29 saves, while Alex Hufford stopped 42 shots for Wisconsin.
Cincinnati Thunder 4 vs. Evansville Jr Thunderbolts 3-A hat trick from Cincinnati Thunder's Cameron Sangster pushed them to a 4-3 win against the Evansville Jr Thunderbolts. Trevor Veneklase also scored for the Thunder, and Corbin Emery, Austin Cody, and Oliver Joensson earned points for the Jr Thunderbolts. Cincinnati's Ryan Kostelnik made 39 saves, while Corbin Moore stopped 27 shots for Evansville.
Willmar WarHawks 6 vs. Alexandria Blizzard 5 (SO)-After a seven round shootout, goals from Willmar War Hawks Wyatt Toll and Dylan Gast resulted in a 6-5 win over the Alexandria Blizzard. Braden Shea, Kane Toriumi, Kyle Wendorf (2), and Gabe Gauer scored in regulation for the War Hawks, and Jack Mellstrom, Josiah Roen (2), and Emil Lindfors scored in regulation for the Blizzard, with Caleb Anderson scoring in the shootout. Willmar goalie Alex Cathcart made 50 saves, while Michael Hughes made 28 stops for Alexandria.
St Louis Jr Blues 4 vs. North Iowa Bulls 2-A pair of goals from Daniil Ovchinnikov gave the St Louis Jr Blues what they needed to earn a 4-2 victory over the north Iowa Bulls. Samuel Maddox and Brandon Bornkamp also scored for the Jr Blues, while Nick Klishko and Braxton Collins earned points for the Bulls. St Louis goaltender Sawyer Schmidt stopped 28 shots, while Drew Scites made 31 saves for North Iowa.
Texas Jr Brahmas 5 vs. Euless Jr Stars 1-Kyle Torgerson scored four goals for the Texas Jr Brahmas, earning them a 5-1 win over the Euless Jr Stars. Jacob Peterson also scored for the Jr Brahmas, with Matt Greco notching one for the Jr Stars. Texas' Anthony D'Aloisio made 24 stops, while Nick Hart made 26 saves for Euless.
Lockport Express 6 vs. East Coast Minutemen 2-The Lockport Express grabbed an early lead on their way to a 6-2 win over the East Coast Minutemen. Chace Woods (2), Andrew Logar, Erick Santiago, Michael Sokol, and Gibson Stuart scored for the Express, and Eric Steeves and Shamus Lombard earned points for the Minutemen. Lockport's Sam Fitzpatrick made 34 saves, while Nick Kent stopped 39 shots for East Coast.
Missoula Junior Bruins 4 vs. Bozeman Icedogs 3-The Missoula Junior Bruins scored late in the third to give them the 4-3 win over the Bozeman Icedogs. Josh Chamberlain (2), Misha Akatnov, and Zachary Colgrove scored for the Junior Bruins, while Gabe Rankin, Steven Nisbet, and Kadin Ferguson got on the scoreboard for the Icedogs. In net, Missoula's Joe Chekan made 32 saves, while Benjamin Sakaria stopped 40 shots for Bozeman.
Great Falls Americans 6 vs. Yellowstone Quake 3-A hat trick for Payton McSharry pushed the Great Falls Americans to a 6-3 victory over the Yellowstone Quake. Kody Thomas, Brendan Jester, and Ricards Bernhards also scored for the Americans, and Max Doner (2) and Curt Greenbush netted goals for the Quake. Great Falls goaltender Kyler Ayers made 40 saves, while Brady Anderson and Nick Ottenbacher made 17 and 15 saves, respectively, for Yellowstone.