Sunday Wrap-Up: Express make final push with win
March 6, 2017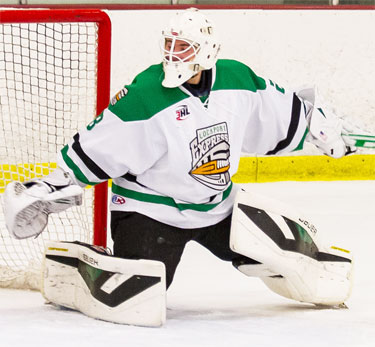 Peoria Mustangs 10 vs. Wisconsin Whalers 0-Peoria Mustangs JT Kossakowski made 19 saves to secure the 10-0 shutout victory against the Wisconsin Whalers. Max McConnell and Alex Hufford made 17 and 9 saves each for the Whalers. Tyler Kuhn, Jordan Hillman (2), Austin Wisely (3), Dane Federighi, Andrej Buchko (2), and Alec Mickel all grabbed points for the Mustangs.
Lockport Express 3 vs. East Coast Minutemen 2-A late goal from Kami Kortelainen brought the East Coast Minutemen within one, but in the end the Lockport Express finished with the win, 3-2. Blake Bennett, Brandon Schweickert, and Andrew Logar scored for the Express, and Pat Swanson grabbed a goal for the Minutemen as well. In net, Adam Partridge made 40 saves for the Express, and East Coast's Dom Montecalvo made 54 saves. The win moved Lockport into the 4th and final playoff spot in the Northeast Division, one point ahead of Roc City, who still has one game remaining.
La Crosse Freeze 12 vs. Chicago Bulldogs 3-The La Crosse Freeze grabbed an early lead on the way to a 12-3 victory over the Chicago Bulldogs. Donny Schultz, Adam Hazlett, Tyler Briley (4), Lukas Motloch, Sam Dabrowski (2), Micah Anderson, Kadin Machusak, and Brandon Elliot scored for the Freeze, and Cody Gottfried and Kyle Kowalski (2) got on the scoreboard for the Bulldogs. La Crosse goaltender Jacob Silverstein made 14 saves on the night, while Brendan Barada stopped 49 shots for Chicago.
West Michigan Wolves 5 vs. Wooster Oilers 3-A strong third period pushed the West Michigan Wolves past the Wooster Oilers to victory, 5-3. Rich Corso, Daniil Demidov (2), Andrew Michalowski, and Dakota Ulmer scored for the Wolves, and Michael Zenone (2) and Nicholas Mooney netted goals for the Oilers. West Michigan's Brian Thomas made 23 saves, and Creighton Furber stopped 30 shots for Wooster.
Metro Jets 14 vs. Southern Tier Express 0-Metro Jets goaltenders Jake Gwillim and Brian Tallieu both made 8 saves to bring their team a 14-0 shutout victory against the Southern Tier Express. Harrison Vangellow and Ryan Pascaralla stopped 20 and 26 shots for Southern Tier. Louis Boudon (2), Mathias Tellstrom (3), Graham Day (4), Cam Schwartz, Connor Inger (2), Jake Gleason, and George Hansen scored for the Jets.
Skylands Kings 3 vs. Syracuse Stampede 0-Skylands Kings' Evan Barghout made 26 saves for a 3-0 shutout victory against the Syracuse Stampede. Steven Kozikoski made 38 saves for the Stampede. Dylan Dinzik, Craig Garrigan, and Craig Scarpa each scored for the Kings.
Binghamton Junior Senators 12 vs. L/A Fighting Spirit 2-The Binghamton Junior Senators maintained a strong offensive presence to secure a 12-2 victory over the L/A Fighting Spirit. Tyler Uravage, Ryan Flanagan (4), Ryan Reifler (2), Conor Landrigan, Dominik Bogdziul, Austin Bandura, Zacharia Ouldelhadjahmed, and Brad Becker scored for the Junior Senators, and Felix Nyqvist and Crewz Berry grabbed goals for the Fighting Spirit. Binghamton goalies Sal Lauretta and Steven Schmitt made 14 and 28 saves, while Aaron Callan and Chris Schmitt stopped 40 and 5 shots for L/A.
Cape Cod Islanders 6 vs. Maine Wild 1-The Cape Cod Islanders put on a strong offensive show to secure a 6-1 win over the Maine Wild. Chris Collin, Cole Therrien (2), Chuck Costello, Thomas Tobey, and Matt Hinckley scored for the Islanders, and Cameron Campbell notched one for the Wild. In net, Ryan Clifford made 37 saves for Cape Cod, while Brayden McGary and Brandon Daigle stopped 11 and 9 shots for Maine.
Atlanta Capitals 7 vs. College Station Spirit 0-Atlanta Capitals' goaltender Wyatt Monear made 17 saves to secure a 7-0 shutout win over the College Station Spirit. Ryan O'Toole made 41 saves for the Spirit. Sascha Figi, Boomer Miller, Christian Dale, Dillon Steh, Tristen Poliseno, Talon Medure, and Michael Klintworth each notched one for the Capitals.
Alexandria Blizzard 4 vs. Granite City Lumberjacks 3 (OT)-Caleb Anderson scored in OT to grab a win for the Alexandria Blizzard over the Granite City Lumberjacks. Emil Lindfors, Jack Mellstrom, and Jack Cernohous also scored for the Blizzard, and Matthew Moran (2) and Eric Moser scored for the Lumberjacks. In net, Brey Effertz made 32 saves for Alexandria, while Mac Berglove stopped 33 shots for Granite City.