West Report: Brown Bears staying on track
December 3, 2010
by Brian McDonough | NAHL.com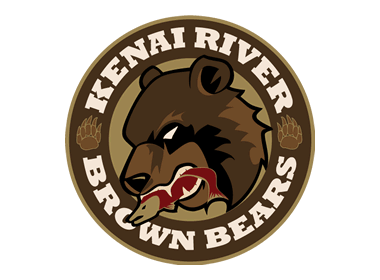 The Kenai River Brown Bears have finished dead last in the West ever since they joined the North American Hockey League in 2007-08.

This year, however, as the calendar turned to December, the Brown Bears are among the top four in the six-team division and are showing no signs of slowing down.

"We set team goals in training camp, and one was to reach the playoffs; I felt that would be within reach," said Kenai head coach Oliver David, whose team holds a 14-11-2 record. "Our current standing can change very quickly, though, up or down. We need to continue to learn and be willing to do the work."

A stellar goaltending stretch showcased by Mathias Dahlstrom has led the Brown Bears to a formidable 8-3 mark since Oct. 29.

Dahlstrom, a 19-year-old from Sweden who holds a 6-2 record in his last eight starts, along with Josh Benton, has been a key ingredient to the team's success.

"We definitely have two capable goalies," said David. "They've both made runs and have won for us and, most recently, Mathias ran with his opportunity to start and was successful.

"He's quite the athlete and undoubtedly will impress college coaches as he continues making a name for himself."

David also credits his team's depth, with several players making marked strides since the start of the season, among them emerging forwards Matt Thompson, Jesse Ramsey, Zack Capozza and Sean Muller.

"We had every line chip in last month," said the coach. "The commitment from our guys is there, and when you commit to something progress usually follows."

And the on-ice success is expected to pay dividends on the college front. David reports that a number of his players are receiving Division I interest, which should only grow stronger as the team continues to find the win column.

Three players - forward Doug Beck and defensemen Chris Rial and Erick Ware - will have an added chance to wow scouts, as all three will represent Kenai at the upcoming NAHL Top Prospects Tournament in Massachusetts.

"I'm happy for them that they have the opportunity," said David. "The rest is up to them.

"In reality, we've just turned a corner for the better," he added. "If we continue down this path, good things will come (in terms of college appeal)."

And there's no rest for the weary on the Brown Bears' upcoming schedule. With four road games heading into the holiday break, Kenai plays three at home to start the season's second half before embarking on a nine-game swing through Dawson Creek, Wenatchee and Fresno.

"It goes without saying, we need to be good," said David. "We need every point we can get in this division."

WEST DIVISION REPORT

ALASKA AVALANCHE: In his first three games of the season since rejoining the Avalanche, forward Matt Friese, 18, connected for four goals and three assists in a three-game sweep over Fresno. "Matt's committed to working hard and improving his game, and he took some productive steps last week to do that and was rewarded for his efforts," head coach Brian Huebel said of the Wasilla, Alaska, native. "We're excited to have him back with us."

DAWSON CREEK RAGE: With last week off, the Rage hits the road for six straight games beginning with a three-game series this week in Fairbanks. Dawson Creek then travels to Alaska to play three against the Avalanche.

FAIRBANKS ICE DOGS: Goaltender Joe Phillippi, a 20-year-old from Shoreview, Minn., turned back all 25 shots he faced as the Ice Dogs blanked Kenai River on Saturday, 3-0. The victory improved his record to 6-4-1 on the season.

FRESNO MONSTERS: After losing three straight to Alaska last week, the Monsters play five straight games at home before the holiday break. New Mexico comes to town for two games this weekend, followed by a three-game visit from Fairbanks.

WENATCHEE WILD: Forward Ben Carey, an Air Force Academy recruit, tallied four goals, including a hat trick in a 7-4 win on Saturday, as the Wild split a two-game set with Chicago. The 17-year-old from Centennial, Colo., has 10 goals through 26 games this season.