March 10, 2017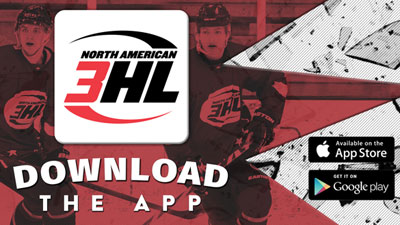 It all has come down to this, the final weekend of the 2016-17 NA3HL regular season!
This weekend offers many intriguing story lines with several playoff match-ups still in question.
Follow the games on the NA3HL App:
The Coastal Division, still needs to decide the 4th and final playoff spot, which is going down to the wire between the Northeast Generals and the L/A Fighting Spirit.
In the East Division, the only drama that remains is to see of the Metro Jets can win two more games and become the first team in NA3HL history to go undefeated. Currently, they are 45-0.
The Frontier Division playoffs continue with Helena needing one more win against Gillette to advance after a 4-1 win in Game 1 on Thursday. The Missoula/Bozeman series faces off on Friday.
The Northeast Division also has to decided their 4th and final playoff team with Roc City needing a win over Syracuse on Saturday to advance. A loss of any kind puts Lockport into the 4th and final spot.
In the South, the four teams are set, but Texas and Atlanta are tied at the top with 69 points. Texas has three games this weekend, while Atlanta has two.
Friday, March 10th
East Coast at Cape Cod - 7:00 PM EST
Maine at L/A - 7:00 PM EST
Southern Tier at Toledo - 7:00 PM EST
Metro at Wooster - 7:45 PM EST
St. Louis at Evansville - 7:00 PM CST
La Crosse at Alexandria - 7:10 PM CST
New Ulm at Willmar - 7:10 PM CST
Texas at College Station - 7:30 PM CST
Peoria at North Iowa - 7:30 PM CST
Atlanta at Point Mallard - 7:30 PM CST
Rochester at Wisconsin - 7:30 PM CST
Helena at Gillette - 7:05 PM MST
Bozeman at Missoula - 7:30 PM MST
Saturday, March 11th
Roc City at Syracuse - 3:00 PM EST
Cape Cod at New England - 3:50 PM EST
Euless at Louisiana - 4:00 PM CST
West Michigan at Pittsburgh - 6:30 PM EST
Atlanta at Point Mallard - 6:00 PM CST
Southern Tier at Toledo - 7:00 PM EST
Northeast at Maine - 7:30 PM EST
Wooster at Metro - 7:30 PM EST
Cincinnati at Nashville - 7:00 PM CST
Evansville at St. Louis - 7:00 PM CST
Rochester at Wisconsin - 7:00 PM CST
La Crosse at Alexandria - 7:10 PM CST
Willmar at Breezy Point - 7:30 PM CST
Texas at College Station - 7:30 PM CST
New Ulm at Granite City - 7:30 PM CST
Peoria at North Iowa - 7:30 PM CST
Helena at Gillette - 7:05 PM MST
Missoula at Bozeman - 7:30 PM MST
Sunday, March 12th
West Michigan at Pittsburgh - 11:40 AM EDT
L/A at New England - 11:50 AM EDT
Northeast at Maine - 1:20 PM EDT
Chicago at Wisconsin - 1:00 PM CDT
Cape Cod at East Coast - 3:30 PM EDT
Euless at Louisiana - 4:00 PM CDT
Cincinnati at Nashville - 4:15 PM CDT
La Crosse at North Iowa - 5:00 PM CDT
Texas at College Station - 5:30 PM CDT
Bozeman at Missoula - 6:30 PM MDT