Friday Finals: Bozeman takes Game 1 of series
March 11, 2017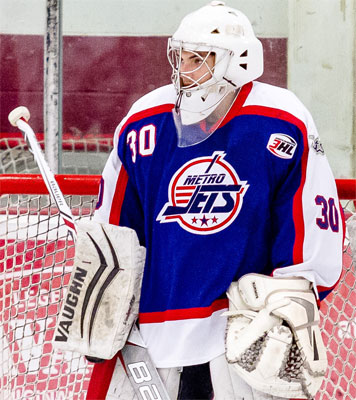 Frontier Division Quarter-Finals, Game 2: Gillette Wild 5 vs. Helena Bighorns 2 (series tied 1-1) - The Gillette Wild tied the series at 1-1 after a 5-2 victory over 6th seed Helena Bighorns. Colt Johnson, Jack Oberg, Preston Fuller, Cade Boreing, and Kyle Truax all scored for the Wild, and Nicholas Lindgren and John Heddle each notched one for the Bighorns. Gilette's Lincon Riley made 31 saves, and Nicholas Battaglia stopped 42 shots for Helena.
Frontier Division Quarter-Finals, Game 1: Bozeman Icedogs 6 vs. Missoula Junior Bruins 3 (Bozeman leads best of three series, 1-0) – The Fifth seeded Bozeman Icedogs scored four late goals to climb to a 6-3 victory over fourth seeded Missoula Junior Bruins. Kole Kalisch, Carmon Teel, Gabe Rankin (2), and Steven Nisbet (2) scored for the Icedogs, and Bryce Dirscherl, Colby Birch, and Zachary Colgrove each notched one for the Junior Bruins. Bozeman goaltender Benjamin Sakaria made 45 stops on the night, while Tanner Loucks stopped 32 shots for Missoula.
Metro Jets 6 vs. Wooster Oilers 0 - Metro Jets' goaltender Andrew Kormos made 18 saves for a 6-0 victory against the Wooster Oilers. The win secured the overall NA3HL regular season title for the Jets, who moved their record to a perfect 46-0 with one game to go. Creighton Furber stopped 31 shots for Wooster. Chase Sereno, Mathias Tellstrom, Hayden Winch, Jason Newel, and Louis Boudon (2) scored for the Jets.
Cape Cod Islanders 6 vs. East Coast Minutemen 2 - A slew of goals in the second period for the Cape Cod Islanders powered them to a 6-2 win over the East Coast Minutemen. Aaron Deady (2), Nick Marston, Niko Roy (2), and Mitchell Eldridge scored for the Islanders, and Mike Lavoie and Leevi Kervinen each notched one for the Minutemen. In net, Ryan Clifford made 30 saves for Cape Cod, and Dom Montecalvo stopped 34 shots for East Coast.
L/A Fighting Spirit 6 vs. Maine Wild 1 - The L/A Fighting Spirit stayed in the playoff hunt and grabbed an early lead to climb to a 6-1 victory over the Maine Wild. Matt Siegel, Dylan Vrees (3), Caleb Labrie, and Walker Hamilton scored for the Fighting Spirit, and Connor Busch notched one for the Wild. L/A goaltender Michael Errico made 32 saves, while Brandon Daigle made 35 stops for the Wild.
Southern Tier Express 4 vs. Toledo Cherokee 0 - Southern Tier Express goaltender Ryan Pascarella made 56 stops for a 4-0 shutout win against the Toledo Cherokee. Roman Malkov made 37 saves for Toledo. Jacob St Andre, Grant Scharmer, Santeri Rajakallio, and Cameron Trejchel each notched one for the Express.
St Louis Jr Blues 5 vs. Evansville Jr Thunderbolts 1 - Jack Hatton notched a hat trick for the St Louis Jr Blues to power them to a 5-1 win over the Evansville Jr Thunderbolts. Andrew Froese and Joe Papa also scored for St Louis, and Nick Luke notched one for the Jr Thunderbolts. Jr Blue Sawyer Schmidt made 27 saves, while Bryson Linenburg stopped 52 shots for Evansville.
Willmar War Hawks 4 vs. New Ulm Steel 3 - Three unanswered goals for the Willmar War Hawks pushed them to a 4-3 win over the New Ulm Steel. Braden Shea, Jacob Dobberstein, Kyle Wendorf, and Jack Walter scored for the War Hawks, and Luc Kreuser (2) and Alex Nagel got on the scoreboard for the Steel. Willmar's Alex Weissenborn made 34 saves, and Jon Albers stopped 21 shots for New Ulm.
North Iowa Bulls 3 vs. Peoria Mustangs 2 - A pair of goals from Sean Mallonee powered the North Iowa Bulls to a 3-2 victory against the Peoria Mustangs. Tyler Bump also scored for North Iowa, and Jack Healy and Jordan Hillman netted goals for the Mustangs. Bull's Drew Scites made 21 stops, while JT Kossakowski stopped 22 shots for Peoria.
Texas Jr Brahmas 3 vs. College Station Spirit 1 - A pair from Hunter Bersani lead the Texas Jr Brahmas to a 3-1 win over the College Station Spirit. Jacob Peterson scored for the Jr Brahmas as well, and Preston Palamara netted one for College Station. Tyler Myers made 22 stops for Texas, and Dalton Baker made 26 saves for the Spirit.
Atlanta Capitals 3 vs. Point Mallard Ducks 1 - The Atlanta Capitals held onto an early lead to win out, 3-1, over the Point Mallard Ducks. Boomer Miller, Michael Klintworth, and Jesse Brown each scored for the Capitals, and Elias Nilsson got on the scoreboard for the Ducks. Atlanta's Nolan Bivolcic stopped 42 shots, while Kevin Mackey made 33 saves for Point Mallard.
Rochester Ice Hawks 3 vs. Wisconsin Whalers 1 - Two third period goals for the Rochester Ice Hawks powered them to a 3-1 win over the Wisconsin Whalers. Dylan Boysen, Ethan Sievek, and Willie Meyer scored for the Icehawks, and Anthony Fortin notched one for the Whalers. Rochester's Drew Schenkenberg made 31 saves, while Max McConnell made 30 stops for Wisconsin.
Alexandria Blizzard 6 vs. La Crosse Freeze 4 - The La Crosse scored 4 unanswered goals, but it was two late and the Alexandria Blizzard finished on top - 6-4. Caleb Anderson, Connor Nilson, Brenden Payne, Riley Meyer (2), and Emil Lindfors scored for the Blizzard, and Danny Toycen, Matt Wolter, JP Eykyn, and Hunter Dolan notched goals for the Freeze. Alexandria goaltenders Grey Effertz and Michael Hughes made 22 and 9 saves, while Andrew Wagner stopped 35 shots for La Crosse.