Saturday Scores: Jets complete perfect 47-0 regular season
March 12, 2017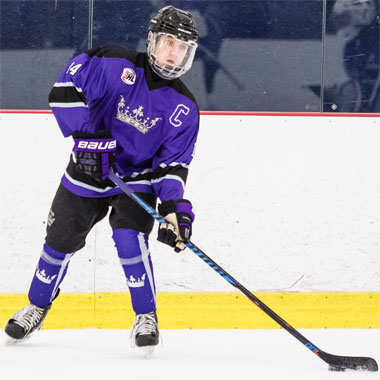 Saturday Box Scores
Metro Jets 5 vs. Wooster Oilers 2-The Metro Jets close out an undefeated season with a 5-2 win against the Wooster Oilers. The win gave the Jets a perfect 47-0 record, something that has never been done before in the history of the NA3HL. Jason Newel, Connor Inger (2), Robby Flannery, and Hayden Winch scored for the Jets, and Nicholas Stanko and Nicholas Mooney netted one goal each for the Oilers. Metro goalies Jake Gwillim and Brian Tallieu made 14 and 2 saves, respectively, and Michael Hubbard stopped 41 shots for Wooster.
Roc City Royals 1 vs. Syracuse Stampede 0-Roc City Royal Brandon Corey notched the only game of the night, granting them the 1-0 victory over the Syracuse Stampede. The win secured the 4th and final playoff spot in the Northeast Division for the Royals, who finished the regular season one point ahead of Lockport. In net, Roc City's Ian Stahl made 45 saves, while Ian Stahl stopped 31 shots for the Stampede.
Frontier Division Quarter-Finals, Game 3: Gillette Wild 4 vs. Helena Bighorns 3 (Gillette wins series, 2-1) - The Gillette Wild advance to the next round of the Silver Cup playoffs with a 4-3 victory over the Helena Bighorns. Zack Brunelle, Jack Oberg, Tyler Tennant, and Charlie Gerace scored for the Wild, and Dane Rieger and Bradley Estrada (2) notched goals for the Bighorns. In net, Lincon Riley made 37 stops for Gillette, and Nicholas Battaglia made 46 saves for Helena. With the victory, the Gillette Wild will play the Great Falls Americans in the next round.
Frontier Division Quarter Finals, Game 2: Bozeman Icedogs 5 vs. Missoula Junior Bruins 4 (OT) (Bozeman wins series, 2-0) - The Bozeman Icedgos close out the Frontier Division Quarter Finals with a 5-4 OT win over the Missoula Junior Bruins. Casey Gobel (2), Liam Millar, Kadin Ferguson, and Gabe Rankin scored for the Icedogs, and Zachary Colgrove (2), Justin Barnes, and Josh Chamberlain netted goals for the Junior Bruins. In net, Bozeman's Benjamin Sakaria made 41 saves, and Joe Chekan stopped 29 shots for Missoula. With the victory, the Bozeman Icedogs move on to play the Yellowstone Quake in the next round.
New England Stars 4 vs. Cape Cod Islanders 2-A pair of goals from Tyson Gudaitis powered the New England Stars to a 4-2 victory against the Cape Cod Islanders. Derek Flynn and Ryan Paul also scored for the Stars, and Nick Marston and Aaron Deady notched goals for the Islanders. New England's Greg Moon stopped 20 shots, while Anton Zemba made 32 saves for Cape Cod.
Louisiana Drillers 3 vs. Euless Jr Stars 2-A pair of goals from Timothy Zittel helped the Louisiana Drillers to a 3-2 victory over the Euless Jr Stars. Brandon Vukasin also scored for the Drillers, and Thomas Delaney and Tristan Wilson each notched one for the Jr Stars. Louisiana's Santeri Seppinen stopped 43 shots, while Nick Hart made 58 saves for Euless.
Pittsburgh Vengeance 4 vs. West Michigan Wolves 3-Dominick Glavach notched a hat trick for the Pittsburgh Vengeance in their 4-3 win against the West Michigan Wolves. Austin Martz also scored one for the Vengeance, and Thomas Harrison, Bear Ross, and Justin Bloomfield notched goals for the Wolves. Pittsburgh's Joel De Simone made 15 saves, while Brian Thomas stopped 34 shots for West Michigan.
Toledo Cherokee 2 vs. Southern Tier Express 0 -Toledo Cherokee goaltender Roman Malkov made 31 saves for a 2-0 shutout victory against the Southern Tier Express. Southern Tier net minder Harrison Vangellow stopped 35 shots. Tristin Snyder and Ben Hamilton scored for the Cherokee.
Atlanta Capitals 4 vs. Point Mallard Ducks 2-The Atlanta Capitals grabbed an early lead on their way to a 4-2 win against the Point Mallard Ducks. Tristen Poliseno, Christian Dale, Adam Vannelli, and Joseph Lajcaj each scored one for the Capitals, and Joe Polcaro and Elias Nilsson notched one each for the Ducks. Atlanta's Wyatt Monear made 33 stops, while Gary Glassman stopped 34 shots for Point Mallard.
Northeast Generals 4 vs. Maine Wild 3-Derric Trudeau scored twice for the Northeast Generals to secure a 4-3 victory over the Maine Wild. Billy Hickey and Cam Piorkowski also scored for the Generals, and Zach Gagne and Lema Muradov (2) got on the scoreboard for the Wild. Northeast goaltender Peter Ciccarelli made 30 saves, while Chris Oshaughnessy stopped 32 shots for Maine.
Nashville Jr Predators 4 vs. Cincinnati Thunder 3-A late second period goal sealed the 4-3 win for the Nashville Jr Predators over the Cincinnati Thunder. Niks Kalnberzins, Peter Cabala, Dylan Schmidt, and Conor Cunningham scored for the Jr Predators, and James Frantz (2) and Trevor Veneklase notched goals for the Thunder. Nashville's Jonathan Chin made 23 saves, and Connor Poczos stopped 31 shots for Cincinnati.
Wisconsin Whalers 5 vs. Rochester Ice Hawks 3-The Roc City Royals grabbed an early first period lead, but the Wisconsin Whalers came back to win it, 4-3. Carter Grobstick, Austin Lewis, Nate Kuta, Connor Boscaccy, and Matt Resch scored for the Whalers, and Skylar Watt (2) and Charles Bill got on the scoreboard for the Ice Hawks. In net, Wisconsin's Alex Hufford made 37 saves, and Bailey Schmitz made 42 stops for Rochester.
Alexandria Blizzard 4 vs. La Crosse Freeze 0-Michael Hughes made 33 saves to secure a 4-0 shutout win for the Alexandria Blizzard over the La Crosse Freeze. Will Graves made 41 stops for La Crosse. Riley Meyer, Logan Norman, Alex Bowe, and Emil Lindfors each notched a goal for the Blizzard.
St Louis Jr Blues 11 vs. Evansville Jr Thunderbolts 2-The St Louis Jr Blues held a strong and steady offensive presence on their way to a 11-2 win over the Evansville Jr Thunderbolts. Andrew Froese, Zach Mitchell (2), Nick Balestra, Samuel Maddox, Ivan Galaguzov, Cory Robinson, Ryan Reader, Logan Fennema, Robby Seger, and Joe Papa all scored for the Jr Blues, and Tim Sizemore and Corbin Emery got on the scoreboard for the Jr Thunderbolts. In net, Hunter Smith stopped 18 shots for St Louis, and James Fry and Corbin Moore made 39 and 10 saves each for Evansville.
Breezy Point North Stars 7 vs. Willmar War Hawks 2-Austin Langworthy's hat trick gave the Breezy Point North Stars an edge in their 7-2 win over the Willmar War Hawks. Tristyn Sabina, Josh Laven, Ryan Higgins, and Larsen Tubbs also scored for the North Stars, and Dylan East and Riley Dixon got on the scoreboard for the War Hawks. In net, Magnus Lindhe made 30 saves for Breezy Point, and Alex Weissenborn and Alex Cathcart stopped 17 and 20 shots, respectively, for Willmar.
Texas Jr Brahmas 3 vs. College Station Spirit 0-Texas' Tyler Myers made 30 saves to secure a 3-0 shutout victory against the College Station Spirit. Ryan O'Toole made 31 stops for the Spirit. Arturo Garcia, Luke LaBlanc, and Kyle Torgerson each notched one for the Jr Brahmas.
Granite City Lumberjacks 3 vs. New Ulm Steel 2-The Granite City Lumberjacks climbed back from a 2 goal deficit to claim a 3-2 win over the New Ulm Steel. Matthew Sprink, Brady Dahl, and Eric Moser each scored for the Lumberjacks, and Jared Erickson and Dylan Leivermann notched one each for the Steel. Granite City's Mac Berglove made 25 saves on the night, while Nathan Siclovan stopped 28 shots for New Ulm.
Peoria Mustangs 2 vs. North Iowa Bulls 1-Strong goaltending on both sides made for a low scoring game, but eventually the Peoria Mustangs came out on top over the North Iowa Bulls, 2-1. Jt Kossakowski stopped 27 shots for Peoria, and Seth Eisele made 23 saves for North Iowa. Braden Stewart and Austin Wisely scored for the Mustangs, and Tyler Bump notched the only Bulls goal.