Sunday Wrap-Up: Texas wins South, Generals claim final spot
March 13, 2017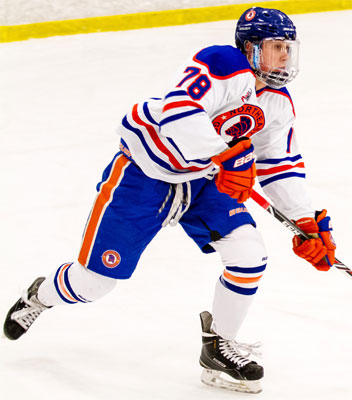 Texas Jr Brahmas 3 vs. College Station Spirit 0-Texas Jr Brahmas goalie Tyler Myers made 30 saves on their way to a 3-0 shutout victory over the College Station Spirit. The win secured the South Division regular season title for the Brahmas, who finished two points ahead of Atlanta in the standings. Dalton Baker made 42 saves for College Station. Vincent Dekumbis, Bennett Weycker, and Kyle Torgerson each notched one for the Jr Brahmas.
Northeast Generals 5 vs. Maine Wild 3-A pair of late goals from Tyler Rudek helped the Northeast Generals to a 5-3 win over the Maine Wild. Derric Trudeau, Billy Hickey, and Austin Braley also scored for the Generals, and Tucker Twardosky, Chris Hoxie, and Ryan Gilboy scored for the Wild. Northeast's Peter Ciccarelli made 36 saves, while Brandon Daigle made 28 stops for Maine.
Pittsburgh Vengeance 4 vs. West Michigan Wolves 2-A hat trick from Pittsburgh Vengeance skater Austin Martz helped them to a 4-2 win over the West Michigan Wolves. Reid Miller also scored for the Vengeance, and Bear Ross and Blake Siewertsen each notched one for the Wolves. In net, Pittsburgh's Jacob Zab made 39 saves and Brian Thomas stopped 26 shots for West Michigan.
New England Stars 5 vs. L/A Fighting Spirit 3-Five separate scorers had a hand in the New England Star's 4-3 win over the L/A Fighting Spirit. Ryan Paul, Tim Paige, John Krapian, Michael Lempiainen, and Brendan Miller scored for the Stars, and Thomas Kuntz, Walker Hamilton, and Felix Nyqvist notched goals for the Fighting Spirit. New England's Sage Broda made 28 saves and Aaron Callan stopped 25 shots for L/A.
Wisconsin Whalers 7 vs. Chicago Bulldogs 0-Connor Bascaccy netted a hat trick on the way to a 7-0 shutout win for the Wisconsin Whalers over the Chicago Bulldogs. Ron Retner, Austin Lewis, Anthony Fortin, and Broddey Richards also scored for the Whalers. In net, Wisconsin's Jacob Hough made 18 saves for a shutout win, and Alec Paloumpis and Brendan Barada made 38 and 13 saves, respectively, for the Bulldogs.
East Coast Minutemen 4 vs. Cape Cod Islanders 3-An early lead for the East Coast Minutemen carried them to a 4-2 victory over the Cape Cod Islanders. Eric Steeves, Cam Crowley, John Powers, and Kami Kortelainen scored for the Minutemen, and Nick Marston, Matt Schriner, and James Pollock scored for Cape Cod. East Coast's Nick Kent made 42 saves for the win, and Ryan Clifford stopped 32 shots for the Islanders.
Euless Jr Stars 5 vs. Louisiana Drillers 2-The Euless Jr Stars scored four unanswered goals on their way to a 5-2 victory over the Louisiana Drillers. Matt Greco, Thomas Delaney, Nick Sheridan, Nick Snyder, and Dalton Caesar each scored one for the Jr Stars, and Davis Van Gemerden and Niki Raiskio got on the scoreboard for the Drillers. Euless' goaltender Nick Hart made 36 saves on the night, while Santeri Seppinen and Kevin Lake made 15 and 23 stops each for Louisiana.
Cincinnati Thunder 5 vs. Nashville Jr Predators 4-The Cincinnati Thunder came back from a 3 goal deficit to defeat the Nashville Jr Predators, 5-4. Mihali See, Andre Vanlew, Cobin Sanborn (2), and Cameron Sangster grabbed goals for the Thunder, and Logan Orem, Trent Kulczyk, and Michael Redmon (2) scored for Nashville. In net, Tyler Geloneck and Ryan Kostelnik made 15 and 12 saves respectively for Cincinnati, and Ricky Gonzalez and Mason Koster stopped 9 and 10 shots each for Nashville.
North Iowa Bulls 5 vs. La Crosse Freeze 2-A hat trick from Tyler Bump pushed the north Iowa Bulls to a 5-2 victory over the La Crosse Freeze. Brendan Studioso and Mitch Parsons also scored for the Bulls, and Nathan Marquardt and Hunter Dolan got on the scoreboard for the Freeze. Both Brady Meyers of North Iowa and La Crosse's Andrew Wagner made 26 saves in their last regular season match.