Friday Finals: Tight games highlight Division Finals
March 25, 2017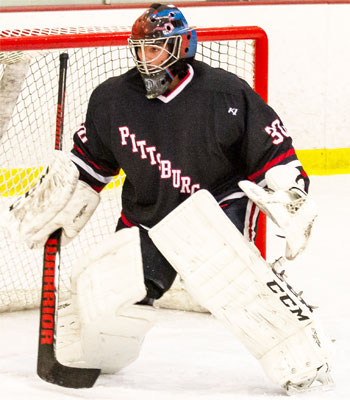 East Division Finals, Game 1: Pittsburgh Vengeance 4 vs. Metro Jets 3 (OT) (Pittsburgh leads series, 1-0) - After a long fought back and forth match, the Pittsburgh Vengeance pulled out a 4-3 OT victory over the Metro Jets. Martino Picariello (2), Vincent Casale and Austin Martz scored for the Vengeance, and Mathias Tellstrom, Nick Foran, and Jason Newel each notched one for the Jets. In net, Joel De Simone made 51 saves for Pittsburgh, while Metro's Jake Gwillim stopped 22 shots. After Game One of the East Division finals, the Pittsburgh Vengeance lead the series, 1-0.
South Division Finals, Game 1: Atlanta Capitals 4 vs. Texas Jr Brahmas 3 (OT) (Atlanta leads series, 1-0) - Talon Medure scored halfway through overtime to secure a 4-3 OT win for the Atlanta Capitals over the Texas Jr Brahmas. Michael Klintworth, Jason Ladzinski, and Sascha Figi also scored in regulation for the Capitals, and Dakota Davis, Garrett Culps, and Kyle Torgerson earned points for the Jr Brahmas. In net, Atlanta's Nolan Bivolcic and Tyler Myers of Texas each made 35 saves. After Game One of the South Division finals, the Atlanta Capitals lead the series, 1-0.
Northeast Division Finals, Game 1: Binghamton Junior Senators 3 vs. Jersey Shore Wildcats 2 (Binghamton leads series, 1-0) - A pair of goals from Jeremy Wilber helped the Binghamton Junior Senators to a 3-2 win over the Jersey Shore Wildcats. Conor Landrigan also scored for the Junior Senators, and Nathaniel Schwartz and Dylan Plsek each netted one for the Wildcats. Binghamton's Sal Lauretta made 27 saves, while Rio Virgoe stopped 43 shots for Jersey Shore. After Game One of the Northeast Division finals, the Binghamton Junior Senators lead the series, 1-0.
Midwest Division Finals, Game 1: St Louis Jr Blues 2 vs. Peoria Mustangs 1 (St. Louis leads series, 1-0) - All the scoring happened in the second period, and the St Louis Jr Blues came out on top with a 2-1 win over the Peoria Mustangs. Nick Balestra and Samuel Maddox scored for St Louis, and Jordan Hillman notched one for the Mustangs. Jr Blue Sawyer Schmidt made 24 stops, while JT Kossakowski made 21 saves for Peoria. After Game One of the Midwest Division finals, the St Louis Jr Blues lead the series, 1-0.
Central Division Finals, Game 1: North Iowa Bulls 5 vs. La Crosse Freeze 3 (North Iowa leads series, 1-0) - A pair from Brendan Studioso helped the North Iowa Bulls to a 5-3 victory over the La Crosse Freeze in Game One of this Central Division final. Connor Clemons, Jake Joyaux, and Tyler Bump also scored for the Bulls, and Lukas Motloch and Connor Losen (2) got on the scoreboard for the Freeze. In net, North Iowa's Drew Scites and Will Graves of La Crosse each made 20 saves.
West Division Finals, Game 1: New Ulm Steel 3 vs. Granite City Lumberjacks 2 (New Ulm leads series, 1-0) - Jared Erickson scored twice to power the New Ulm Steel to a 3-2 win over the Granite City Lumberjacks. Alex Egle also scored for the Steel, and Will Mix and Andrej Jamnicky netted goals for the Lumberjacks. In net, New Ulm's Nathan Siclovan stopped 40 shots, and Mac Berglove made 29 saves for Granite City. After Game One of the West Division finals, the New Ulm Steel leads the series, 1-0.
Coastal Division Finals, Game 1: Long Beach Sharks 4 vs. New England Stars 3 (Long Beach leads series, 1-0) - The Long Beach Sharks pulled out two late goals to secure a 4-3 win over the New England Stars. Oskar Lindberg, Corey Rees, Ricky Regala, and Gunther Stange scored for the Sharks, and Ian Gately (2) and Michael Lempiainen notched goals for the Stars. Long Beach's Kyle Van Wagner made 29 saves, while Sage Broda stopped 8 shots for New England. After Game One of the Coastal Division final, the Long Beach Sharks lead the series, 4-3.
Frontier Division Finals, Game 2: Yellowstone Quake 4 vs. Great Falls Americans 1 (Series tied, 1-1) - The Yellowstone Quake put up a strong offensive presence to secure a 4-1 victory over the Great Falls Americans. Jesse Lawman, Max Doner, Curt Greenbush, and Max Meyer scored for the Quake, and Ricards Bernhards notched one for the Americans. In net, Yellowstone's Nick Ottenbacher made 31 stops, and Nick Nast stopped 34 shots for Great Falls. After Game Two, the two teams are tied at one game each for the Frontier Division title.