Central Report: Bruins continue to focus on consistency
December 9, 2010
by Brian McDonough | NAHL.com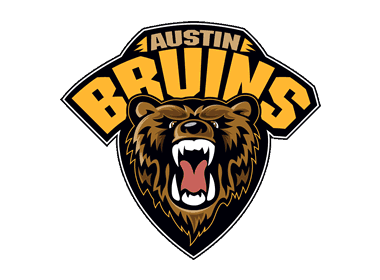 With a lot of hockey left on the calendar, Austin Bruins head coach Chris Tok isn't fretting his team's last-place position in the Central Division standings.

Consistency, though, is still an area of concern.

"We've been in a lot of games, but we're not able to sustain a high level of play for the entire 60 minutes," said Tok. "When we have a letdown, we're not able to put that behind us and refocus on the next shift.

"To correct it, we have to keep pounding away on the importance that every shift has to be played at the same level, regardless of what happened prior - good or bad."

The Bruins, who hold an 8-14-1 record, opened December with a two-game split with Alexandria last weekend. After picking up an assist on Friday - a 6-3 loss - forward Jordan Greenberg notched two goals in Austin's 5-4 victory on Saturday.

"Jordan has taken a few steps in the right direction," Tok said of the 19-year-old from Plano, Texas. "He admitted he was taking a few shortcuts when he first arrived and is now realizing how effective he can be by using his speed."

Tok is excited with the progression of a number of other players, in particular Nolan Kirley, an 18-year-old defenseman from Hayward, Wis., who keeps things simple and plays to his strengths.

"He's been a steady physical presence who understands his role - a defensive defenseman who's good on the penalty kill - and does a great job of protecting his teammates," said the coach.

The Bruins are also expecting to benefit from the return of Sam Olson, a valued commodity on a line with Greenberg and Charlie Adams, who is back to full speed after being sidelined with injuries, while defenseman Connor Quinn continues to log a lot of minutes and "does great job standing up for his teammates," according to Tok.

"Over the past couple of weeks, we may have hit a little bit of a holding pattern, but we did play some pretty solid hockey last weekend," said Tok. "Our team has had some separation on what players are getting it and which ones we still need to address the issue of complacency."

And despite the team's record, Tok and the rest of the Bruins coaching staff is keeping spirits high. With two games in Bismarck this weekend before hosting Coulee Region for a two-game set, the Bruins are hoping to carry some winning momentum into the holiday break.

"Losing is losing no matter what cards you're dealt and it's tough," said Tok. "We have guys who've come from programs where they're used to winning and, for them, dealing with mediocrity is a daily challenge.

"Keeping the guys' faith that we're good enough and stopping the walls from closing in when something bad happens is our biggest challenge right now."

CENTAL DIVISION NOTEBOOK

ABERDEEN WINGS: Forward Cory Ward connected for a pair of goals, including the game-winner, in the Wings' 5-1 victory over Owatonna on Friday. The 17-year-old from Las Vegas also scored a goal and an assist for Team Weight at this week's NAHL Top Prospects Tournament in Massachusetts.

ALEXANDRIA BLIZZARD: Alexandria's own Thomas Williams, 18, notched a goal and two assists in the Blizzard's 6-3 victory over Austin on Friday. The forward has six points in his last four games (four goals, two assists).

BISMARCK BOBCATS: Forward Charles Mosey, a Dartmouth College recruit, notched three goals and an assist at the NAHL Top Prospects Tournament this week in Massachusetts. The 19-year-old from Prior Lake, Minn., is averaging a point a game (18) with the Bobcats.

COULEE REGION CHILL: Air Force recruit Paul Moberg, a 19-year-old from Forest Lake, Minn., led all NAHL Top Prospects Tournament goaltenders in goals-against average (0.67) and save percentage (.975) to help backstop Team Weight to the tournament championship this week in Massachusetts.

OWATONNA EXPRESS: Netminder Charles Williams, an 18-year-old from Canton, Mich., stopped all 34 shots he faced in Owatonna's 3-0 victory over Coulee Region on Friday. He holds a 9-4-3 record to compliment a .912 save percentage for the Central Division-leading Express.