Granite City wins 2017 NA3HL Silver Cup Championship
April 2, 2017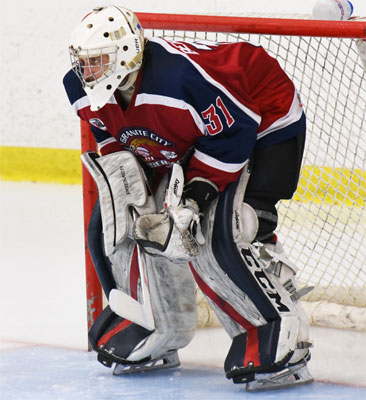 NA3HL Silver Cup Championship Game: Granite City Lumberjacks 2 vs. Metro Jets 1 - Mac Berglove made 35 saves to lead the Granite City Lumberjacks to a 2-1 win over the Metro Jets on Sunday at Canlan Ice Sports in Romeoville, Illinois to capture the 2017 NA3HL Silver Cup Championship. The win is Granite City's third Silver Cup title in the past six seasons.
The 1st period got off to a fast pace with both goalies making some big saves early. The first big chance of the game yielded the game's first goal. The Lumberjacks were whistled for a head contact minor penalty and Metro took advantage with a shot from the point by Robby Flannery, which was redirected in front by Evan Newel putting the Jets ahead 1-0. The rest of the way was great goaltending by the Jets Andrew Kormos and the Lumberjacks Mac Berglove, who both faced 13 shots in the opening period.
The Lumberjacks turned the tables on the Jets early in the 2nd and come out with the momentum. A slashing penalty on the Jets netted the first power play of the night for the Lumberjacks and Granite City took immediate advantage as Ryan Smith scored on the power play to make the score 1-1 with assists to Owen Sikich and Braden Altena. Less than a minute later, Granite City struck again as Matthew Moran scored on a deflection with an assist to Eric Moser to make the score 2-1. Berglove would make the lead stand for the Lumberjacks as he stopped all 14 of the shots that Metro sent his way in the period.
The final period was all Berglove, as he again shutdown every chance the Jets threw at him, making nine saves in the final frame to help the Lumberjacks bring home the title. For the Jets, it capped an incredible season, which saw them post the only undefeated regular season record in NA3HL history and make it to the Championship Game for a season consecutive season.
NA3HL Silver Cup All-Tournament Team
Forward: Matthew Moran, Granite City Lumberjacks
Forward: Louis Boudon, Metro Jets
Forward: Braden Altena, Granite City Lumberjacks
Defense: Robby Flannery, Metro Jets
Defense: Hunter Ruschmeyer, Yellowstone Quake
Goaltender: Mac Berglove, Granite City Lumberjacks
Most Valuable Player: Mac Berglove, Granite City Lumberjacks