Gongshow Flow of the Month winner for March announced
April 4, 2017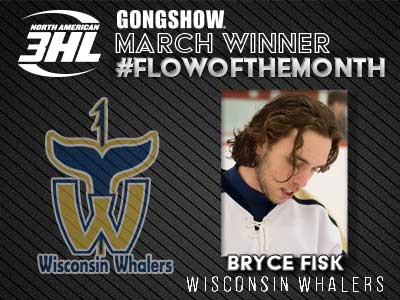 The month of March is one of the best times of the year for the flow. It has been seven months since the season started and anyone who has been growing their locks since the start of the season, ought to have a pretty good salad going right about now.
With that said, the North American 3 Hockey League (NA3HL) announced its GONGSHOW Flow of the Month winner for March 2017.
The winner this month is defenseman Bryce Fisk of the Wisconsin Whalers.
Fisk, 19, is in his second season of playing in the NA3HL for the Whalers. The 5'11/195 native of Brown Deer, Wisconsin, played in 41 games this season and had 11 points. Overall in 86 career games, Fisk has 19 points.
Fisk also was selected to and played in the 2017 NA3HL Top Prospects Tournament for the Gold team.
Sometimes in the flow of the month selections, simplicity and persistence pays off and that's what happened with Fisk in March.
A solid junior hockey veteran, Fisk has had the flow going for quite some time. Some players like to trick things up with special cuts, colors and styles, but Fisk keeps things simple.
His flow has a nice brown wave to it, which is complimented with curls that hang in the back and sometimes down the front.
Combine that with the six months of nice facial hair scruff and you have one complete junior hockey player who understands the need for fantastic flowdom.
Congrats Bryce… and for his effort, he will be receiving a GONGSHOW Gear hat.
GONGSHOW is the exclusive sponsor of the Flow of the Month promotion exclusively on the NA3HL and GONGSHOW Twitter sites @NA3HL and @GONGSHOWGEAR. Fans and players alike are encouraged to submit photos of their best 'hockey hair' or 'flow' via Twitter by the end of every month during the regular season.
GONGSHOW Gear Inc. (Gongshow) is the Official Lifestyle Hockey Apparel of the NAHL and NA3HL. GONGSHOW is recognized as the hockey good industry's premier manufacturer of innovative, high quality, fashionable and trend setting clothing apparel for hockey athletes of all ages and abilities.