Niagara Falls names Hill as new head coach
April 6, 2017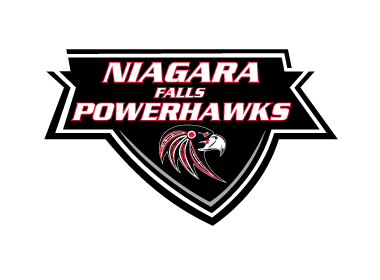 The Niagara Falls PowerHawks (formerly the Lockport Express) is pleased to announce the hiring of Jason Hill as Head Coach and Associate Director of Hockey Operations.
Jason joined the coaching staff with approximately two months to go in the 2016-17 season to team up with Frank Vecchio, who returned to the bench in late November, after The Express relieved Brian Becker of his Head Coaching duties. When Hill came onto the staff, the team was at 7-20 and went 11-9 the rest of the way, unfortunately missing the final playoff spot by a point.
Jason Hill has an impressive playing resume, having played Junior, College and Minor Pro. He set scoring records for the Welland Canadians in the Greater Ontario Junior Hockey League (GOJHL), which earned him a few Division I commitments which ultimately fell through, leading him to play Division III at SUNY College at Buffalo, recording 131 points in 90 games over 4 years.
At Buffalo State, Hill broke the school scoring record as well as the assist record. In his Senior Year, he led the nation in Division III scoring which propelled him to his first pro contract with The Wheeling Nailers of the East Coast Hockey League, the AA affiliate of the Pittsburgh Penguins.
In his Minor Pro career, he tallied 185 points in 179 games. Hill's experience as a player in Juniors, College and Minor Pro gives him the unique perspective of knowing what players in the NA3HL need to do to be successful to move on to the next level in regards to training on and off the ice, facility requirements and school requirements.
Hill also owns and operates Hill's Hockey Development, with more than 500 players annually attending his skill development and hockey training clinics.
Vecchio states, "Having Jason come in as Head Coach and Associate Director of Hockey Operations is a major coup for our program. Jason and I have known each other for a number of years and his vast knowledge of all aspects of the game and the ability to pass that on to our players is something our players will benefit greatly from. This also allows me to focus solely on my General Manager and Hockey Operations duties. I trust Jason explicitly and the future of our program has never been brighter."
Hill adds, "Frank and I have both been involved in hockey, especially in Western New York, at all different levels, for a long time now. We know and trust each other and share the same vision for our players and our program. We feel that with my experience as well as contacts with coaches and scouts that I played with at higher levels and Frank's experience in the GM and Hockey Ops positions, we are a very strong program and I am very much looking forward to getting going. I have contacts at the higher levels, including the NAHL, USHL as well as Division I and III. Our job is to help our players reach their goals."