Alexandria goalie Effertz makes college commitment
April 6, 2017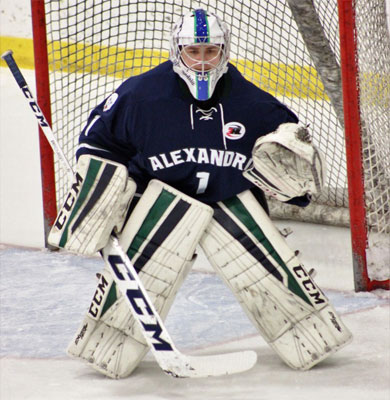 The Minot State hockey team received a boost to its goaltending depth, as head coach Wade Regier announced Tuesday former Minot High goalie Brey Effertz has committed to the Beavers.
Effertz was a key component to the Magicians' 2015 state championship, as he recorded 37 saves in a 2-1 victory over Grand Forks Central in the state title game. Effertz was also named the 2015 state tournament's most valuable player.
After his Minot High days were over, Effertz spent two seasons with the NA3HL's Alexandria Blizzard. In the 2016-2017 season, Effertz was 21-9, allowing 2.35 goals per game and turning in a .910 save percentage.
"He's a competitor," Regier said. "He's a kid that from his history at Minot High shows his biggest asset is he's never phased no matter what situation is in. When the stage is bigger, he performs better.
"Goaltending is a high-stress position and can be a lot to handle, but he always rises to the occasion. If he can overcome obstacles, he's going to be a big asset for us."
Regier said Effertz will have an opportunity to compete for playing time with current goaltenders Holden Kurtz and Joshua Bykowski. Kurtz and Bykowski split playing time last season, with Kurtz starting 16 games and Bykowski starting 17.
"We're a team that's here to win now," Regier said. "If he outperforms those guys, he'll start. But we'll see how things adjust and play it by ear. He'll be our guy if he is beating those guys out. But if he needs time to develop, Kurtz and Bykowski are more than capable goaltenders."
Effertz becomes the third North Dakotan on the Beavers' roster, joining Kurtz and Minot native Morgen Martelle.
"We want as many Minot High or local players as possible, but we want to make sure they earn their spot and are qualified to play on the team," Regier said. "I'm impressed with how Effertz has developed in junior hockey these last two years. It was a good chance for him to practice and play in as many games as he did. For him to step in as a local kid, that's big for us. For a number of years we had five to six guys from the region playing for us and it's a goal to get back to that."