Whalers trio of Boscaccy, Dickert and Kuta make college commitments
April 19, 2017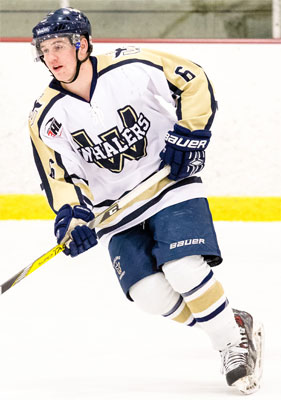 The Wisconsin Whalers of the NA3HL are pleased to announce that three players have made their college commitments. Forwards Connor Boscaccy and Taylor Dickert, along with defenseman Nate Kuta have all committed to play ACHA Division I hockey at Illinois State University.
Boscaccy, a Libertyville, Illinois native, had a successful career during his time with the Whalers. This past season he recorded 25 goals and 40 assists in 45 games. During his two-plus seasons in the NA3HL he was able to register his 100th point in the last game of his junior career. In only 103 games he had 43 goals, 57 assists and 155 PIM.
Boscaccy intends to major in Criminal Justice and become a police officer. He stated, "ISU is a good fit for me. They have a good program on and off the ice. Illinois State is close to home and I have a number of friends at school here."
Redbirds Coach DiNardi believes Boscaccy has the skills to help fill that void from the departing offense. "We're ecstatic to be adding Connor. He is the type of player who isn't afraid of the puck and creates space with his skill. He reads the game well, has patience and poise with the puck and finds those soft areas without it."
Dickert, a forward from Middleton, Wisconsin, had a successful career during his 2 years with the Whalers. This season, he recorded 7 goals and 9 assists in 25 games. During his 2 seasons in the NA3HL he was +21 in his junior career. In 71 games played, Taylor registered 20 goals, 45 points, and 31 pims.
Dickert intends to pursue a business degree at Illinois State. "I'm excited to have friends on the team to help the transition and the campus life is a good fit for me," Dickert said.
Whalers defenseman Kuta, hailing from Machesney Park, Illinois plays forward and defense, split last season between the Dells Ducks and Wisconsin Whalers. This season he recorded 8 goals and 12 assists in 40 games. In total, his junior career has included three stops for a total of 89 games, 20 goals, 33 assists, and 46 pims.
Kuta will be focusing on the Athletic Training program while at Illinois State. "I remember playing in Bloomington and they always have good fans and I enjoyed the area." Kuta said.
The Redbirds gain to great people into their organization with big potential. Coach DiNardi has high expectations for Taylor and Nate. DiNardi stated, "Taylor and Nate bring different games and both fill needs in the organization. Nate intends to fill a defense position, which is a desired need for us and Taylor is a good two way player with a great attitude and IQ about his game."