South Report: Wildcats back on winning track
December 15, 2010
by Zach Duncan | NAHL.com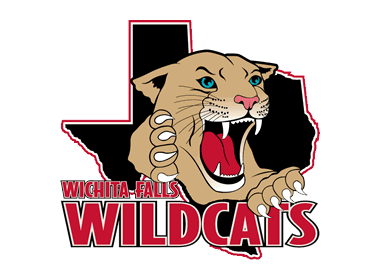 The Wichita Falls Wildcats stumbled into their off weekend at the first of December having lost six of their last seven games.

They returned to action last week in Corpus Christi refreshed, refocused and reassembled.

And it showed. Wildcats head coach Mark LeRose thought his team played one of its best games of the season in a 4-0 victory on Friday night.

Wichita Falls wasn't able to pull off a sweep, but still earned three much-needed points against the IceRays, who sit behind the Wildcats in the South Division standings.

"We played solid over the weekend and put the four-game losing streak behind us," LeRose said.

The Wildcats coach said it's his job to "constantly try to upgrade the team," which is why he brought in three new players from three different leagues during the downtime.

Forward Will Suter was acquired from the United States Hockey League; Owatonna traded over defenseman Joe Adams, who used to play with the rival Tornado; and defenseman Wade Bennett was picked up from the British Columbia Hockey League.

All three made their presence felt over the weekend. Bennett scored the game's first goal in Friday's shutout, while the other two each collected a pair of assists.

Most midseason acquisitions are hastily slotted into the lineup, but since most of the Wildcats had two full weeks off - four participated in the Top Prospects Tournament in Massachusetts - that allowed for more cohesion.

"To me, having that week off to introduce them to the system was real beneficial instead of throwing them into the lineup," LeRose said. "We had a productive week with the guys that were here."

Dakota Klecha also continued his sharp play of late, racking up for points against the IceRays. He now has scored a goal in four straight contests and leads the team with 17.

"He played with a lot of passion and is a high-energy guy," LeRose said of Klecha, who also is tops on the Wildcats in penalty minutes (118) at the midway point of the 2010-11 season. "He's a very important player."

LeRose called the next two games on the Wildcats' schedule very important, too.

Corpus Christi, which trails Wichita Falls by seven points for the last playoff spot in the South, comes to town Wednesday and Friday.

It's the last two of their 12-game season series, and although the Wildcats are 6-2-2 against the IceRays, they aren't taking these games for granted.

"We're taking these with a playoff approach," LeRose said. "We're approaching it as a must-win situation because we're in a fight with them for a playoff spot."

SOUTH DIVISION NOTEBOOK

AMARILLO BULLS: Amarillo still owns the best winning percentage in the NAHL (a .760 mark) despite splitting a two-game series in New Mexico. Friday's 3-2 overtime loss to the Mustangs was only the second defeat when the Bulls have led after two periods.

CORPUS CHRISTI ICERAYS: Mike Benedict continued his stellar play against the Wildcats this season by scoring twice and adding a shootout conversion in Saturday's 5-4 win. Eight of Benedict's 16 goals have come against Wichita Falls.

NEW MEXICO MUSTANGS: Thanks to Friday's 3-2 overtime victory over Amarillo, the Mustangs recorded a point or more for the third straight week, a first this season for the expansion team. Ian McGilvrey may have scored the game-winner, but it was James Poston's goal with 24 seconds remaining that forced the extra period.

TEXAS TORNADO: Donald Olivieri had a goal and an assist in both of the Tornado's home losses to Topeka. Olivieri, a Philadelphia native, leads NAHL defensemen with nine goals scored. His six power-play goals are also tops among the league's blueliners.

TOPEKA ROADRUNNERS: Topeka finished its road trip winning three of four against two first-place teams (St. Louis and Texas) and has now won nine of its last 11. Michael Hill scored all three goals in Friday's 3-2 overtime victory over Texas, and the Roadrunners finished off the sweep with a five-goal outburst in the third period of Saturday's 6-4 win.