Metro forward Day makes NCAA commitment
May 2, 2017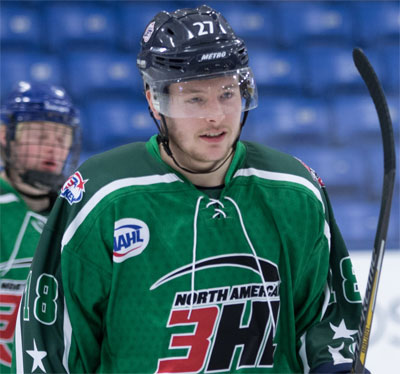 By Matt Mackinder, Metro Jets
After three seasons with the NA3HL's Metro Jets, Graham Day is moving on.
And moving on in a big way, too.
Day, who served as the Jets captain in 2016-17 and an alternate in 2015-16, has committed to attend and play hockey for Johnson and Wales University, an NCAA Division III school located in Providence, R.I.
The Wildcats play in the Commonwealth Coast Conference and went 11-12-4 last season, including a 7-10-3 mark in the CCC.
For Day, a native of Rochester, Mich., who turns 21 in July, he's excited for the next chapter in both his hockey and academic careers.
"The coach (James LaCour) contacted me about potentially playing there next year," said Day. "He said he had spoken with 'Q' (Jets coach-GM Justin Quenneville) multiple times, saw me play at Top Prospects and liked my play style. One thing I found intriguing was the area of the country the school is located. It's a nice area of the country. It's also a school with a good educational background, which is important. As a freshman, I hope to fit into the existing structure as quickly as possible to help the team. I want to be a player that can learn the systems quickly and can be dependable in games."
Off the ice, Day is looking at a Business curriculum with a major in Accounting.
Last season for the Jets, Day compiled 22 goals and 60 points in 47 games for the Jets, with another two goals and three points coming in 11 NA3HL playoff and Silver Cup National Championship games.
In 82 games in his first two seasons with the Jets, Day scored 16 goals and 54 points.
Day is the second Jets player from the 2016-17 team to commit to an NCAA D-III school, joining goaltender Jake Gwillim, who will attend Aurora University in the fall.
"I think 'Dayzer' is the poster player for the ladder of development," noted Quenneville. "He was so green when he came here after high school and worked for everything ahead of him. He bought in to everything we stood for and the process to achieving success. Every year, his role increased and so did his numbers. His character and makeup as a person is top notch and every player respected him. He was deserving of the 'C' this past season and played a big role in this past season's success. He is a leader by example and stayed on track all three years here.
"Graham had several NCAA options and he took his time to make his decision. We are fortunate to have so many NCAA programs continue to recruit from our program and we have more guys coming up with commitments as well. I'm proud of him and his achievements on and off the ice, but more importantly, he gets to continue his education and hockey at a top-notch institution. We wish him nothing but the best of luck to him and his family."
In making the life-altering decision to leave home and go off to school, Day knows he couldn't have done it alone.
"The first people I'd like to thank would be my parents (Carol and Keith) and family," said Day. "Without their support, I would have never been able to play hockey for the majority of my life. Next, I'd like to thank the coaches and staff with Metro. They helped me develop into a better person and a better player. They helped me gain exposure to get to this level of hockey. Lastly, I'd like to thank everyone else that helped me along my path."
Day will also treasure numerous memories from his time in a Jets uniform.
"One memory that stands out is making it to the Silver Cup all three years I played with Metro," Day said. "It was a fun experience every year. However, something that I will remember for life was finishing this past regular season 47-0. It was an unforgettable season with the best group of guys out there."
So what advice can Day offer to future and even returning Jets players?
"I'd like to tell future Jets to get the most you can out of junior hockey, and for as long as you can," said Day. "It will be some of the best years of hockey you will have, and it's a time for you to enjoy the sport you love to play. It will also help you extend your playing career into higher levels of university hockey."