L/A Fighting Spirit sold and rebranding to become L/A Nordiques
May 4, 2017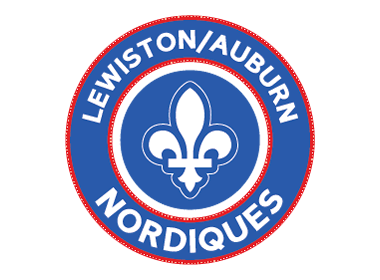 The North American 3 Hockey League (NA3HL) announced that it has approved the transfer of membership and purchase of the L/A Fighting Spirit to the Androscoggin Bank Colisee. The Fighting Spirit franchise will now become the L/A Nordiques Hockey Club for the 2017-18 season and beyond.
The Nordiques will call the Androscoggin Bank Colisee home for the upcoming 2017-18 season. The Colisee is a 67,000 square foot multipurpose facility with a seating capacity of 3,682 for hockey and 4,500+ for concerts. The Colisee has been home to the Maine Nordiques 1973-1977 (farm team of the Quebec Nordiques of the NHL), Lewiston Maineiacs 2003-2011 (QMJHL), Portland Pirates 2013-2014 (AHL) and L/A Fighting Spirit 2015-2017 (NA3HL).
The L/A Nordiques Hockey Club has announced that Auburn, Maine native Cameron Robichaud has been named Head Coach for the 2017-18 season.
"I am honored to have been selected as the Head Coach for the L/A Nordiques Hockey Club. Lewiston has a rich hockey history; the facility, community, and fans are top notch and provide an ideal environment for junior hockey. I look forward to building a strong program here in Lewiston, that will be an attractive destination for student-athletes to grow and develop for the higher levels of hockey."
Coach Robichaud is also the owner of PucDevelopment LLC, Maine's first hockey specific training facility. Robichaud's training facility was moved into the Androscoggin Bank Colisee last summer. "I am extremely excited to be located right in the Colisee now, having all access to the training facility is a huge part of the Nordiques Development Model."
Also, a big piece to the Development Model for the Nordiques is the hiring of professional skating coach Veronica Whyte and goaltending coach John Racine. Coach Whyte is internationally recognized for achieving Gold status in all 4 skating disciplines and has been training players at the Jr A, Major Junior, and NHL level for the past 8 years. Coach Racine has also worked at a high level, as he has spent time as the goalie instructor for the Lewiston Maineiacs (QMJHL) and University of Maine (NCAA D1, Hockey East).
"Having Veronica and John on our staff is a testament to the Nordiques commitment to player development. I am grateful to have the opportunity to work with two individuals who have worked at the highest levels of amateur hockey, as well as at the professional level" stated Head Coach, Cameron Robichaud.
"With the combination of the Androscoggin Bank Colisee, PucDevelopment LLC, professional skating instruction and specialized skills coaches the L/A Nordiques Hockey Club have created a true platform for development and player success!"
For more information about the L/A Nordiques Hockey Club, contact Head Coach Cameron Robichaud 207-577-3051 or
Email