Southern Tier Xpress name Santini as new head coach
May 8, 2017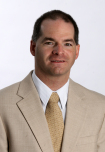 The Southern Tier Xpress of the NA3HL are pleased to announce that Lou Santini has been named the team's new Head Coach and Director of Hockey Operations. In addition, Jamestown, New York native Travis Sanders has been named the team's new General Manager.
Santini brings an immense amount of experience and credibility to the Xpress program that will serve the players very well in the continued efforts to assist them in their development and future advancements.
"We believe the hiring of an exceptional person and coach like Lou Santini will truly bring our program forward, allowing us to continue serving our players, our outstanding fanbase, the league and all those involved to make the Southern Tier Xpress a great program to be apart of," said Sanders.
Before joining the Xpress, Coach Santini has had a very storied and successful coaching career at numerous levels. For the past decade, Santini has been as assistant coach at the NCAA Division I level with Sacred Heart University, member of the Atlantic Hockey Association.
"My roots in ice hockey started in New York and the Southern Tier Xpress is well known throughout the state. The support of the community for the organization is very strong. I would like to create an environment where players can mature on and off the ice. They need to be student athletes and also become involved in the community," said Santini.
Prior to Sacred Heart, Santini was an assistant coach for the Tulsa Crude and the Dubuque Fighting Saints of the USHL. Before that he spent two years coaching in professional hockey from 2000-01, serving as an assistant coach for the Cincinnati Cyclones (IHL) and the Augusta Lynx (ECHL).
Prior to that experience Santini served as an assistant coach for six seasons at Middlebury College. During that time Middlebury won five consecutive NCAA Division-III National Championships and had an overall record of 137-19-10. Santini first got into coaching as an assistant coach at his alma mater, Iona. Also during that time he was a high school assistant coach from 1990- 94. In addition Santini has served as a coach and instructor for the USA Player Development Program in Michigan, Minnesota and New York from 1990-2002.
Santini earned a BA in Communication Arts/ Broadcasting with a minor in Speech from Iona in 1990. He was also a four-year letterwinner as a goaltender for the Gaels men's ice hockey team.
"We believe having Lou with the program is going to be great for our players moving forward. Coach Santini has a tremendous coaching background and has spent significant time at the collegiate levels with very respected programs in NCAA. He has been where junior players aspire to play, both as a coach and a player, and his first hand knowledge and experience at those levels are invaluable to the players and our program. He can really help lay down the groundwork and expectations of what it takes to play at the next level. This is a very exciting time for the Xpress program and it's players, fanbase and staff," continued Sanders.