Southern Tier goalie Vangellow makes NCAA commitment
May 13, 2017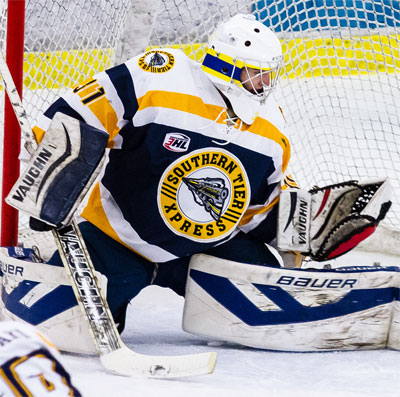 The Southern Tier Xpress of the NA3HL are pleased to announce that goaltender Harrison Vangellow, 20, has committed to play NCAA Division III hockey at the Milwaukee School of Engineering.
Vangellow (6'2/186) just completed his first and final season playing in the NA3HL for the Xpress. The native of Rochester, New York, appeared in 28 games during the regular season and posted a 7-17-2 record. He also posted a 3.71 goals against average and an 89.5% save percentage.
"First if all I'm beyond excited and honored to get to attend the Milwaukee School of Engineering and play for Coach Ostapina. It's such a prestigious school academically and they have a strong tradition of excellence athletically that getting to go there is an absolute dream come true. Getting to play for the Xpress this year has been a great experience for me both on and off the ice. Having played juniors a few years before in different rinks around New England, coming to Western New York was a big change of pace for me but my teammates, coaches, and the fans welcomed me as if I had been there since I was a rookie," said Vangellow.
"I'd like to specifically thank the coaches, Travis Sanders and Brian Ramm for always pushing me to be my best, even though I started off slow, and providing me with the best experience, training and facilities that I've had so far in my career. I'd also like to thank the goalie coach, Anthony Micucci for coming out to work with us every other week, I've worked with him for a long time and he's a huge part of me going where I am today. And although I didn't get to work with him much throughout the season I'd like to give an extra special thank you to my other goalie coach Ed Walsh for everything he's done for me, he's been one of the biggest influences on me both on and off the ice and without him there's no way I'd be going to such a great school. And of course my mom, dad, and stepdad for being my biggest fans and supporters through every step of my career. Good luck to all my Xpress teammates in their futures with whatever they do, as well as all my teammates in past seasons. Its been an honor to play with and for everyone I have. Every year has been a learning experience and the most valuable thing I've learned is that hard work will take you anywhere you set your sights on," continued Vangellow.
Xpress General Manager Travis Sanders stated the following… "It was great having Harrison with the Southern Tier Xpress this past season. He was a very committed goaltender and one of the more technically skilled goaltenders I have had the pleasure of coaching in quite some time. Harrison was always helpful in sharing his experiences and tips with our younger goaltender, Ryan Pascarella, and was always leading by example on and off the ice from day one with our program. He's a very intelligent young man that I know will have a very bright future through college as a student athlete, and far beyond that in his future endeavors."
"Harrison's work ethic since he was a young goalie coming up has always been excellent. I'm very proud of his commitment to play college hockey and wish him the best of luck in the next stage of his hockey career," said Xpress Goalie Coach Anthony Micucci.